How to Cut Vinyl Tile? Step-by-Step
Vinyl tile is often used for many different decorative purposes. With these tiles, you can give floors anywhere a new, different look. These cheap and easy-to-use tiles can be installed in offices, homes, stores, etc.
They are durable and easily maintained, thus, are used extensively in areas with high traffic. Plus, these tiles come in many different colors and patterns, most of which do not look cheap at all. With some hours at hand and adhesive to stick them, you too could have covered vinyl floors. Make Sure to have the best adhesives for the job.
How To Cut Vinyl Tile Around Toilet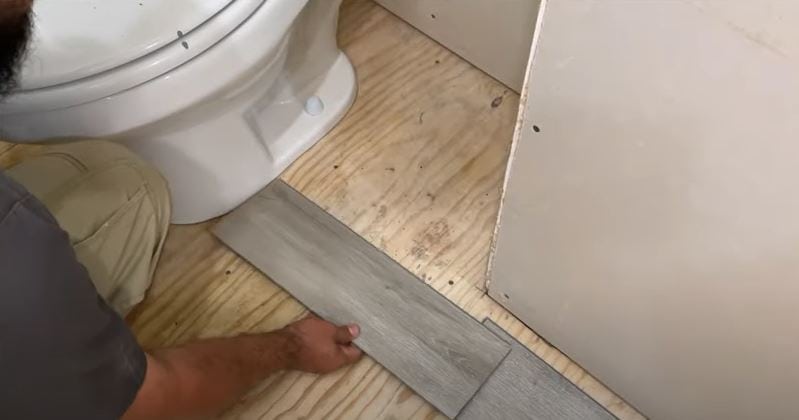 Now, seeing how cost-effective these tiles are, many people do want to opt for them, as opposed to ceramic tiles. These are especially popular for kitchen and bathroom floors.
Usually, the tiling process goes quite smoothly until you reach the end of the toilet base. That is where a bit of shaping up is required. Even the best toilet brands could miss this mark with every type of toilet.
To install tiles into your home, you can call for professional help. But this job is so simple that you could just do it by yourself. Let's face it, if you tile your floors, you will save more, and there will be better chances of it turning out exactly as you want it. Even though installing wood-styled tiles is different than installing regular tiles, all you will need is to follow instructions on how to Install wood look tile on concrete and you're good to go.
The tiling is usually the most natural part of the job. You just stick the tiles one after another, with glue. But many people face problems when they have to cut the tile. Imagine following a great order throughout the process and then hitting a corner and not being able to cut the tile in the right shape!
If you've hit a rough patch like that, or are about to start tiling and probably will, then the following guidelines could save your life. The methods are easy enough if you follow through accordingly.
1. Using a Vinyl Tile Cutter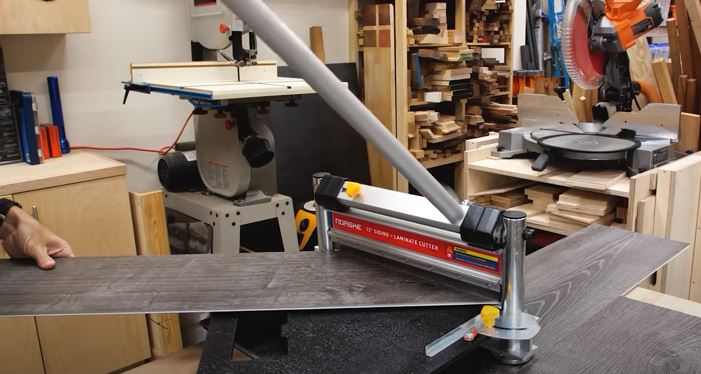 This is designed especially for cutting vinyl tiles and is one of the two easy ways you can cut these tiles. You can get one of these at any local hardware store. If you don't want to buy one for just one little job, you might be able to rent it.
Do the Measurements First
Get a tape measure and note down the measurements around the toilet base. You will have to have very accurate numbers so that the tiles fit perfectly around the toilet.
The tile cutter has a built-in tape measure, which will help you measure out and mark the spot to cut from. Line up the tile with the tape measure, so that the place you want to cut from is marked down.
Adjust the Blade
Once you have the tile level, you must adjust the blade that should be adjoined with the tape measure. You can do this by turning the screws on either end of the cutter.
Doing this will help raise and lower the blade. Adjust until the blade fits perfectly in the cutter. Remember that it is not necessary for the tile and the blade to be touching at this point.
Press Down on the Handle
The vinyl tile cutter has a handle on one side that is supposed to be upright when unused. Press this handle down with a good amount of pressure, so the blades cut straight through the tile. If you see that the handle has gone down completely, you will know that the tile is cut.
Repeat the Process
Once you are done and the two pieces are cleaned off, remove the tiles from the cutter. If you want to cut yet another tile, just raise the handle back up and repeat the whole process.
2. Using A Utility Knife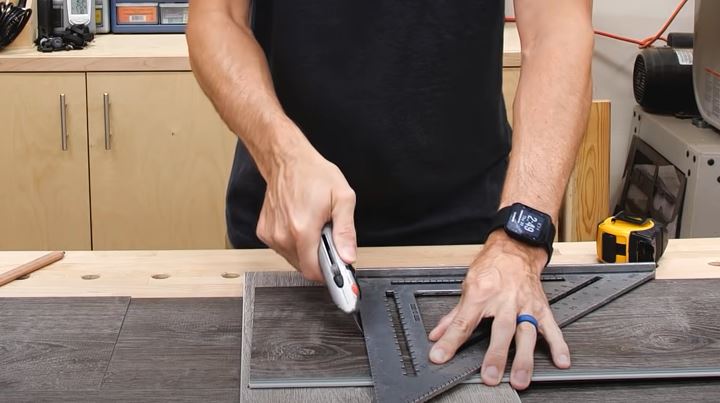 You can go for this method if you cannot find a vinyl tile cutter, or just refuse to buy one for a single small job. It is lot like using a handheld tile cutter. Utility knife is a tool that everyone has at home. If you don't have it, you can buy it from any stationery or hardware store.
Take the Measurements
First, measure out the space around the toilet base with a measuring tape. Get a pen or pencil and mark the places you need to cut the tile, according to size. You don't have to draw out a huge line; just a small guiding marker will do.
Use A Tile As A Weight
Now, take another tile and line it up with the markers. Use the second tile as an added weight, to keep your marker line straight and precise, as you cut.
Do not install the second tile by any chance, as it might get nicked and weakened during this process.
Cut the Tile Using A Utility Knife
Once your tile is ready to cut, run the utility knife down the marked line firmly, right by the edge of the other tile. For special trimming of the edges, I would suggest you to read the post on tile edge trim ideas.
There is a big chance that the knife will not go straight through the tile in one try. So, you will want to repeat this step a few times more, until the whole piece comes off cleanly.
If you find that cutting the tile is far too difficult, you can heat it with a heat gun, which will soften it down a little. This will create very precise cuts but can be a little risky.
Break Off the Excess Tile
While using a utility knife, make sure you wear protective gloves and cut the tile with care. Once the cut is made, just break off the excess tile, which should come off quite cleanly.
Frequently Asked Questions
Can you drill a vinyl tile in a wall?
Are vinyl tiles waterproof?
Yes, vinyl tiles are waterproof. This means that you can use them in wet areas like bathrooms and kitchens without having to worry about them getting ruined.
How do you prepare a bathroom floor for vinyl tile?
Before you lay vinyl tiles, make sure the floor is clean. If there is dirt or other things on the floor, it will prevent the tiles from sticking. Then use an abrasive to scratch up the surface of the floor. This will help the tiles stick better. Finally, use a priming to improve tile adhesion even more.
Can you install tile yourself?
Most people think that tile installation is a difficult and involved process, but with a little know-how, it's actually quite easy to do yourself. Why not start by following out guide on how to install mosaic tile in a shower. You'll be surprised at how easy it is!
Conclusion
Well, there you have it. Different ways to cut vinyl tile. If you're a professional tiler or DIY-er, these methods should help you get the job done quickly and easily. But, of course, if you still feel like you need some extra guidance (or just want someone else to do the dirty work), we can always help.
Our experts are more than happy to take on your next home improvement project – no matter how big or small. So what are you waiting for? Get started today!