How to Install Mosaic Tile in A Shower?
Everyone wants the space they live in to look good. And floors can say a lot about a specific area, whether it is a home or a commercial space. Mosaics are often used to decorate floors, with different designs and patterns. They have been quite popular for many years.
Structures like churches, cathedrals, and museums tend to have floors and ceilings adorned with mosaics. They do have a certain charm to them, and you can do many different designs with them. People even use mosaic in their homes, bathrooms, etc.
There are a few basics steps to follow in order to create your own mosaic shower floor. You will need adhesive, tiles, grout, and sealant. The design of the mosaic can be chosen by you, and there are many different tutorials available online to help with the process.
However, we have chosen the process that seems the easiest to implement.
Installing Mosaic Tiles for the Shower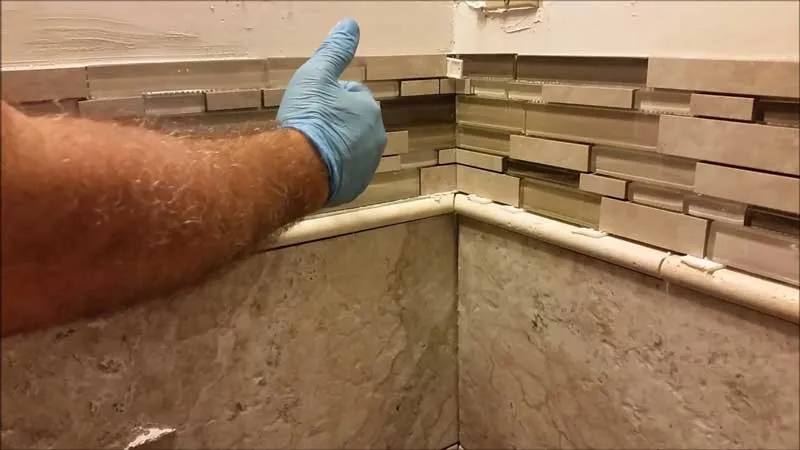 Often, people like a fancy touch to their bathrooms. Maybe you want something different for your shower area, or you want to mark the area for users or use drainage tiles. Either way, mosaics are a good choice for your shower, and with the right tools, ingredients, and guidance, you can even install them yourself!
Step 1: Cleanup
If you have calculated the number of tiles needed and the cost of tiling a shower, you can get to the first step. The first step to installing a mosaic in your shower is a full cleanup of the surface you want to work on.
Mosaic works with most materials, but it would be best if the base is made from concrete. You might need to remove the tiles that are already in that place.
Step 2: Remove Dust
Vacuum or sweep the floor to remove any dust. You should also use a damp cloth to clean up any stubborn stains. Once your base is dry, it will be ready for work.
Step 3: Choose the Materials
You will also have to pick out the materials, or tesserae you want to use in your mosaic; you can use almost anything you want, from porcelain, marble, stones, to ceramic flowers, pieces of broken plates, and seashells.
Step 4: Dry Them
Make sure that these materials are clean and dry before you use them.
Step 5: Draw A Sketch
Now, you may be confused about the size and amount of tesserae you need to gather. Just consider your base and the design you will do. You can also draw a sketch, or just get enough to fill up the whole base.
Step 6: Get Tesserae Alternatives If Needed
If you cannot collect anything that can pass off as tesserae, you can even buy mosaic tiles. Or, you can buy small, colorful gems from craft stores. That will do just fine too.
Step 7: Transfer the Design
To decide exactly where each mosaic tile will go, you will have to sketch the design onto your base. If you already have a sketch on paper, you can transfer that onto the floor of your shower.
Step 8: Place the Tiles
Once you have an accurate sketch of the design or pattern, you can go ahead and decide exactly where each tile goes. Place the tiles accordingly, or spread them out if you want to have a random, scattered design. Then you can start gluing them together.
Step 9: Choose Your Adhesive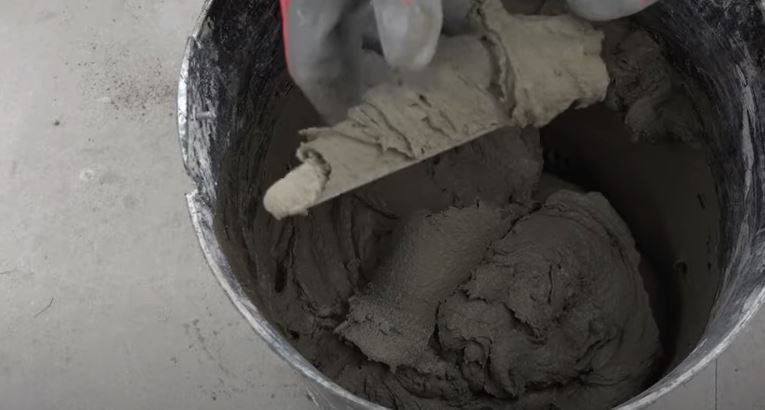 For this next step, you have quite a few options that will work great as adhesives for the mosaic. The usual material used is a cement-based mortar, which can be produced by mixing cement, water, and sand.
You can also use thinset mortar, which will be perfect for the shower floor, which gets wet very often. If you are using mosaic tiles that are slippery, you can use acrylic-based glues. Just make sure that the adhesive you use is water-resistant.
Depending on the type of adhesive you use, a bit of mixing could be required. You can buy acrylic resins in tubes, but mortar will need to be mixed. Follow all the guidelines given with the adhesive you bought, step-by-step.
Step 10: Apply the Adhesive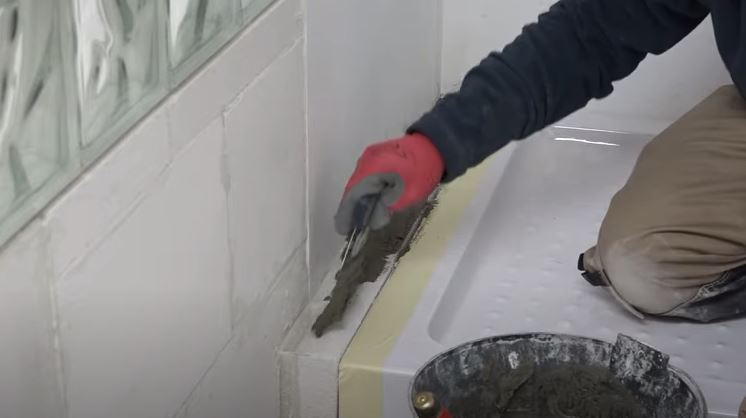 Next, you will have to apply the adhesive to the floor. For this step and the mixing, wear gloves and a mask to protect yourself. You can either pour the adhesive down on to the base, so it covers the whole surface, or glue each piece individually to the floor.
Step 11: Wait for the Adhesive to Spread Evenly
If you decide to spread your adhesive over the surface of the floor first, you will want to place the tiles in their specific positions before the adhesive starts to dry. So, wait just until it has spread evenly, and start positioning the tesserae. Press them down, so they are firm.
Step 12: Start Placing the Tiles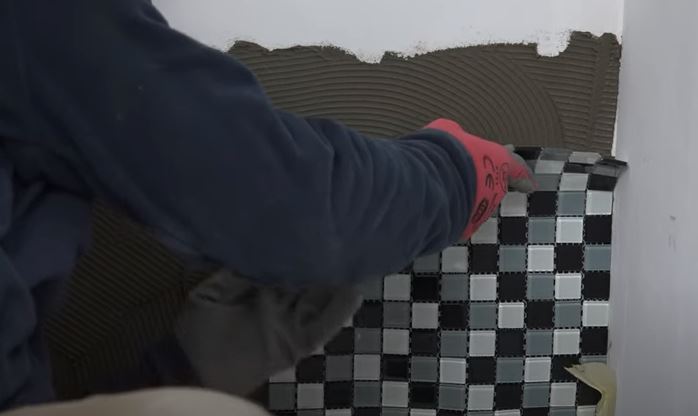 In the case of using concave tiles, fill them up first with adhesive and then place them in the mixture. When placing the mosaic tiles, you may want to start from one end or corner and move down by rows. The order you work in will depend on the design you decide on.
Step 13: Let Them Set
Once you are done placing the tiles, you will have to leave the mosaic to set for around 24 hours. Of course, the drying time will depend on the adhesive you use but for most mortars, it is 24 hours. If you use acrylics or epoxy resins, it may dry faster, in 12-20 hours.
Step 14: Clear the Excess Adhesive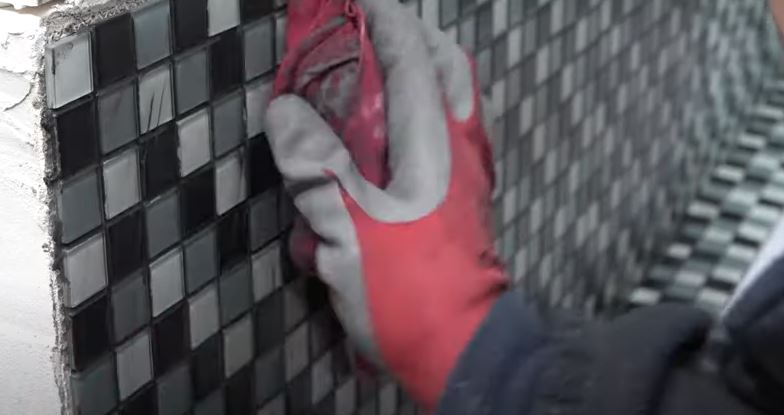 To make your mosaic have a nice aesthetic and smoother look, you will want to clear away some of the excess adhesives. As the mosaic sets, the adhesive may rise to the top. So, when it hardens a little, get a wet sponge or sponge mop and wipe the mosaic down to remove the extra adhesive.
Step 15: Be Cautious While Cleaning
Clean with care. However, if you let the mosaic sit for too long, it will be far too stiff, and removing the excess will be very tough. You want a general softness in the mixture, so the adhesive comes off without ruining the mosaic's look.
Step 16: Apply Grout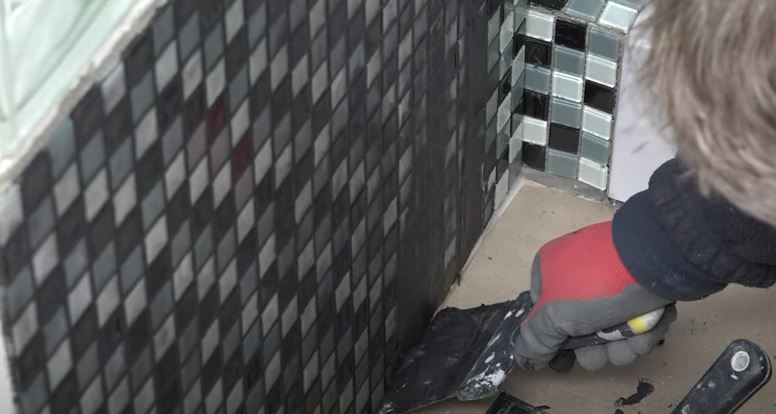 After the mosaic sets, you will have to apply grout to it, which is a mixture that will seal and fill up the spaces between the tesserae. You can also use different colors of grout to complement your design and make it stand out. The process of grouting and regrouting is very easy.
You can use black or off-white grout if you are in doubt about the colors. In case you want a more textured floor, you can skip the grout, as its function is to smoothen out the mosaic.
You will have to buy and mix the grout yourself, at home. Just follow the instructions given by the manufacturers to decide on the quantity and ratio of the materials needed for mixing. You must wear a mask, gloves, and goggles when you are mixing the grout, as it is a very messy process.
Step 17: Let the Mixture Set
Next, use a spatula to cover the mosaic with the grout mixture. Cover the whole surface with it, and make sure the grout fills all the gaps between the mosaic tiles. Then, let the mixture set for about 20 minutes, or as long as the packaging recommends.
Step 18: Wipe the Excess Away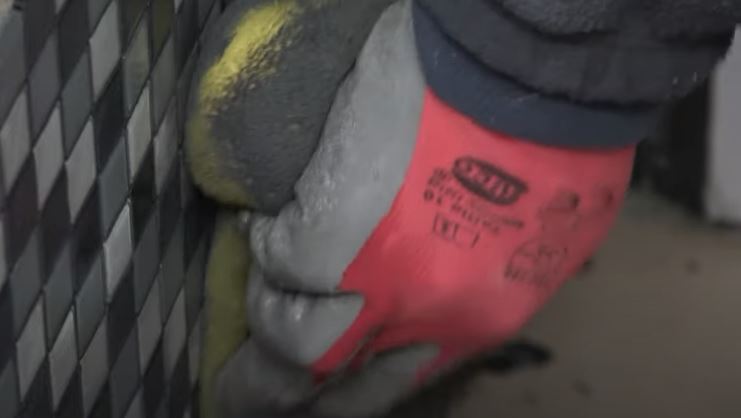 Once the grout has set and hardened enough, wipe away any of the excesses with a sponge and warm water. Only leave enough grout to cover up the gaps but none on top of the mosaic pieces, as that will ruin how it looks.
Step 19: Spray Your Sealant of Choice
Buy a sealant, either matte or glossy, depending on the look you want your mosaic to get. Spray the sealant all over the surface of the mosaic to give it an extra layer of protection. Since the shower floor will get very wet, you can apply 1 or 2 extra coats.
Frequently Asked Questions
Do I have to remove all old grout before Re-grouting?
Before re-grouting, it is best to remove all the old grout. This will give you a smooth, uniform finish. However, re-grouting depends on the surface you are working on. Make sure you understand the correct techniques before starting; for example it is a different process on how you grout and regrout floor and wall tile is different from each other.
Can caulk be used instead of grout?
Caulk can be used in place of grout, but it is not as durable and may need to be replaced more often.
Is it better to Regrout or retile?
It is better to retile if the grout is old and cracked. Regrouting can only do so much; if the grout is old and cracked, it will not look very good no matter how well you do it. Retiling will give you a fresh start with a new, uniform surface.
Conclusion
With this last step, your DIY project will be complete! The sealant will dry within a few minutes, and then you can start using the floor. While this process includes various steps, a lot of waiting around and some hard work, the end product, if done right, will be worth it all. You can also use our post on how to repair cracked floor tiles, if you got yourself in the trouble.
If you do it all by yourself, there are more chances of the floor turning out exactly as you want it. Of course, the way a floor looks is bound to affect the whole vibe of the room, so it is important to have a cautious execution. And, if you follow these steps accurately, the result will be very satisfying.