How to Tile A Shower Wall and Floor?
Tiled showers are popular among many people, mostly because of their durability and great outlook. Tiles are great for water-proofing areas that are prone to getting wet and damp very often. What's more, this essential little job can be done all on your own which enables you to furnish your own shower with tiles of your choice.
This process is almost identical to any other tiling techniques, only with a few small changes in certain preparations. Since the installation will be for a space that sees a lot of water, special requirements are needed to keep the tiles safe and durable.
To decide what to do if you want to tile your shower, follow the guidelines step-by-step.
How to Prepare A Shower for the Tile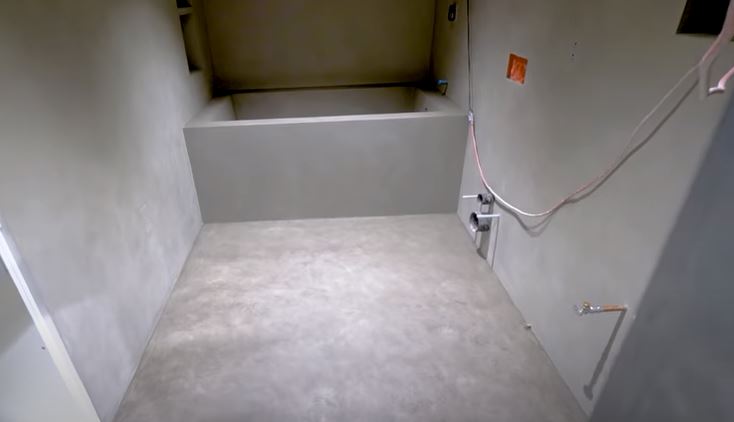 To get the surface ready for tiling, you will have to follow a few steps which are given below. Prepping a surface that you are about to tile is very important. The correct methods will help you make sure the tiles you installed are long-lasting and firm on the walls and the floor.
Step 1: Prepare the Surface
To prepare the surface for tiling, the first thing you must do is get rid of any object that may be getting in the way. If you cannot move them, you can get papers to cover them up to protect them from dust and debris. Attach the papers to surfaces using painters' tape.
Step 2: Prevent Mildew in Your Shower by Installing Barriers
You will also have to remove the shower pan before you tile. Install a vapor barrier around the walls of the shower, to prevent the growth of mildew. There are a few options that work well as barriers, like cement board, dry wall, or Wedi boards. Additionally, remember to leave some space between the barrier and the wall, to prevent condensation in between.
Putting up these boards is quite simple. You will first have to measure out and cut them to size. Using a tile cutter like M-D Building Products 49414 should be a good choice for the task.  Next, just leave a ⅛ inch gap between the boards, as well as the shower pan, and screw them on to the studs of the shower wall.
Step 3: Seal the Boards
Seal the boards down with silicone caulk and seam tape. Do remember to cut out holes for the shower head and other bits that will have to stick out through the wall. You can always remove the silicone caulk from tiles if you want. Moreover, drilling the tile might also be necessary for making the holes.
In some cases, if you are using crown molding, you will have to opt for the dry wall instead of cement boards. While dry walls allow the introduction of nails, the cement boards do not. Sometimes, that does become an issue. Choose a water-resistant wall for your shower and install it in the same way as the cement board.
Step 4: Apply the Finishing Touches
The last step in preparing the shower wall for tiling involves the use of seam tapes and thin-set mortar to seal the spaces between the boards and the actual wall. This will make it look like the board is a continuation of the wall. Next, apply water-resistant primer over the whole area you will tile.
The Tiling Process
Follow the below-mentioned steps accordingly to carry on the tiling process without facing any complex issues. The process of installing mosaic tiles could be a little different.
Once your shower walls are prepared and made water-resistant, you can start tiling. This process does require a lot of planning. However, as the tiles have very specific measurements and one mistaken placement will ruin the whole wall or floor, some calculation has to be done before you start.
Step 1: Do the Measurements First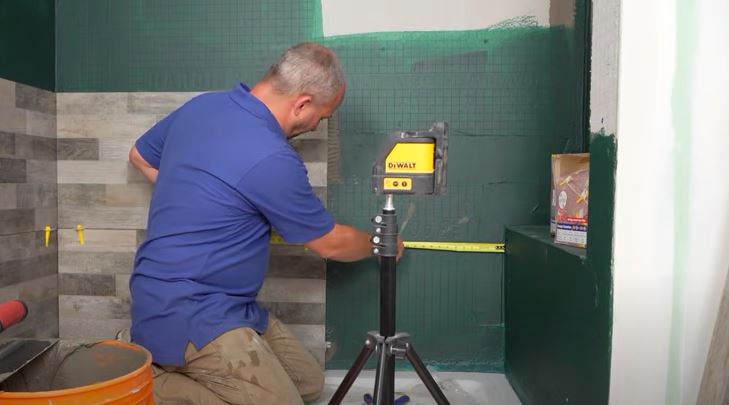 So, get a measuring tape and note down the length and breadth of the wall. Calculate how many tiles do you need to cover the whole surface. If you do not have a shower pan, you will have to do the same for the floor, as that will need tiling too.
Keep in mind that you may have to cut the tiles in places because there will be certain corners or curves a whole tile won't fit in. You can use a wet saw or tile cutter to do this. However, don't dive into the action unless you are sure of how to cut a tile, because cutting vinyl made tiles is different from cutting ceramic made tiles and so with other types of tiles. So, do not cut your tiles until you have applied enough tiles to decide exactly how much tile to cut off.
Leave some space for the grout between the tiles. Plus, the measurements may change slightly after you start placing them. So, do not take any risks until you have a precise idea.
Step 2: Make Sketches If Necessary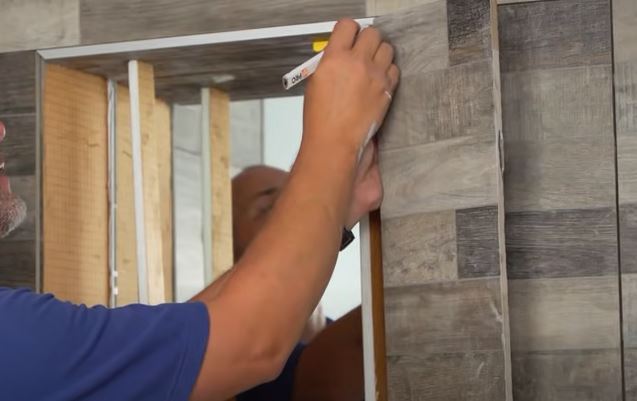 You can even make sketches on the walls and floor, to mark out exactly where you will place the tiles. Absolute accuracy is very important in this type of work. You can then follow the sketches to place the tiles.
Step 3: Prepare the Adhesive
When you have everything ready, prepare the adhesive to stick the tiles to the surfaces. You should use thin-set mortar, which you will have to mix yourself.
Follow the instructions given by the manufacturer, or mix the mortar yourself, making sure it is not too thin or too thick. The consistency should be buttery and spreadable but make sure it's not very runny.
Don't mix far too much mortar right away, as it will harden quite fast and make your job tough. Mix enough for a row, apply the mortar and tiles and mix again. But before applying the mortar, take a wet sponge and dampen the walls and floor with it.
Step 4: Apply an Even Layer of the Adhesive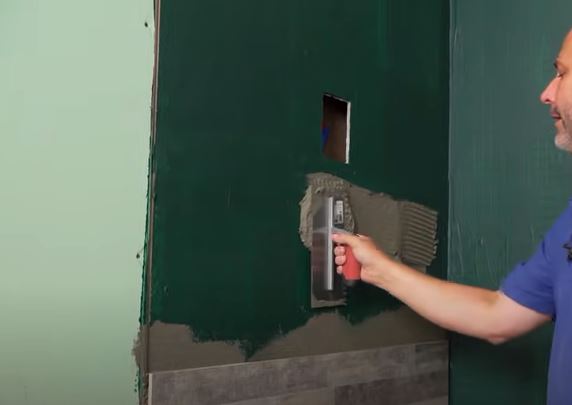 Apply an even layer of mortar where you want your tile. You also need to put a small amount of mortar under the tile you want to stick. Just focus on each corner and the center of the tile, you don't have to cover it completely with mortar.
Step 5: Press Down the Tiles
With both the tile and wall or floor coated, press the tile on to the surface and press down a little, so it sits evenly. Apply more tiles in the same way, leaving 1/8" in between, for the grout to go in. You can use tile spacers to make sure the gaps remain free.
Step 6: Clean the Excess Mortar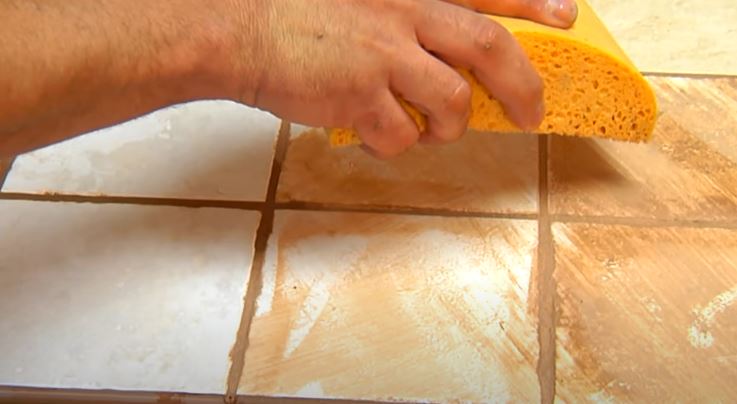 Mortar will be oozing out between the tiles when you press down on the tiles. Use a rag or Q-tip to clean up the excess. You can use a v-notched trowel to apply your mortar, which will create gouges, well-suited to hold the tiles in place.
Work in rows, measuring occasionally as you go, to make sure the spacing remains as per the calculation. Keep your tiles clean from excess mortar. Give the whole space a scrub with sponge and plain water, once you are done. Then, let the tiles set and dry for 48 hours.
Step 7: Get Your Grout Ready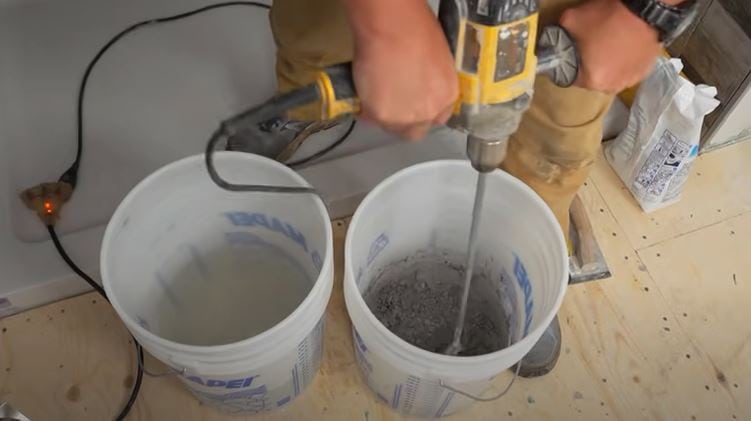 Having waited the recommended hours, you will have to grout the tiles next. You can either buy premixed grout or mix it at home, following the manufacturer's instructions.
Step 8: Apply the Grout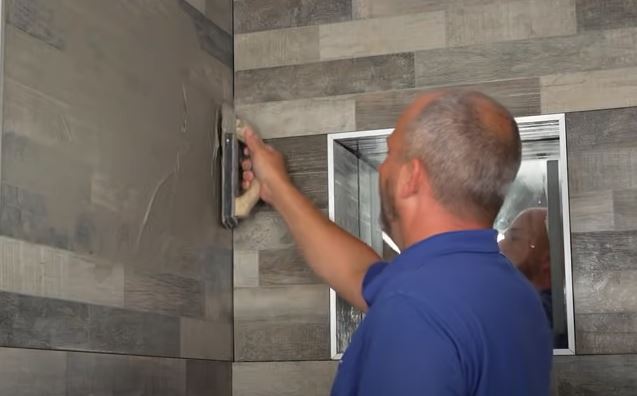 Then, use a float to apply the grout on to the tiles. This material is only for the gaps between tiles, so any grout left on the tiles is in excess and has to be removed.When you are done spreading the grout, use a tool with a rounded end, like a pen or pencil, to press down the grout. This will help them fill up any remaining spaces.
Step 9: Clean Off the Excess Grout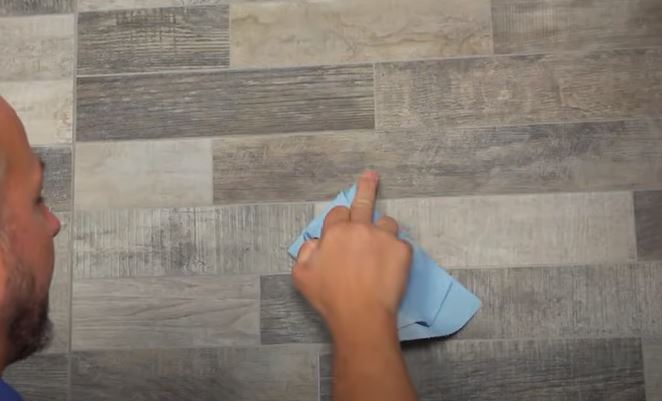 Grout must be cleaned off properly, preferably with a wet sponge, until all traces are gone from the tiles. Leave this setup to dry for 2-3 days, before you use the shower or apply any sort of sealant.
Step 10: Make the Tiles Water-Resistant
After the wait is over, get a can of sealant and spray it over the tiles. This will make them water-resistant, and provide a nice glaze, too. You can also get some caulk, which you will need to apply between the tiles and any bathroom appliances, like shower heads.
Step 11: Finish by Applying Caulk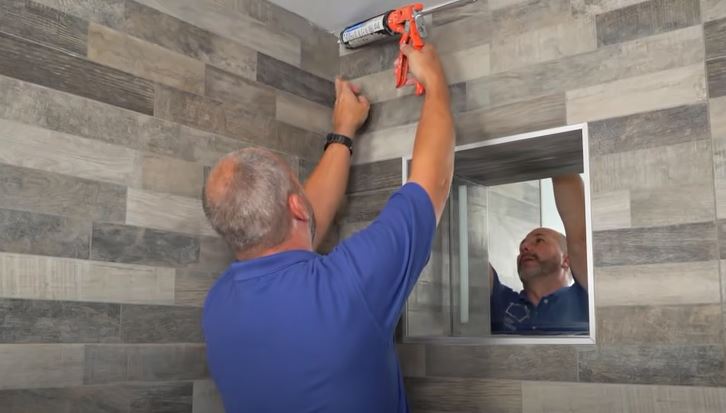 Apply a little caulk and spread it over the gap with your finger. Do not apply grout to these gaps, and make sure the caulk you use is the same color as the grout. With this last step completed, you will have a fully tiled shower!
Frequently Asked Questions
Is PVC flooring better than tiles?
If you're looking for a flooring material that's easy to clean and maintain, then PVC flooring is definitely not for you. Cleaning expanding foam off a PVC can be a real headache, and unless you want your floors to always look dirty, you'll need to put in quite a bit of effort.Tiles, on the other hand, are much easier to keep clean – just give them a quick sweep or mop and you're good to go.
What is the difference between vinyl flooring and PVC flooring?
PVC and vinyl flooring are both made from Polyvinyl Chloride, but they are different. PVC is made with anizer heat while vinyl may have water added to it to make it more flexible. This makes it better for places where there is a lot of traffic, like hallways or classrooms. Children can play on it.
Can you tile over shower wall panels?
Yes, you can tile over shower wall panels. However, you will need a tile adhesive and primer to attach the tiles to the wall panels. Make sure to follow the manufacturer's instructions for the cement and primer, as each product may have different application instructions.
Conclusion
This process can be a little time-consuming and does involve quite a bit of work, but the result is worth the trouble. Plus, a DIY project might be perfect for you if you want to save money and also have a very personalized shower. Speaking of money, I also suggest you to learn more on how much does it cost to tile a shower before starting the work.