How to Clean Carpet Made from Recycled Plastic?
Carpet is one of the most commonly used flooring materials in homes and businesses. It's soft, comfortable, and can be easily cleaned. But what if your carpet wasn't made from traditional materials like cotton or wool? What if it was made from recycled plastic bottles? Sounds a little strange, right?
Well, it turns out that several companies make recycled plastic carpets! But what happens if they get dirty? How do you go about cleaning them?
Don't worry, it's relatively easy! Just vacuum them regularly and if there are spills, blot them up immediately with a clean, dry cloth. For tougher stains, you can use a very mild detergent and allow the area to dry completely.
Keep reading below for more tips on the best care for your recycled plastic carpeting.
What Is Plastic Carpet Called?

If you look carefully, you can find many types of carpeting available on the market, but most of it is made from plastic fibers.
The three most common types of plastic used in carpeting are nylon, polypropylene, and polyester. PVC, or polyvinyl chloride, is likewise occasionally used. Besides, there have been advances in the technology used to create carpet fiber from recycled materials in the last few years. It includes recycled plastics, such as those used to make beverage bottles.
All these carpets are often referred to as "plastic carpets."
Plastic carpets have many advantages over other types of carpeting. They are usually more stain-resistant and easier to clean than other types of carpeting. They are also often less expensive.
What Type of Carpet Is Made from Recycled Plastic?
There is a particular kind of plastic commonly used in the manufacturing of food and beverage containers/bottles and synthetic fibers for clothing. This type of plastic is made from polyester, called polyethylene terephthalate, also known as PET. 
That's why plastic carpets made from this recycled plastic is called PET carpet. Due to its durability and resistance to stains, PET has become a popular choice for many homeowners looking for an affordable and low-maintenance flooring option for homes with children or pets. 
In addition, PET carpet is available in various colors and styles, making it easy to find a match for any decor.
How to Clean Carpet Made from Recycled Plastic?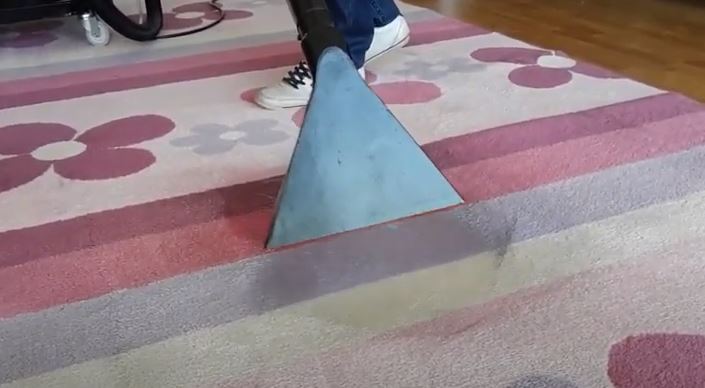 Carpets made from recycled plastic are becoming more popular because they are durable and easy to clean. However, some people worry that cleaning them will be difficult. Here are some tips on how to clean carpets made from recycled plastic:
Vacuum First
Vacuum the carpet to remove any dirt or dust. Use a vacuum with a soft brush attachment to avoid damaging the fibers.
Apply Water Solution
Mix a soft detergent solution (do not use any harsh chemical cleaning products) and warm water. Test the solution on an inconspicuous carpet area first to make sure it won't damage the fibers.
Then, use a sponge or soft brush to apply the solution to the entire carpet. Allow it to sit for several minutes before rinsing with clean water.
Let the Carpet Dry
Dry the carpet thoroughly using a fan or hairdryer before putting any furniture back in place because damp carpets can attract mold and mildew. Once it is completely dry, you can vacuum again to fluff up the fibers before walking on it or replacing furniture.
Carpets made from recycled plastic are durable and easy to clean, making them a great choice for busy families. Your carpet will look new for years to come with a little care!
Is Carpet Made from Recycled Plastic Bottles Safe?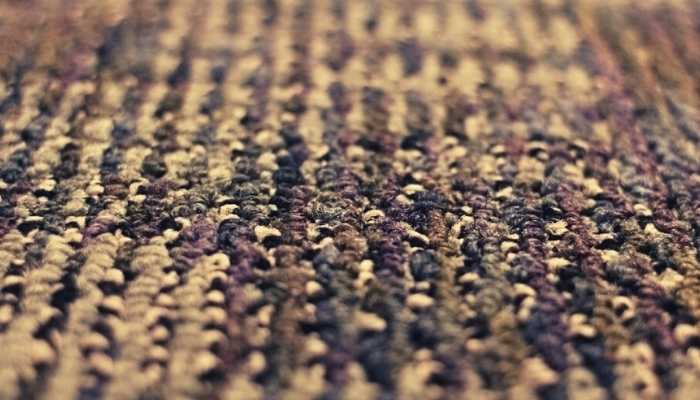 PET plastics are frequently used in food and beverage packaging, as well as in other consumer products. There is no confirmed proof that these materials release contaminants into our bodies. That's why most experts believe that they are relatively safe.
These carpets are becoming increasingly popular and safe for several reasons. Keep reading below for more:
No Extreme Chemical Is Used
They do not need the same harsh chemicals used on other types of plastic carpets. They also resist staining and fading and keep their color well.
Produced with Excellent Quality Fibers
People who have used PET carpet say that it is made with high-quality materials, which is why it is better and safer than other types of polyester carpets.
Environment Friendly
PET carpets are an environmentally friendly flooring option because, for each square meter of PET carpeting sold, the company prevents 40 soda or water bottles from ending up in a landfill.
Less Pollutive
The dyeing procedure is less polluting and needs less power to produce than different flooring alternatives. Plus, all PET carpets meet indoor air grade measures set by the U.S. Environmental Protection Agency.
So, if you're looking for a green flooring solution, PET carpet is worth considering.
Conclusion
Over the past few years, there has been an increasing trend toward using recycled materials for various purposes. Carpeting is one area where recycled materials are becoming more popular, as they offer many advantages over traditional carpet fibers. One of the main benefits of using recycled plastic for carpeting is that it is extremely enduring and easy to clean.
Furthermore, recycled plastic carpeting is often made from post-consumer waste, which helps to reduce the environmental impact of manufacturing new carpeting. Recycled plastic carpeting can provide a durable and attractive floor covering for any home with proper care.
Vacuuming your carpet is important for keeping it clean and free of dirt and dust. But did you know that there is a right way to vacuum? Our experts can show you how to properly vacuum your carpet, so you can keep it looking its best. If you are intrigued be sure to check how to vacuum your carpet the right way, from our site.
We have covered how to vacuum how to clean carpet made from recycled plastic, and now we are presenting how to recycle vacuum cleaner. See what i did there, yes, you're welcome. Thanks for reading and don't forget to comment on this topic.