Can I Use Fabuloso in My Tineco? – Risks & Alternatives
You can use Fabuloso in your Tineco, though it's recommended to stick to Tineco's cleaning solutions. Fabuloso is versatile and popular as a bathroom cleaner, also serving as a multi-purpose option. Just ensure to follow guidelines for best results.
But let's first discuss what the consequences can be, whether it is safe, what guidelines you should follow, and all. Let's begin.
Is It Safe to Use Fabuloso in Tineco?
Using Fabuloso or any third-party cleaning solution in your Tineco device is not recommended. Tineco, a renowned brand for floor and carpet cleaners, clearly specifies in its user manual against such usage.
These devices are specifically optimized to function optimally with Tineco's own cleaning solutions, designed to generate the ideal amount of bubbles per gallon during the cleaning process.
While Fabuloso is a versatile cleaner, introducing it into your Tineco machine might lead to unforeseen issues. Fabuloso's solution can generate abundant foam, causing it to stick to surfaces and create bubble leaks all around.
To maintain the longevity and performance of your Tineco cleaner, adhering to the manufacturer's recommendations is advisable. This includes using only Tineco-approved solutions and following the prescribed guidelines.
How to Use Fabuloso in Tineco Safely?
Well, if you are one of the loyal customers of Fabuloso, then you are going to use it anyway in Tineco. You should at least take some precautions so that you can avoid the damage.
| | |
| --- | --- |
| Compatibility Check | Ensure your Tineco vacuum cleaner model supports the use of third-party cleaning solutions like Fabuloso. Refer to the user manual or manufacturer's guidelines. |
| Dilution Guidelines | If Tineco's proprietary cleaning solution is unavailable, carefully follow Fabuloso recommended dilution ratios. Using improper concentrations can affect cleaning efficacy and may harm surfaces. |
| Patch Test | Prior to full-scale use, perform a patch test with diluted Fabuloso in an inconspicuous area. This helps identify any adverse reactions such as discoloration or surface damage. |
| Moisture Control | Excess moisture can seep into the device and cause damage. Use damp—not wet—cloths to mop, ensuring a safe cleaning environment. |
| Cleaning Mode Selection | Choose the appropriate cleaning mode on your Tineco device. Ensure the selected mode is suitable for use with Fabuloso and the type of floor or surface you are cleaning. |
| Thorough Cleaning | Gently mop and scrub the area using Fabuloso solution. Pay attention to even coverage and avoid abrasive scrubbing, which could damage delicate surfaces. |
| Drying Time | Allow the cleaned area to air dry thoroughly before resuming regular use. This minimizes the risk of slipping and prevents moisture from affecting the device. |
| Maintenance | After use, clean your Tineco device as per the manufacturer's instructions. Regular upkeep guarantees the device's optimum performance and durability. |
Alternatives Fabuloso to Use in Tineco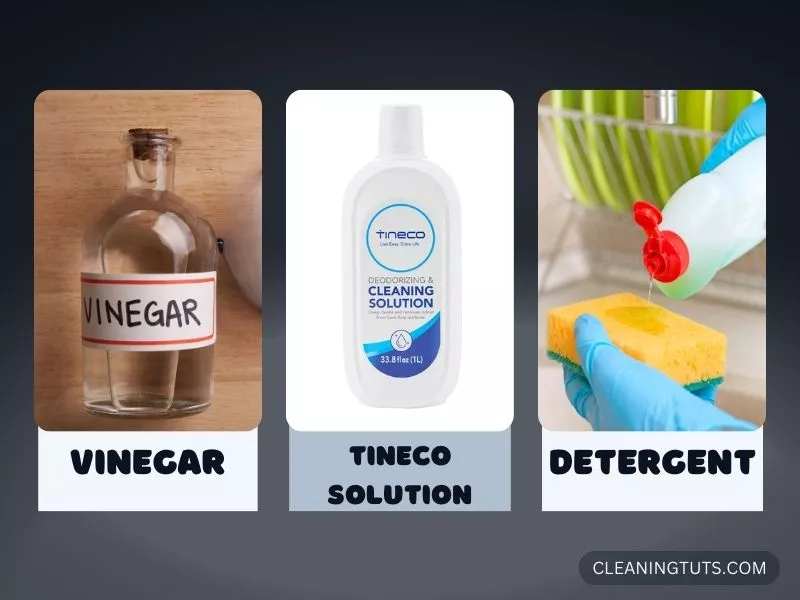 Exploring suitable alternatives to Fabuloso for your Tineco cleaner can provide you with safe and effective cleaning options.
| | |
| --- | --- |
| Tineco Branded Solution | Stick to Tineco's proprietary cleaning solutions, specifically designed for your Tineco cleaner. They ensure optimal performance and device longevity. |
| Vinegar and Water | Mix equal parts of white vinegar and water for a natural and safe cleaning solution. It effectively cuts through dirt and grime while being environmentally friendly. |
| Mild Dish Soap and Water | Dilute a small amount of mild dish soap in water. It's gentle yet effective for various surfaces, including hardwood floors and tiles. Ensure proper dilution to prevent residue buildup. |
| DIY Essential Oil Blend | Create a solution by mixing water with a few drops of essential oils like lavender or tea tree. This adds a pleasant fragrance and offers some natural cleaning properties. |
| Commercial Multi-Purpose Cleaners | Opt for well-known multi-purpose cleaning brands that are compatible with Tineco. Ensure they don't contain harsh chemicals that might damage the device. |
Frequently Asked Questions
What is fabuloso used for?
Fabuloso is a versatile cleaning solution primarily used for cleaning various surfaces in homes, including floors, countertops, and bathroom fixtures. It effectively removes dirt, grime, and stains, leaving behind a pleasant fragrance and a clean environment.
Can you use Tineco Without Water?
Tineco devices, such as vacuum cleaners and wet/dry vacuums, are designed to operate with water or compatible cleaning solutions. Using them without water might affect their functionality and performance, as water is essential for their intended cleaning processes.
Will using Fabuloso void my Tineco device warranty?
Yes, using Fabuloso in your Tineco device could potentially void your warranty. Tineco's guidelines often recommend using their proprietary cleaning solutions to ensure optimal performance and prevent damage to the device.
Conclusion
The decision to use Fabuloso in your Tineco device should be approached with caution. While Fabuloso is a versatile cleaner, it might not be compatible with Tineco's specifications.
Deviating from Tineco's recommended solutions could lead to risks like damage, clogs, or voided warranties.
Prioritizing Tineco's branded solutions ensures optimal performance and safeguards your investment. Bye mates!
---