How to Clean Polyaspartic Floors? – Maximize the Lifespan of Your Floor
Polyaspartic coatings are derived from a class of materials known as polyaspartic esters, which are created by reacting a polyisocyanate with polyaspartic acid.
These coatings are applied as a liquid and then cured to form a durable and seamless finish on the floor surface. Polyaspartic floor coatings are known for their rapid cure time, which means they can be installed quickly compared to other coating systems.
For cleaning your polyaspartic floors, it's recommended to sweep or vacuum regularly to remove dirt and debris. Opt for a pH-neutral cleaner and use a soft mop or cloth for general cleaning.
However, to maintain their shine and increase longevity, you must learn how to clean Polyaspartic floors in the right way.
Let's dive in and find out all about maintaining your Polyaspartic floor coating and different methods of cleaning it.
How to Clean and Maintain Your Polyaspartic Floor Coating?
There are multiple ways to clean and maintain your Polyaspartic floor coating.
First, you can go for dry cleaning with a vacuum cleaner or soft-bristle broom. Simply sweep away the loose debris, dust, and other dirt regularly to prevent scratches and wear.
Another way is to wet clean with a pH-neutral cleaner suitable for Polyaspartic floors. All you have to do is make a cleaning solution and dip a mop in it. Sweep any stubborn debris or grime and rinse the coating with hot water afterwards.
Or use an automatic floor scrubber to cover larger areas. Fill the scrubber tank with a proper cleaning solution and operate the machine as recommended by the manufacturer.
Rinse the floor with clean water and let the Polyaspartic coating dry for about an hour.
Different Methods of Cleaning Polyaspartic Floors
As mentioned above, there are three effective methods of cleaning Polyaspartic floors. Dry cleaning is for removing regular loose dirt that might create bigger stains and grime later.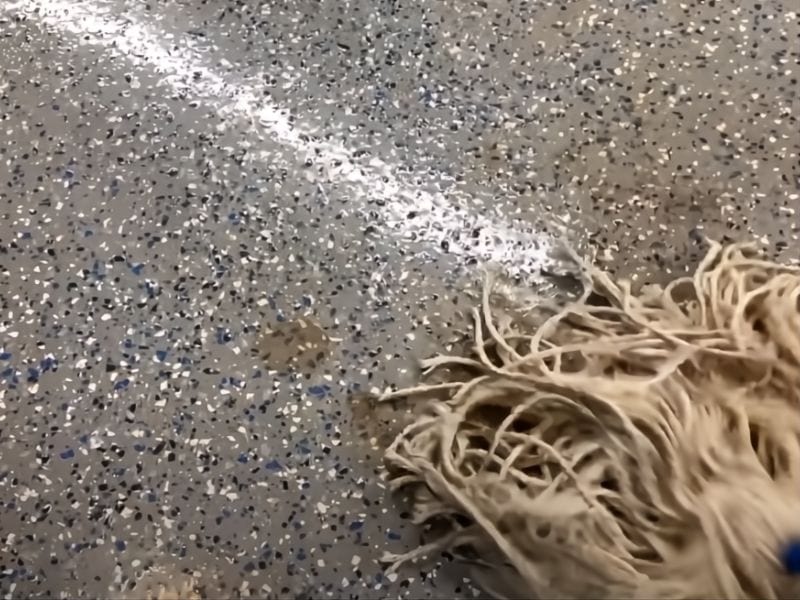 Wet cleaning is to remove all types of stains, dirt, marks, and other impurities. Auto scrubbing can be a low-effort solution to cleaning your Polyaspartic flooring.
Let's get into the details of each method.
Regular Dusting and Sweeping
Dry Cleaning – Sweeping Away Dirt and Debris
To dry clean your Polyaspartic floors, use a soft-bristle broom or a dust mop to sweep away dirt, dust, and debris from the surface. We recommend you dry clean the floor every day for high-traffic areas like the garage or pavement.
However, you can do it weekly or twice a week, depending on the level of foot traffic and the environment.
Thorough Cleaning – Vacuuming for a Deeper Clean
For more thorough cleaning, take a vacuum cleaner with a soft brush attachment to remove dust and debris. Be sure to vacuum the edges and corners of the floor as well.
Efficient Sweeping Technique – From Farthest Corner to the Door
While sweeping the floor, start from the farthest corner of the area and slowly move towards the door. This way, you can easily collect the dirt when you're finished dusting.
Using Cleaning Solution
Monthly Mopping – Protecting and Maintaining the Polyaspartic Floor
You have to mop the Polyaspartic floor at least once a month to prevent wear and tear, dirt buildup, and potential moisture damage. For this, fill a bucket with warm water and a pH-neutral floor cleaner especially manufactured for Polyaspartic floors.
Never use any harsh chemicals like hydrochloric acid, caustic soda, or lacquer thinner. Such abrasive cleaners can damage the floor's finish.
DIY Cleaning Solution – Ammonia for Safe and Effective Cleaning
If you're looking for a safer, DIY cleaning solution, you can make one by yourself with ammonia. Take one gallon of hot water in a bucket and mix about 5 ounces of ammonia in it.
Hot water will clean more effectively and won't damage the floor, as Polyaspartic coatings are resistant to temperature damage.
Mopping Technique – Systematic Cleaning and Final Rinse
Dip a microfiber mop into the cleaning solution, wring it out, and mop the floor in a systematic pattern. Clean the mop frequently to avoid spreading dirt.
When you're done, rinse the floor with clean water to remove any residue.
Cleaning Large Floors with Auto Scrubber
If you're looking for a safer, DIY cleaning solution, you can make one by yourself with ammonia. Take one gallon of hot water in a bucket and mix about 5 ounces of ammonia in it.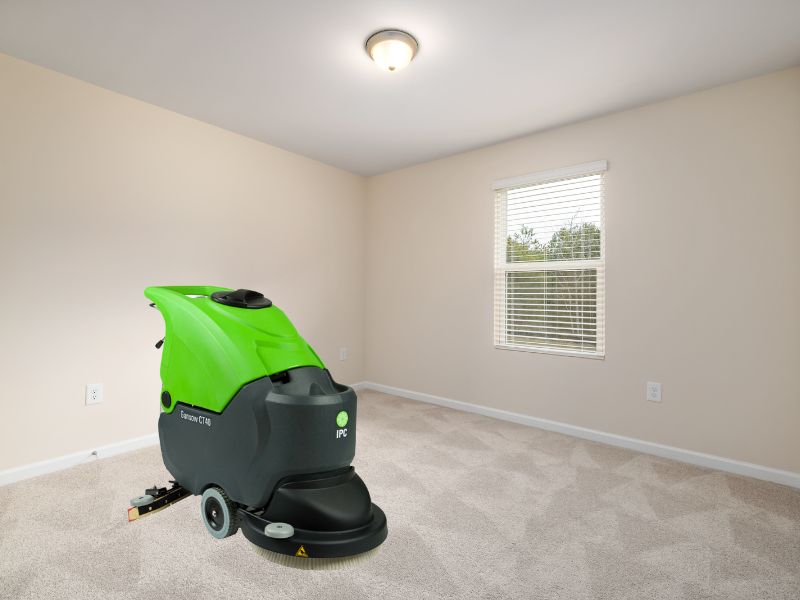 Hot water will clean more effectively and won't damage the floor, as Polyaspartic coatings are resistant to temperature damage.
Selecting the Right Scrubber – Non-Abrasive Tools for Safe Cleaning
First, choose a non-abrasive scrubber that won't scratch the surface or damage it in any way. For larger areas, an automatic floor scrubber with soft brushes or pads will give the best results. Microfiber mops will also work.
Got the right type of scrubber in hand? Proceed to the next step then.
Preparing the Cleaning Solution – pH-Neutral and Non-Toxic for Optimal Results
Fill the scrubber's tank with a cleaning solution made of warm water and a gentle, non-toxic, pH-neutral cleaner. Check out the instructions provided by the manufacturer and set up the auto scrubber accordingly.
Thorough Scrubbing – Ensuring Complete Coverage for a Clean Floor
Monitor the scrubber as it sweeps and cleans the floor. Make sure to cover the entire floor surface and don't leave any dirty corners.
Cleaning Tips for Polyaspartic Floor Coatings to Prevent Dirty Floors
While cleaning your Polyaspartic floors, you need to make sure the floor is washed properly without any damage. Here are some effective tips for completing the task conveniently:
Protect Your Floor Between Cleanings
Regular maintenance is the key to making your Polyaspartic floors durable and shiny. Hence, you must ensure maximum protection for the coating after each cleaning.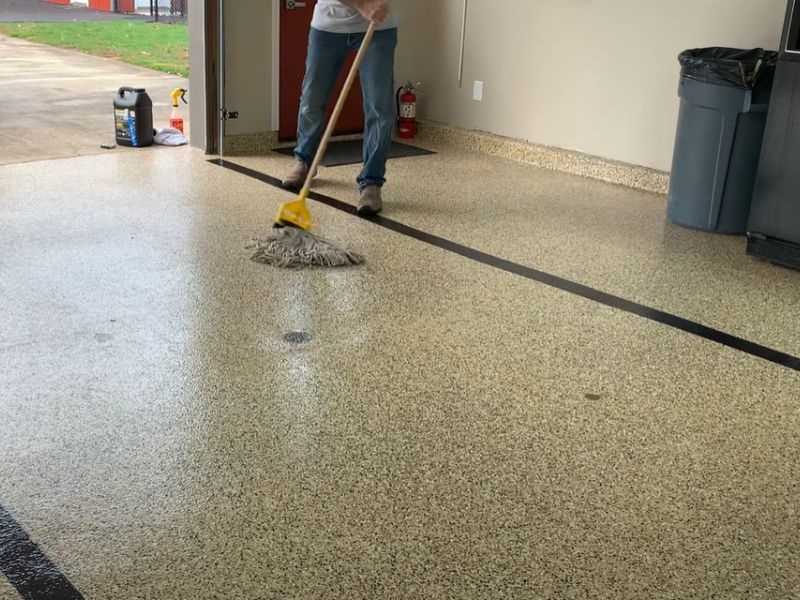 Here are the two key factors to protecting your floor between cleanings –
Follow the Proper Methods
For cleaning and maintenance, always follow the manufacturer's recommendations. Perform a deep cleaning to remove built-up dirt and grime. Rent or purchase a floor buffer with a soft pad or brush attachment.
Pour warm water and suitable cleaner into a bucket. Apply the cleaning solution to the floor and use the buffer to scrub the surface. After scrubbing, mop up the remaining cleaning solution and rinse the floor with clean water.
Choose a Suitable Cleaner
There are some cleaning chemicals that can potentially damage or affect the durability and performance of Polyaspartic coatings. So, it's essential to use gentle cleaning agents to maintain the integrity of the coating.
Always avoid bleach, strong acids, strong alkalis, and abrasive scrubbers.
Advantages of Regularly Cleaning and Maintaining Your Polyaspartic Floor Coatings
Now, you might wonder why you should take the trouble of cleaning your Polyaspartic floors regularly. Maintaining the coating has numerous advantages including –
Frequently Asked Questions
Aren't concrete floors already strong and durable?
While concrete floors are inherently strong and durable, Polyaspartic floor coatings provide additional protection against wear, stains, and damage. Besides, the cost will enhance the floor's appearance and make it look classier.
What causes bubbles and pinholes to appear on epoxy floors?
Bubbles and pinholes in epoxy floors can be caused by improper mixing, outgassing from the concrete, or moisture in the substrate.
If there's any crack on the floor, moisture will seep into the floor creating unwanted bubbles and damaging the floor's integrity.
How long does a Polyaspartic floor coating last?
With proper care and maintenance, a Polyaspartic floor coating can last for 20 years or more. In any case, it will exceed the lifespan of traditional epoxy coatings.
Wrapping Up!
So, now you know how to clean Polyaspartic floors. All you have to do is ensure regular dusting, mopping, and rinsing with warm water and a mild cleaner. Regular cleaning will help you maintain the appearance and longevity of your Polyaspartic floor.
Be gentle to avoid scratching the surface and follow our given methods. This way, the coating will maintain its shine and integrity for decades.