Easy and Effective Methods to Clean Brazilian Cherry Hardwood Floors
Brazilian Cherry, sometimes called 'Jatoba', is a widely used option for hardwood flooring because of its stunning reddish-brown hue and remarkable sturdiness.
These high-end hardwood floors can lose their luster and become soiled over time. So, how to clean Brazilian cherry hardwood floors?
You should start by vacuuming the surface to remove loose dirt and debris. Next, mix a mild hardwood floor cleaner with water and use a microfiber mop to gently clean the floor. Finally, allow the floor to dry completely before walking on it again.
Several methods can be used to clean your wooden floors. We'll provide you with a detailed guide in this article on how to properly clean and maintain Brazilian Cherry hardwood floors. Let's get going!
Exploring Options – The Different Cleaning Methods for Brazilian Cherry Hardwood Floors.
Allowing your floors to become excessively dirty might result in dull-looking floors and long-lasting damage that can be expensive to fix.
As a rule of thumb, you should clean your floors once or twice a week to prevent dust and dirt accumulation.
You can keep your Jatoba floor clean, by learning the variety of cleaning techniques we've provided below.
Home-Based DIY Method to Clean Brazilian Cherry Hardwood Floors
Natural remedies are a simple solution for cleaning wooden flooring. They save money and are bio-friendly cleaning options. So, let's get started with a step-by-step DIY cleaning method that will help you clean your wood floors.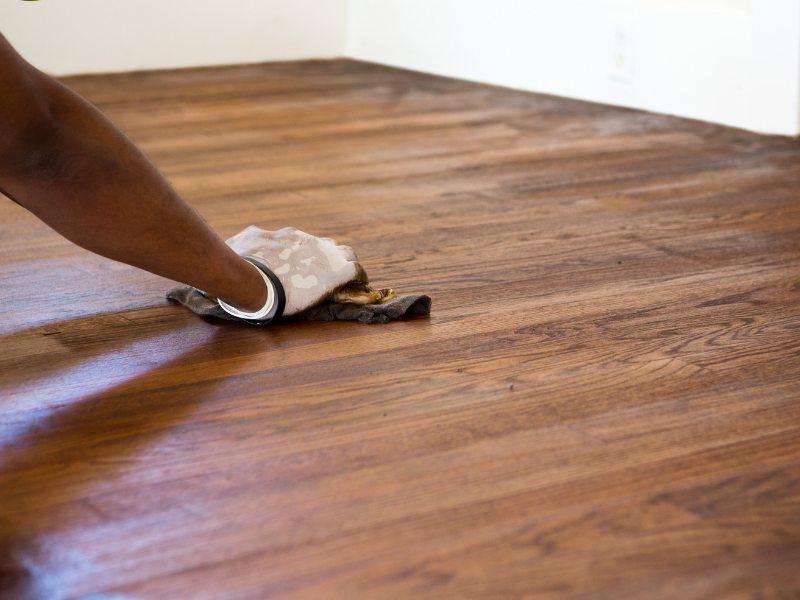 But before we begin, you need to gather some essential tools to ensure a successful cleaning session. You will require the following tools:
Get Objects out of Your Way
It's crucial to set up the space by getting rid of any furniture, carpets, or other objects from the floor before you begin the cleaning procedure. This will help create an unobstructed cleaning surface.
Start by using a microfiber dust mop to sweep the floor; the Bona Premium Microfiber Floor Mop is an amazing option. This will help gently remove the dust from your floors.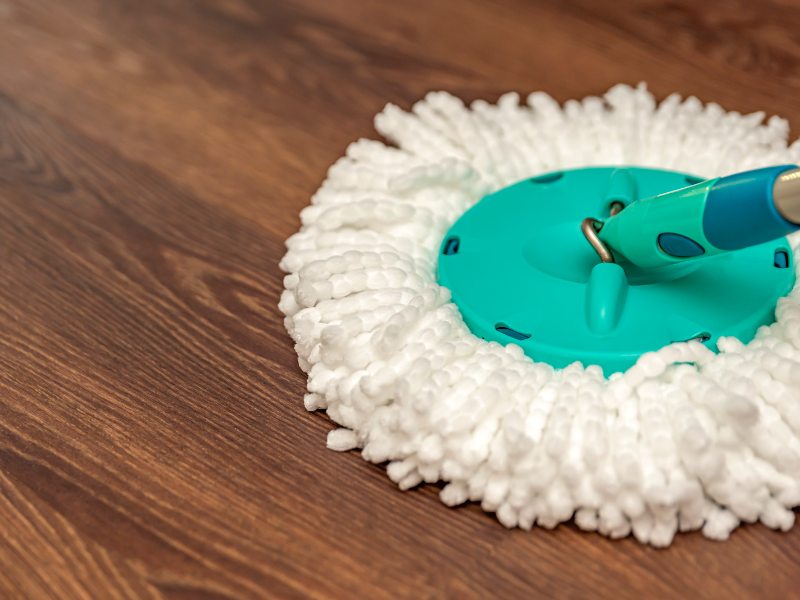 If your floors are filthy and you prefer to use a vacuum cleaner, you should opt for one with a hardwood floor attachment.
As you clean, it's essential to pay special attention to corners, edges, and hard-to-reach areas. These spots often accumulate more dirt and require a bit of extra effort to clean thoroughly.
Look out for any spills or stains while you clean. If you do discover any, apply a little amount of dish soap directly to the stain and then scrub it gently with a clean towel. This aids in soaking up the spill and preventing it from setting.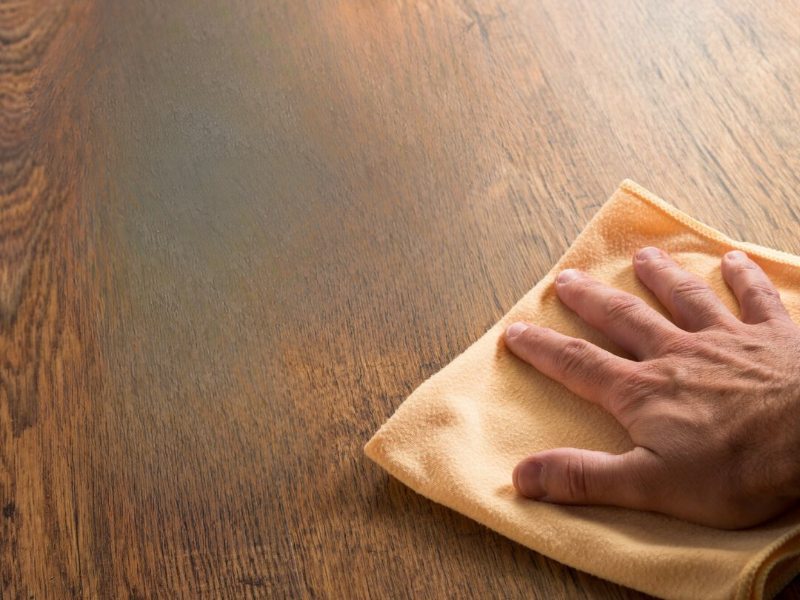 When removing stains from wood floors, it's crucial to refrain from using excess water or aggressive cleaning products. These might harm the surface of the wood.
Prepare the Natural Cleaning Agent
When it comes to cleaning solutions for your wooden floor, you have two home-based options to choose from.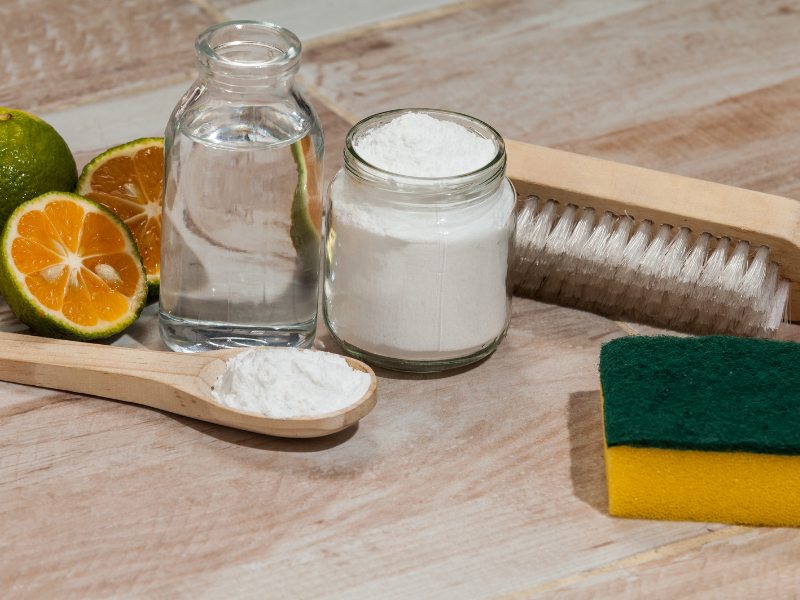 The first choice is to use a black tea solution, which has tannic acid, which aids in polishing and cleaning wood surfaces. The second option is to mix water with vinegar. This solution is a popular DIY alternative for cleaning wooden floors.
Black Tea Solution
Start by boiling 1.5 to 2 liters of water in a pot to make a DIY black tea cleaner for your floors. Add 3–10 bags of black tea to the boiling water and turn the heat off.
After letting the mixture steep for 15 to 20 minutes, strain it to get rid of the tea bags. Put the mixture in a spray bottle after it has reached room temperature and use it to clean your floors.
Water and Vinegar
Take a bucket, add one gallon of hot water to it, then stir in one cup of vinegar.
You should only use distilled white vinegar as it is inexpensive and has 4-5 % acetic acid, which is ideal for getting rid of dirt, and oil without harming the wood.
You may add a few drops of lemon essential oil for a delicate citrus scent to mask the vinegar smell.
You can perform a patch test on a small area of the floor to make sure the cleaning agent is safe for your expensive Brazilian cherry hardwood.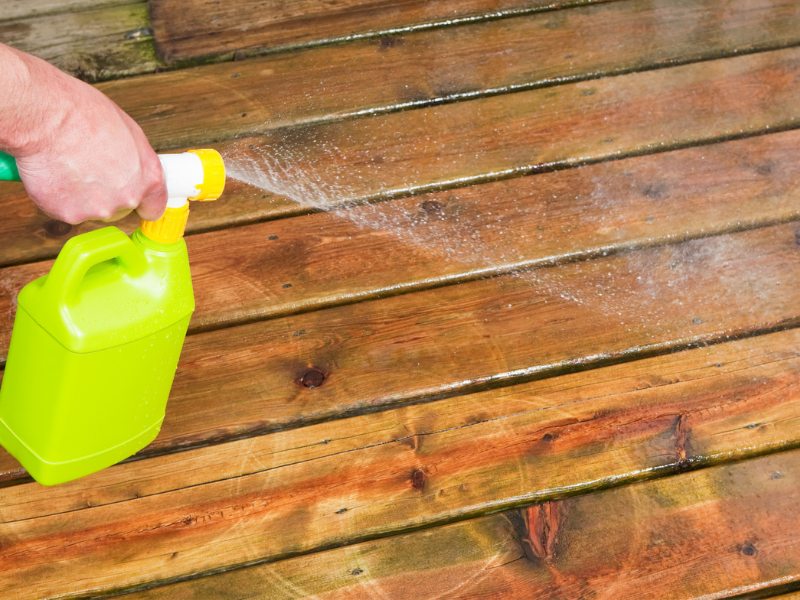 To perform a patch test, choose a hidden area, apply the cleaning agent, wait, and observe for any damage or discoloration.
Evaluate the results to determine if it's safe for the rest of the floor. Protect your investment with a simple patch test.
Mop the Floor with a Microfiber Mop
After that, mop the floor with a microfiber mop after dipping it into the cleaning solution and wringing off any extra liquid.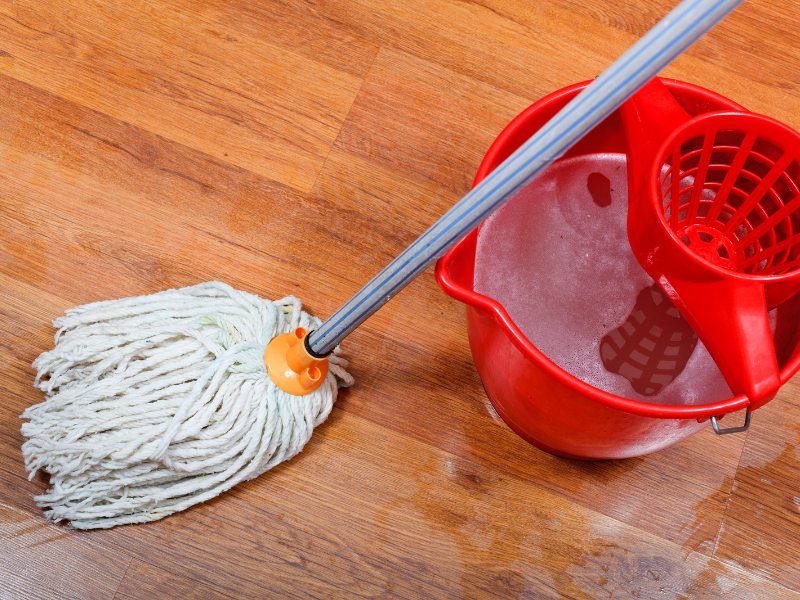 To keep from tripping on the wet floor, start at one end of the room and work your way out. For the best results, always mop in a sliding motion.
Wipe the Floor with a Cleaning Cloth
After that, you should use a clean fabric to dry the damp surface after mopping your floors. This step is essential to stop moisture from penetrating the wood and harming it.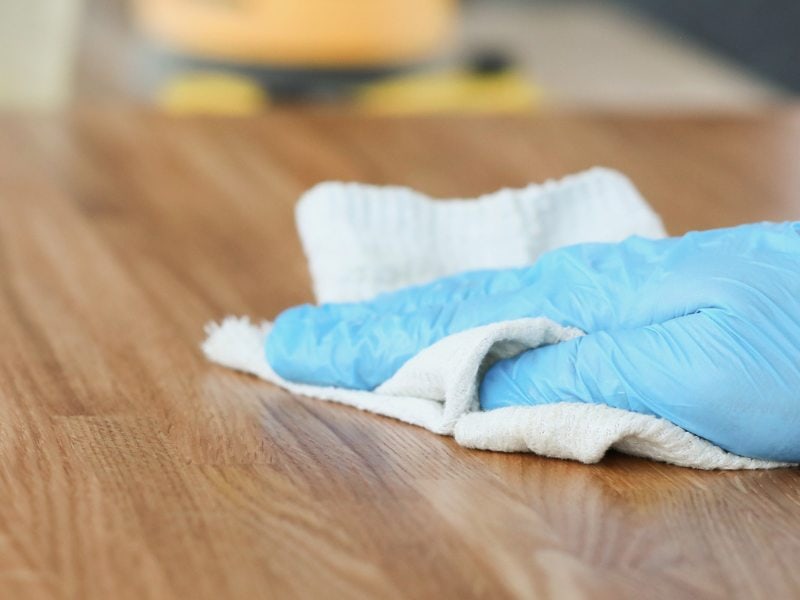 Polish or Wax Your Wooden Flooring
You can use a DIY wood floor polish if your floor still looks drab or lacks sparkle after cleaning. To make your Brazilian wooden floors shine and seem brand-new, follow these instructions on preparing a natural wood floor polish.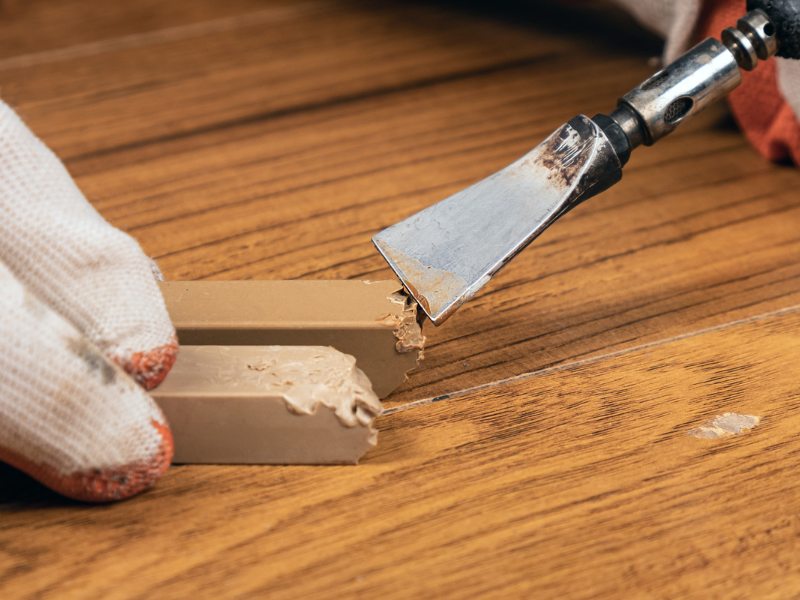 Apply Furniture Pads Before Re-Arranging Your Furniture
After you are done with cleaning, you should put furniture pads on the bottom of the chair and table legs to guard against dents and scratches when you rearrange them.
Brazilian Wooden Floor Cleaning with Professional Cleaning Products
If you are short on time for DIY cleaning solutions, commercial products can be a convenient alternative. When it comes to wooden floors, using professional cleaning products designed for wood surfaces is key.
On Jatoba hardwood flooring, you must use pH-balanced cleaners rather than solutions containing ammonia or bleach. Below we have provided some recommended products and instructions on how to use them.
1. Bona Hardwood Floor Cleaner
Follow these instructions to clean your floors using Bona Hardwood Floor Cleaner: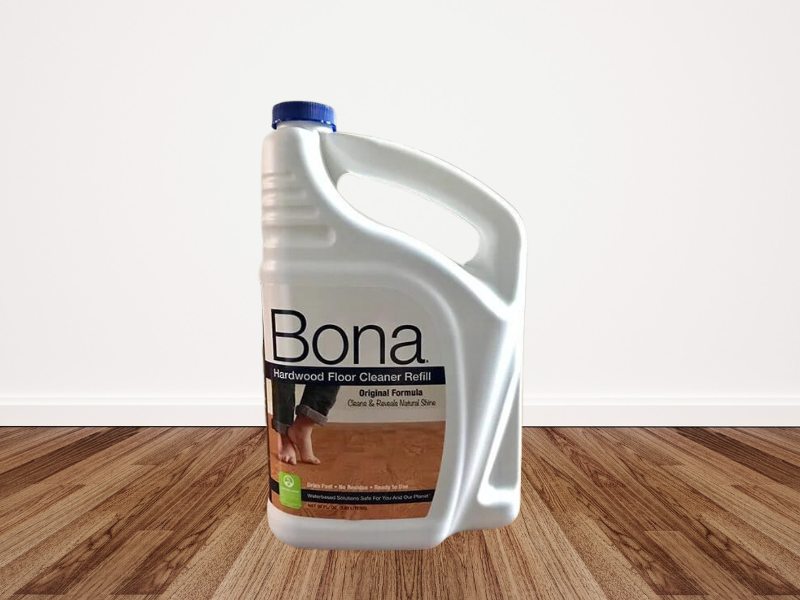 2. Murphy's Oil Soap
Murphy's Oil Soap is a well-known wood cleaner that can be used on Brazilian hardwood flooring. Here's how to use it: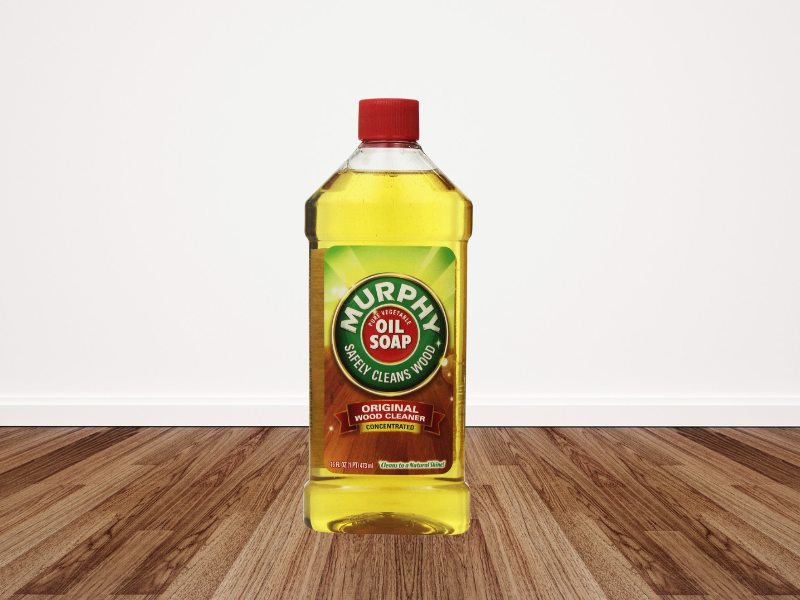 3. Castile Soap and Water
Another excellent way to clean your Jatoba hardwood flooring is with warm water and castile soap.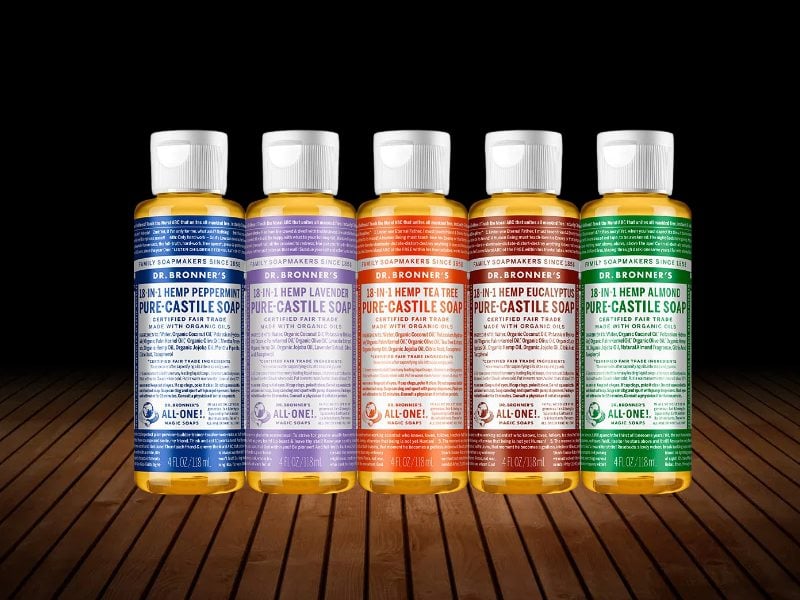 For Other Commercial Solutions
Vacuuming Your Floor
Start by vacuuming your wood floor. Take time to get rid of all the debris and dirt off the floor.
Mix Up the Commercial Cleaning Solution
Next, you need to pick the right commercial solution for your Brazilian Cherry wood. Experts usually recommend going for such products that have a soothing scent and also aid in shining the floors. Plus, ensure they are safe to use and aren't sticky on the floor.
Once you've got your perfect cleaning solution, mix it according to the directions, and you're all set to clean the floor.
Cleaning the Floor
Use a soft bristle brush or terry cloth to make your hardwood floor shine shine. You can also clean your floor with a mop. A flat mop is one of the best ways to clean wood floors since it cleans quickly and doesn't damage the floor's texture.
Let It Dry
Once you're done cleaning, take a damp cloth and ensure there is no leftover of the cleaning solution. Finally, let your floor dry! You can turn on the fan for quicker air circulation.
Brazilian Hardwood Floor Users: Facts You Should Know
There is some key information that Brazilian hardwood users should be aware of. The following is a list of some important information:
Your Jatoba flooring may deform as a result of excessive dampness. Thus, to maintain the ideal humidity range of 30% to 50%, you should use a humidifier or dehumidifier.
When Brazilian wooden floors are exposed to sunlight, their color might deteriorate over time. This process is called photo-oxidation. Use blinds or UV-protective coatings to protect your wooden flooring from direct sunlight.
Dirt and grime can be effectively removed from wood surfaces without harming the surface with the help of products like vinegar, lemon juice, and baking soda.
These floors are very well-liked due to their deep, reddish-brown coloration and unusual grain patterns. Other popular Brazilian hardwoods include Santos mahogany and Brazilian walnut.
4 Things to Consider to Keep Your Cherry Hardwood Floors Shining: Number 3 is a Must to Follow!
Brazilian Cherry hardwood floors need the correct cleaning solution and maintenance to keep the texture and shine intact. Any harsh chemicals or abrasive cleaners can distort the wood finishes. So, here are a few expert tips you must remember while cleaning these wood-type floors.
Cleaning Needs to be Perfect
Remove any loose dirt and debris by dry sweeping or even vacuuming. And if you're using a soft-bristle brush, ensure you're not going hard as it can leave scratches.
While moping, make sure you go gentle and cover all the areas of the floor. Letting the floor dry is a mandatory step, and you may also use a dry clean cloth to wipe the excess water from your floor.
Avoid Moisture at All Times
Brazilian Cherry hardwood is susceptible to moisture, therefore minimizing water exposure during cleaning. Excessive mopping can distort or cup your wood floors. Therefore, use a soft, dampen mop or towel to get the surface cleaned.
Clean Spills Immediately
To prevent any moisture from permeating the wood, wipe up spills immediately. Brazilian Cherry hardwood isn't water-resistant, so neglecting liquid spills can impact your hardwood floor. Plus, avoid spreading liquid by blotting with a cloth or even a paper towel.
Dust Regularly
Regular dusting will keep your Brazilian Cherry hardwood floors clean and super shiny. And if you have a pet at home, dusting should be a must! However, ensure you don't use stiff-bristled brooms, as this can leave scratches on the floor.
Frequently Asked Questions
Read the FAQs below for more information on how to keep your expensive wooden floor clean.
Are there any cleaning techniques I should avoid for Jatoba floors?
Yes, while cleaning Jatoba hardwood floors, it's crucial to stay away from using steam cleaners, wet mops, or large amounts of water. They can cause the wood to puff up or become discolored.
How frequently should I mop my Brazilian Cherry Hardwood flooring?
To avoid dirt accumulation, it is advised to clean your floors at least once a week.
Which type of vacuum cleaner should I use for my wooden floors?
It is recommended that you use a vacuum with a gentle brush attachment or one made for hardwood floors. Avoid using vacuum cleaners that include beater bars that could scrape or harm the floor.
How can I prevent scratches on my wooden floor?
These floors are susceptible to scratches, thus, it is best to use rugs to reduce wear and tear and to avoid dragging heavy objects over the floor.
Can I refinish Jatoba floors if they become worn or harmed?
Yes, these floors can be refinished if they start to look old or damaged. But rather than attempting to do it yourself, contact an experienced flooring contractor.
Will dampness on my Brazilian Cherry floor lead to color change?
Yes, there are chances that too much light exposure and moisture on your hardwood floor can gradually cause discoloration on your floor.
Which is better: A mop or sweeper for your Brazilian Cherry hardwood floor?
A sweeper is better if you're going for regular cleaning. However, if you require deep cleaning of your floor surface, then it's highly recommended that you go for a mop.
Will my Brazilian Cherry hardwood floor get scratched after cleaning?
Well, the Brazilian Cherry hardwood floors are quite durable, and there are very less chances of scratches. However, if you're not gentle with the cleaning, especially when using a bristled brush, then there might be scratches.  
Final Words
Maintaining the beauty and longevity of your Brazilian Cherry hardwood floors requires regular cleaning and proper care. Make it a habit to vacuum your floors regularly to remove dirt, dust, and grime.
In addition to vacuuming, weekly mop your wooden flooring with a pH-balanced hardwood cleaner. This simple step will help preserve the pristine look of your Brazilian Cherry hardwood.
Your Jatoba flooring will continue to be a stunning and long-lasting investment in your home if you abide by these quick cleaning and upkeep suggestions.