How to Protect Bathroom Floor from Urine? – Everything You Need to Know
The easiest way to protect the bathroom floor from urine is using a urine splash guard. Because it is a cheap and handy option that you can adjust with any toilet.
Besides, you can use an absorbent washable or disposable mat, anti-urine coating for the bathroom floor, and a toilet base plate. Moreover, applying an effective seal around the toilet base also prevents pee leakage from the grouts.
In this article, we will enlighten you about how to protect bathroom floors from urine. You will also learn about the cheapest and most expensive methods and the consequences of ignoring the urine splashing issue.
So, keep reading!
How to Protect Bathroom Floors from Urine? [7 Easy Methods]
Here are seven of the easiest yet most effective techniques for protecting the floors from urine:
1. Employ Absorbent Floor Matting
Absorbent floor matting can help to absorb all the splashed urine. It can be washable or disposable. If it is washable, you must take out the mat often and wash it using hot water and cleaning solutions.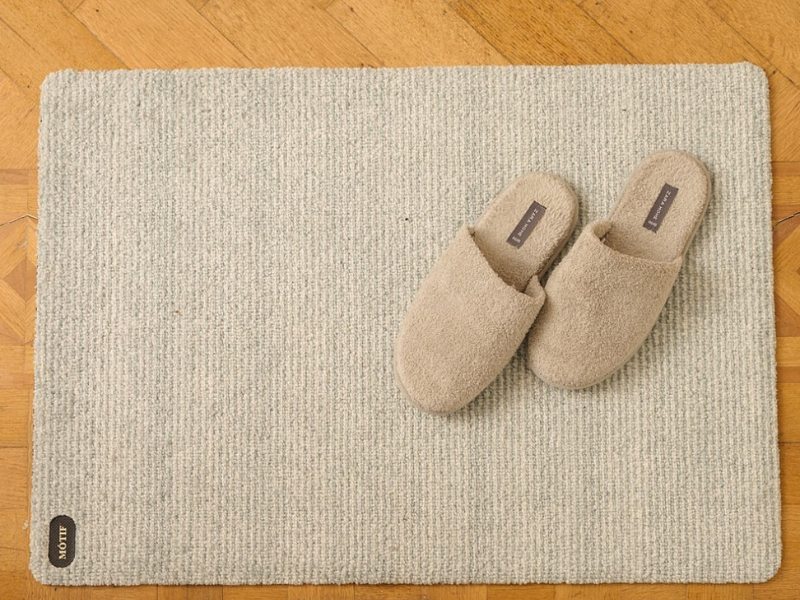 But, washing it frequently can be a troublesome method. That's why you can choose a disposable floor matting option. In such cases, you must replace the mat after the specified period or when it becomes soiled or worn out.
How often you change them depends on their thickness and odor-locking ability. If it's thin and can't lock the urine odor for longer, you must change it frequently.
2. Utilize Reusable Floor Guards
This method is more suitable if your bathroom has a wooden floor, as urine affects these floors too soon and severely.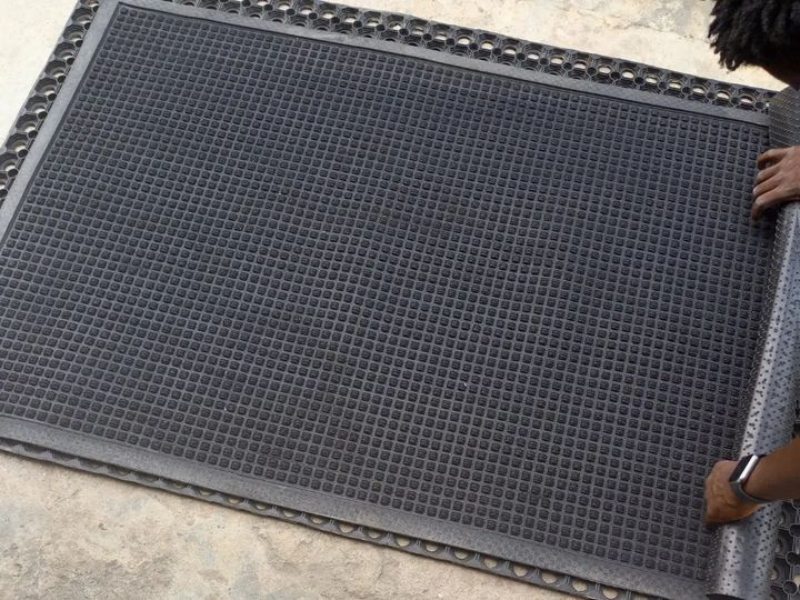 That's why we recommend using reusable floor guards all over the bathroom floor. This type of floor guard is cheap, waterproof, and washable.
3. Using a Urine Splash Guard
The urine deflector or splash guard is an egg-shaped tool that can prevent urine splashes while urinating. In urinals, this splash guard will prevent unclean urine splatter.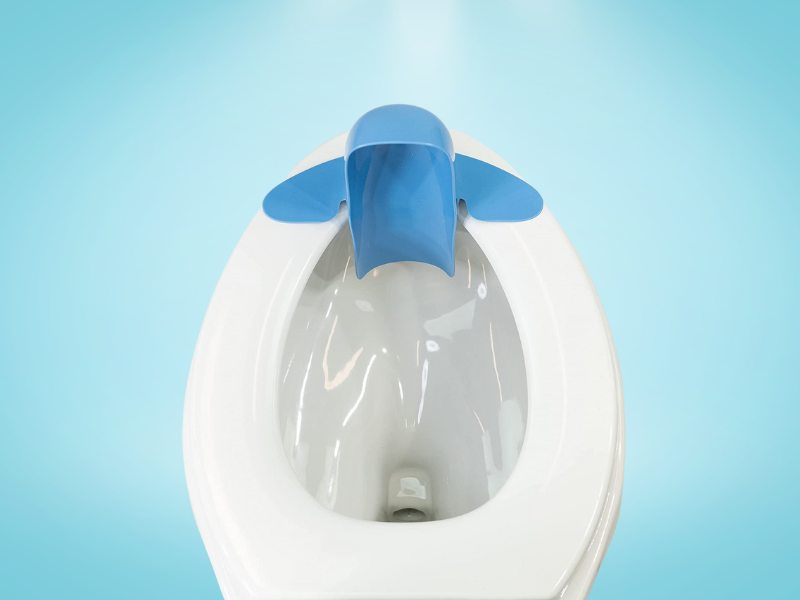 Similarly, in a high commode, a splash guard helps to prevent the splattering of urine from the gap between the toilet seat and bowl. This splatter guard will keep the urine inside the bowl and protect the floor from an unpleasant stain.
4. Choose Washable Floor Protectors for Toilets
Generally, washable floor protectors are made of absorbent material and are relatively cheap. The installation is also straightforward, which you can do within a few seconds.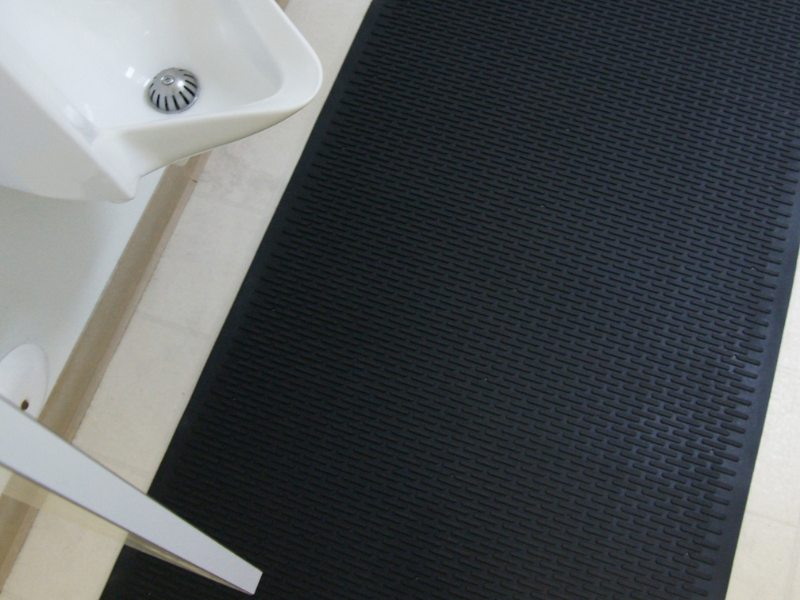 As it has absorbency, it will absorb the splashed or seeped urine and protect the floor. But you must wash the protectors frequently. Otherwise, they can spread unpleasant odors and germs.
To wash the protector, follow these steps:
5. Seal the Toilet Base Effectively
Sometimes, urine can seep through the gap of toilet grouts. Accumulation of urine will cause stain and odor issues later.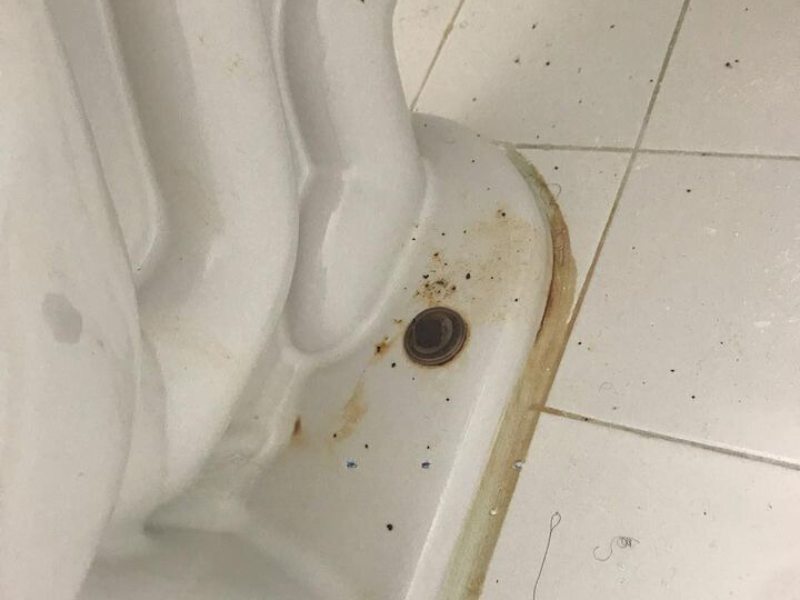 To stop this, you must address the gaps by effectively sealing the toilet base by applying caulk. Here are the steps regarding this:
6. Toilet Base Plate for Enhanced Protection
Installation of the base plate will give your toilet a clean and enhanced look. But the installation process is relatively more complex than any other method.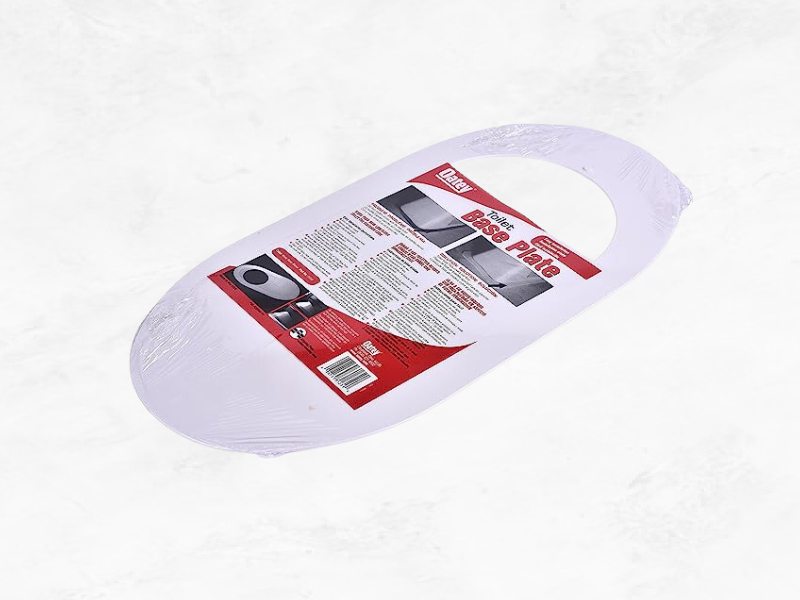 Let's see the installation process of the toilet base plate:
7. Incorporate Anti-Urine Coating for Floors
In the case of anti-urine coating, you can use this method only to warn toilet users against using the wrong place to urinate. But it won't be suitable for your washroom if you have a family member with a medical issue.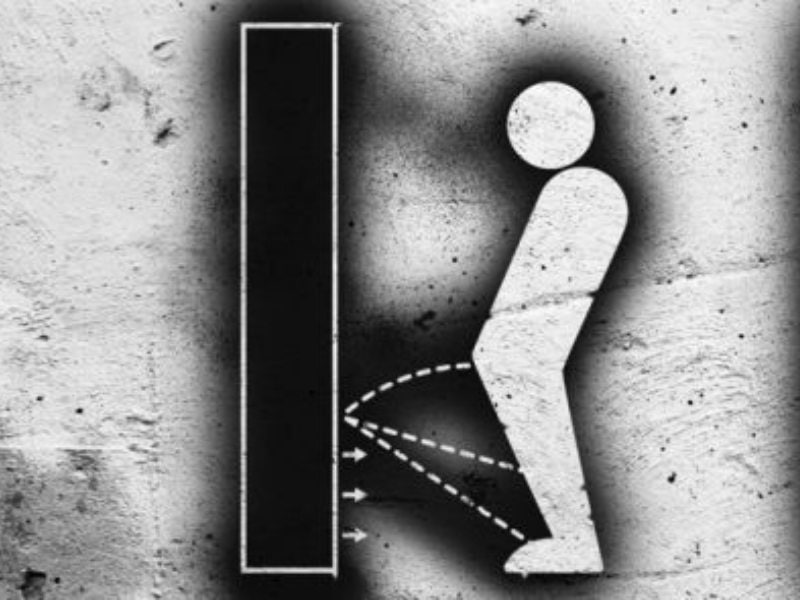 You can get this anti-pee coating in a spray can; so that you can spray the coating on the bathroom floor easily.
Generally, this type of anti-urine coating will repel the urine due to its hydrophobic characteristic. That means if someone urinates in inappropriate places in the bathroom, it will repel the urine toward the person.
The Consequences of Urine Spills on Bathroom Floors
Now that you know the potential methods for safeguarding your bathroom floor from urine, it is important to understand the repercussions if effective protection measures are not implemented.
Neglecting proper floor protection can lead to various undesirable outcomes.
Here are some significant consequences that can arise from urine spills on bathroom floors:
Now that you know the methods to protect the bathroom floor from urine. But if you fail to protect your bathroom floor effectively, this may result in many consequences.
Here are some consequences of the urine spilling on them in the first place:
Odor
If you leave the splashed urine uncleaned, it will spread an unpleasant smell eventually. When uric acid accumulates on the bathroom floor, the persistent odor will be hard to eliminate.
Stain and Blemishes
The splash back of urine can sink into the tiles grout and porous surface of the washroom tiles. This will create stains and off-color or brown blemishes on the floor tiles or near the toilet bowl.
Health Risks
Urine can cause potential infection or illness by harboring bacteria and spreading germs. Some of the severe health issues that can happen due to urine on the bathroom floor are as follows.
Urine carries ammonia – Ammonia in urine, a byproduct of protein metabolism, can release pungent fumes. Prolonged exposure to ammonia can irritate your respiratory system, potentially leading to respiratory issues.
Bacteria present in urine – Escherichia coli (E. coli), can enter your body through contact with contaminated surfaces. These bacteria can migrate to your urinary tract, causing painful and potentially harmful urinary tract infections (UTIs).
Urine also contains allergic chemicals – Urine contains various chemical compounds, including allergenic substances like urocanic acid and histamines. These compounds can act as triggers, inducing allergic reactions in susceptible individuals when exposed to urine-contaminated environments.
Slippery Surface
Urine splashing can make the bathroom floor slippery. Thus, this creates a high risk of falling and getting severe injury.
Scale Formation
The uric acid of urine can also create scale formation on the floor where urine spills. Generally, you will face this issue when you leave the urine-spilling issue unaddressed for a prolonged period.
Efficient Ways to Sanitize and Remove Urine from the Floor
As urine backsplash can cause foul odor, stains, and several issues, you must often sanitize and clean the urine from the floor.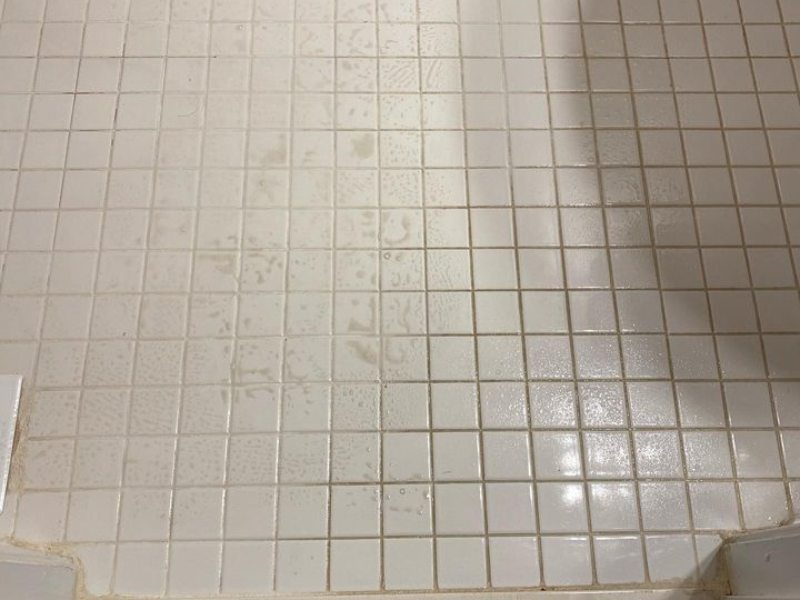 Because, even after implementing well-protective measures, urine can splash on your bathroom floor. The sanitizing method will depend on how severe the stain and odor are. Let's learn in detail.
Casual Cleaning
This is the regular cleaning method of your bathroom. If there is any minor stain of the urine, you will be able to remove that by following these steps:
Cleaning off the Stubborn Urine Stain
Sometimes, when you don't clean the floor regularly, the urine splash can cause stubborn stains all over the floor. To remove those stains, you need to follow these steps:
Using Commercial Solution to Clean Urine from Bathroom Floor
Aside from home remedies, you can use commercial cleaning solutions to clean your bathroom floor from urine. You can use All-Purpose Cleaner, Sanitizing, and Disinfecting Spray to clean urine from your bathroom floor.
Follow the steps below to do so.
Comparison Between Cheapest and Expensive Solutions Based on Effectiveness
Among all the methods for protecting the toilet floor from urine, the cheapest way is employing an absorbent toilet mat. In contrast, the expensive solution incorporates a toilet base plate.
Generally, installing an absorbent mat around the toilet base will cost around $20- $60. But, installing a toilet base plate may cost $200-300, including the price of the base plate, ring, flange extender, and labor cost.
Typically, the absorbent mat can't stop the urine splash; it protects the floor from contact with the urine.
On the other hand, installing the base plate will prevent the leak from the toilet base. It will create a tight seal so the urine can't leak from the toilet.
Also, this base plate will ensure the existing problems don't worsen. But, when the mat absorbs more than its ability, the floor will contact the urine. Thus, it will cause further odor and stain on the floor.
Frequently Asked Questions
The following frequently asked questions with their answer will help you further about protecting the urine from the bathroom floor.
Why urine splashes on my bathroom floor?
Inappropriate way of urination, excessive toilet use, and not using the splash guard can be the reasons for the urine splashes. Besides, leakage in your commode can also cause this issue.
Can the protection of bathroom walls and floors from urine be similar?
You can choose a waterproof color for your walls that doesn't apply to the restroom floor. But the splash deflector can protect the walls and floor from the urine splash.
What can I use to remove the urine smell?
Conclusion
You shouldn't let the urine spilling issue of the bathroom linger, as it can eventually form crystals, severe stains, and smell issues.
Use proper solutions to clean urine from your bathroom floor. You can use both homemade remedies and commercial ones. When urine spilling is stubborn, commercial solution is recommended since they are made for this.
Also, always keep your bathroom floor clean. Rinse the commode and floor properly after urinating each time.