Can You Use Bleach on Laminate Floors?
If you're like most people, you certainly have a bottle of bleach that you sometimes use to clean your house with. But can you use bleach on laminate floors?
You should not use bleach on laminated floors. As a harsh chemical, bleach can damage the finish of laminated floors. It can even cause discoloration and make the floor appear dull.
But is that all there's to it? Not really! In this article, we'll thoroughly explore the topic and introduce you to alternative cleaning solutions.
Can You Use Bleach on Laminate Floors?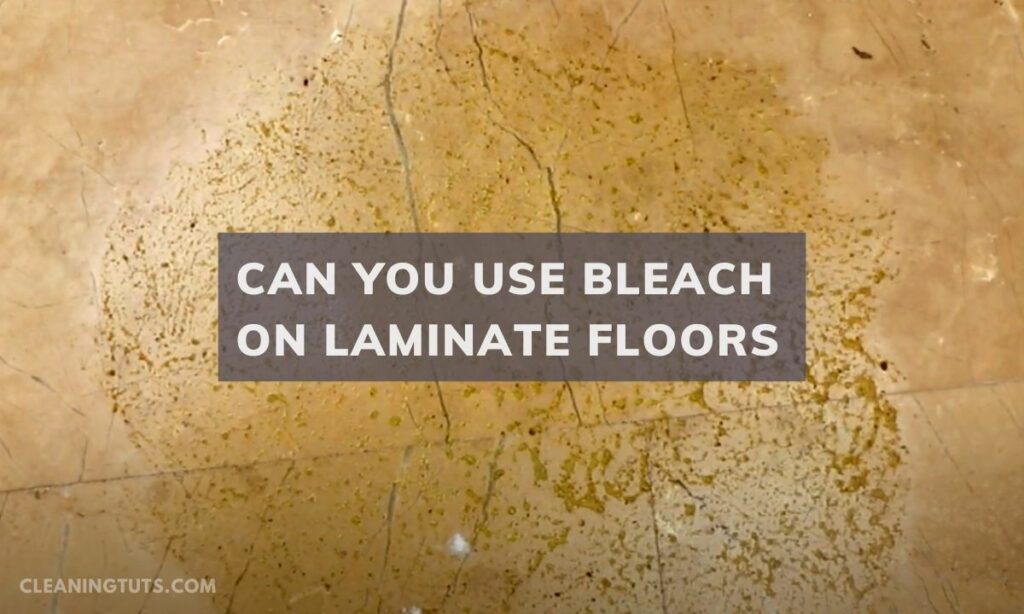 As stated earlier, the short answer is no; you can't use bleach on laminate floors. To understand this further, you need to learn a bit about the laminate floors.
What's Laminate Flooring Made of? − A Brief on Laminate Floors
Laminate floors can be defined as a hybrid flooring material with base wood particleboard and four other layers incorporated together at a hot temperature of about 300 degrees Fahrenheit. It was created to imitate natural materials like hardwood or stone.
Each type of layer is fused with another using pressure and heat. The topmost layer is a translucent, protective layer that is resistant to stains and scratches.
And the decorative layer in the middle is the high-resolution picture of the natural material being imitated. At the same time, the core is created with high-density fiberboard to provide stability and moisture resistance.
In the case of residential-purpose laminate flooring, the most common method for incorporating these layers is direct pressure laminate construction or DPL. And here are the four different layers used for making laminates-
Topmost wear layer or overlay, made of melamine resin or aluminum oxide. (Excessive or high concentration use or regular use of bleach can damage this protective layering or worse discolor it)
Next comes the design or decorative layer. (Discoloration can lead to altering visual appeal)
The third layer is the core structure made of MDF or HDF. It provides structural integrity. (It's less likely to be affected by bleach use.)
And the bottommost is the backing layer made of resin or plastic.
What Are the Effects of Bleach on Laminate Floors?
Bleach is an affordable cleaning solution that is easily found in convenience stores. You can always depend on the solution to get rid of all unwanted substances, such as viruses.
It can also help you to be rid of stubborn marks or discoloration from laminate floors. However, a strong chemical such as bleach shouldn't be used on laminate floors as it can strip away the protective wear layer.
This, in turn, may cause discoloration, warping, and other type of damage. It can even turn as bad as causing seams in between the laminate planks and weakening to the point of gaps and buckling to occur.
Here we have discussed the effects in-depth for you:
Finish Damage
Continuous bleaching or using larger amounts of harsh bleach on laminate floors will slowly result in damaging the surface finish.
This phenomenon takes place as bleach strips away the topmost protective layer of laminate flooring slowly over time.
Bulging or Buckling Boards
The carbon-to-carbon bonds in laminate boards can easily be disintegrated by the strong chemicals used in bleach, such as chlorine.
This results in delamination, buckling, or even swelling of the boards.
Color Fading
One of the most common issues with using bleach for prolonged periods is the discoloration or fading of these vivid laminate floors. This happens as harsh chemicals in bleach, like chlorine removes the topmost protective or shine layer of laminates. Besides, uneven patches or bleach spots are also noticeable with time.
Health and Safety Issues
Finally, comes the safety concerns! With the strong fumes generated from bleach, it can severely harm your health, causing both immediate and over time effects. Such as-
Immediate Effects
Breathing difficulty (as you breathe in the fumes)
Irritation of skin
Eye irritation (if it gets in your eyes)
Overtime Affects
Respiratory diseases
Bronchitis
Permanent lung diseases in children
Pros and Cons of Using Bleach on Laminate Floors
While bleach has different effects on plastic and wood laminate, here's a heads-up on the basic pros and cons of it.
Sodium hypochlorite is an active ingredient in bleach that readily eliminates fungi, bacteria, viruses, and germs

If used incorrectly or frequently, the harsh chemical may cause substantial damage to the laminate floors, such as discoloration, warping, and more.

Bleach gradually wears out the top layers and seeps through the laminate floor pores. This allows chlorine and moisture inside the laminate layers, slowly reducing the laminate lifespan.

It is an effective solution to removing discoloration or stubborn marks from laminate floors, given that it's diluted properly and used rarely.

A poorly diluted mixture of bleach may end up leaving streaks of residue on the floors leaving it to look faded or dull.

Compared to other cleaning solutions, bleach is a more readily available and cheaper alternative.

Bleach is known to be hazardous to one's health when not used correctly. Issues such as respiratory problems, skin irritation, and more can be triggered by it.
Using Bleach on Plastic Laminate
High-Pressure Laminate (HPL), also known as plastic laminate, is a kind of laminate flooring produced by putting tiers of decorative paper and resin to the core layer of kraft paper.
While they were made to be durable and resistant to staining, bleach is very well capable of damaging the product. By weakening the bond between the layers, bleach can warp or cause the material to bubble.
It can also cause the decorative layer to fade and take away the overall appearance of the flooring.
Moreover, it can turn out to be a health hazard due to the toxic fumes that are released while using bleach. And in case you are wondering, bleach fumes can cause poisoning and irritate your lungs, eyes, and nose.
Pros
Keeps the plastic laminate clean and disinfects it
Removes lingering stains
Brightens the non-porous surface of plastic laminate
Cons
Wears out the plastic laminate shine with time
The harsh chemicals in bleach change the true color of the laminate
While bleach will show the listed benefits and drawbacks on your plastic laminate if you still want to go with it, here are a few things you must know −
Make a well-diluted bleach-water solution with only 3 cups of bleach for a whole gallon of water.
Gently apply it on the surface with a mop without quick or harsh movements.
Wait only for 4-5 minutes and then rinse the floor thoroughly with water to remove all the remaining bleach.
Using Bleach on Wood Laminate
Wood laminate is the flooring that replicates the look of hardwood flooring while being cheaper and easier to maintain.
Wood laminates have different construction and materials than plastic laminates. It has heavier porous wooden layers which can easily absorb water or other fluids. This means, bleach has a more severe affect on wooden laminates than the plastic ones.
Now, this type of flooring is known for its durability and resistance to stains and moisture. However, as we mentioned earlier, it can't withstand bleach.
Bleach on wood laminate flooring can strip away the finishing of the flooring, fade the color, and leave the wood to crack from drying out. The harsh chemical does that by damaging the protective layer of the laminated floors.
It can also trigger swelling or warping that has a direct impact on the structural integrity of the material. Similar to plastic laminate, in this case too, the bleach can release toxic fumes that may harm your health.
Pros
Gets rid of stubborn grease and stains
Helps you easily disinfect the flooring
Cons
Causes permanent damage to the flooring with time
Takes away the color, shine, and surface texture by seeping through the wooden pores. This also results in swelling of the boards.
So, even though you might bleach plastic laminates a couple of times, do not ever try it on wood laminates at all!
Other Cleaning Options for Laminate Floors
While bleach isn't your go-to choice when cleaning laminate floors, there are pretty easy and functional options out there. Let's explore them!
Dry Dusting
You can use a microfiber mop, soft-bristled broom, or a vacuum cleaner which features a hard floor setting to clean dirt, dust, and debris from the laminate flooring.
We recommend you not use a regular vacuum cleaner that comes with a beater bar to avoid the risk of scratching the surface.
Damp Mopping
Dampen a microfiber mop or soft cloth with a mixture of mild cleaning solution with lukewarm water to remove marks and spills from the flooring. Keep in mind to avoid using too much water to not risk distorting or swelling.
Vinegar and Water
Take equal parts of white vinegar and warm water in a spray bottle and shake to mix well. You can use the mixture to clean your flooring, but keep in mind not to use it on any coating finishing. Wondering why?
After all, vinegar is acidic. And most of the coating finishes do not react well with acids.
Steam Cleaning
One of the best methods to clean and sanitize laminate floors is to use a steam mop with microfiber. This method doesn't require the use of chemicals, so it won't react to the flooring.
That being said, do pick a steam mop that was designed for laminate floors. You need to remember that laminated floors are sensitive to extreme heat and moisture.
Warm Water and Detergent
Make gentle warm water and detergent solution. You can also use a teaspoon of dish soap mixed with a gallon of water.  Either you can directly pour the solution on the floor, then wipe it with a water-soaked cloth or use a mop for a seamless cleanup!
Cleaners for Laminate Floors
If you don't trust DIY options, then buy a cleaner specifically designed for cleaning laminate floors and apply as per instructions. You can use the best-in-business products like Better Life Floor Cleaner, ZEP Commercial Hardwood $ Laminate Floor Cleaner, etc.
6 Steps to Cleaning Laminate Floors Safely
Cleaning laminate floors is quite quick and easy. And the method we will talk about below is bleach-free and 100% safe. Let's take a look at the proper steps for cleaning laminate floors safely:
Things You'll Need
Remove Dust and Debris
Pick a microfiber mop, soft-bristled broom, or a compatible vacuum cleaner to remove any sort of dust and debris from the floor.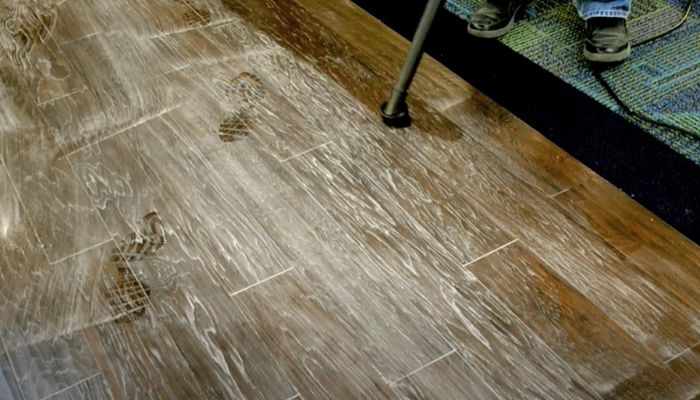 Create A Cleaning Solution
Mix lukewarm water with your choice of mild disinfectant to create the perfect cleansing solution. You can opt for vinegar or dish soap as well.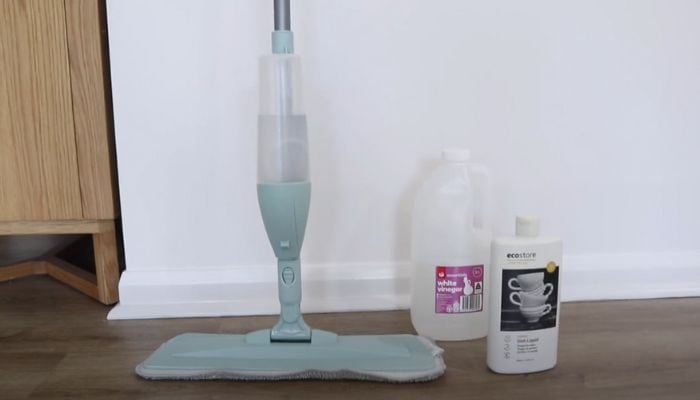 Start Mopping
Use a soft or microfiber cloth to start mopping the floor in parts. Start from the furthermost corner of the room and work your way towards the door. Try to use a back-and-forth movement to cover the sections thoroughly. Do ensure to frequently rinse the mop in the solution to guarantee a proper cleanup.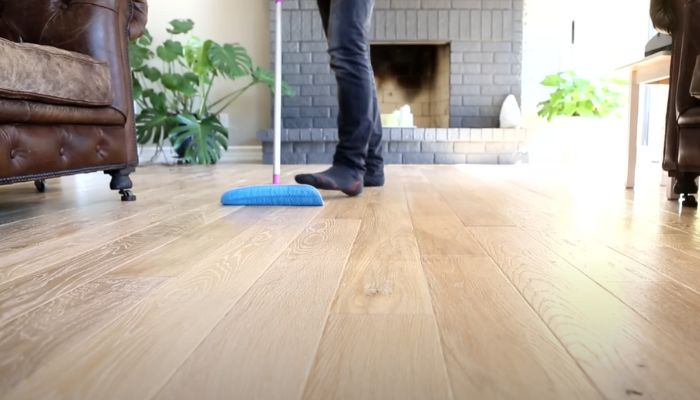 Spot Clean
In case you have tough stains, use a non-abrasive pad or soft-bristled brush to scrub the area gently. Do avoid using abrasive cleaners even for the spots to prevent damaging the laminate floors.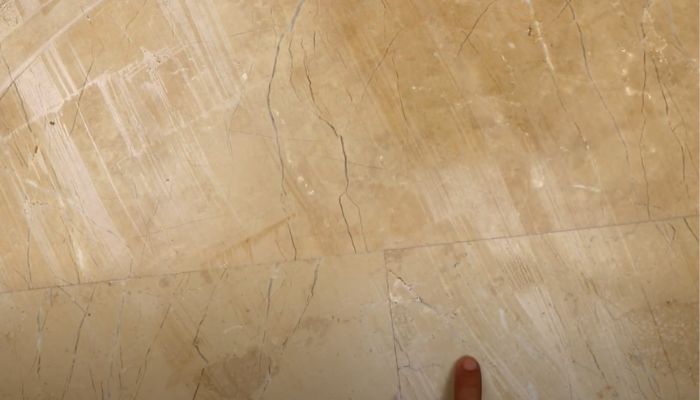 Dry the Floor
As soon as you're done cleaning, use a fresh, dry cloth to thoroughly dry the floor. By immediately drying the floors, you eliminate the chance of damaging the laminate with excess water.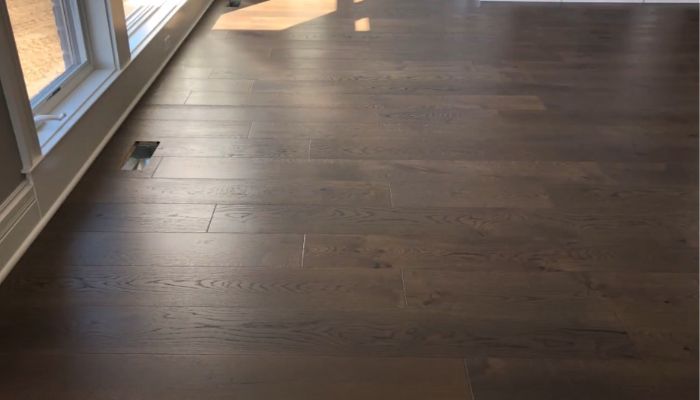 Regular Maintenance
The key to keeping your laminate floors in the best condition possible is by cleaning them as frequently as possible. Regular vacuuming or sweeping will prevent dust and debris from building up and damaging the surface.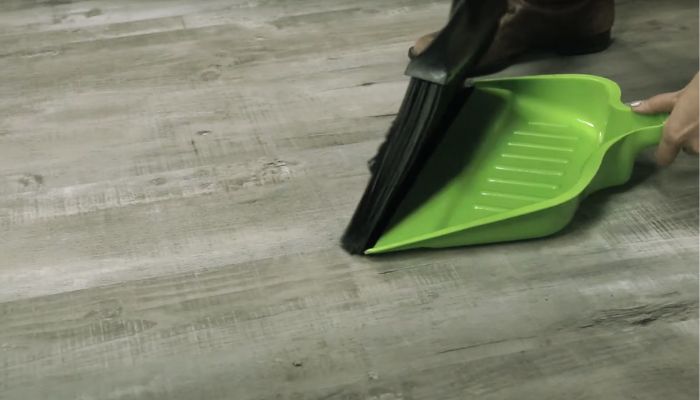 Frequently Asked Questions
Can bleach be used to remove tough spots from laminate floors?
While you can remove tough spots from laminate floors using bleach, it's crucial to dilute it and use it rarely.
Will using bleach damage the finish of laminate flooring?
Bleach can certainly damage the finishing of laminate flooring. This is because bleach's high pH causes the protective coating of the laminate to deteriorate, leading to – discoloration, delamination, and or warping of the material.
Are there any alternative cleaning solutions for laminate floors?
Yes, there are many alternative cleaning solutions to bleach that you can use to clean your laminate floors. Our personal favorite is using equal parts of white vinegar and lukewarm water to clean the floors, as it's free of chemicals.
Can I use Dettol on laminate flooring?
Yes, you can use Dettol on laminate flooring to disinfect it mixed with water. You may also try the antibacterial floor wipes for it.
Is baking soda suitable for laminate floors?
If you have a stubborn stain on your precious laminate floors, you can use a 5:1 mixture of water and baking soda to clean it up.
What chemical is used for cleaning laminate floors?
For naturally cleaning the laminate floors without causing any damage, you can use rubbing alcohol mixture or vinegar.
Conclusion
Based on the possible negative effects of using bleach on laminate floors, we will not recommend you to use it as a regular cleaning solution.
The side effects brought by bleach can compromise the durability of the flooring material, while also risking your health condition.
Thus, we'll recommend considering other cleaning options that are more suitable for such flooring materials as vinegar and water.