How to Vacuum Stairs Effectively?
Can you guess a chore that almost everyone finds dreadful and even with much effort usually gives not-so-satisfying results? Of course, you guessed it because we are going to talk about it!
Well, vacuuming stairs is boring and nobody is denying that.
However, if you cringe looking at the expression of friends or neighbors visiting your house once you turn on the light of the hall where the stairs are covered with lint, junk, and pet fur, then you have no other choice.
Some tips can at least give you a good ending after spending almost an hour on this daunting chore.
And that's the main goal basically, sharing the most effective way on how to vacuum stairs and bless you with worth-the-pain results. Keep On Reading!
Here's How to Vacuum Stairs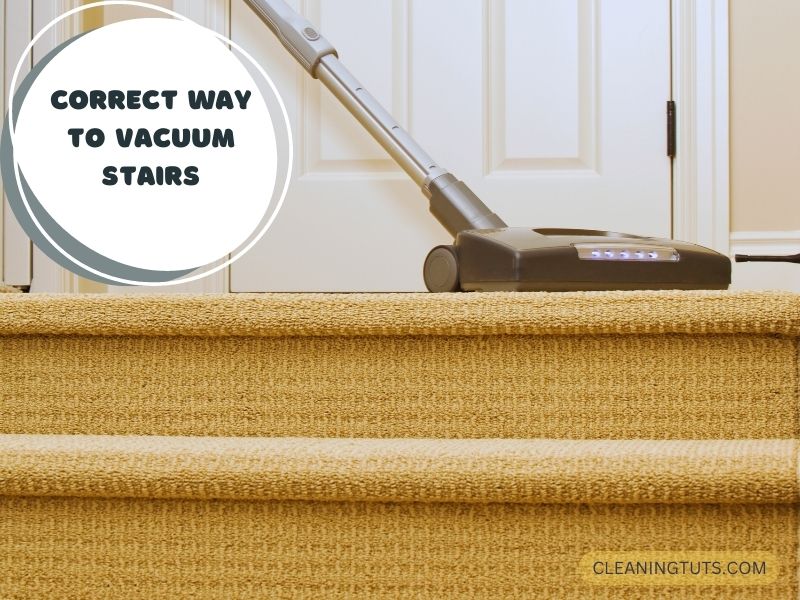 Starting from the edges of stairs, you need to vacuum, take your time, and then move to the tread areas. Dealing with the raises comes next. For carpeted areas, one should be careful to not trip over and have another helping hand to get better results.
That was just a summary of what one needs to do for vacuuming the stairs. Let's talk a bit more deeply about it below.
Always Start from the Edges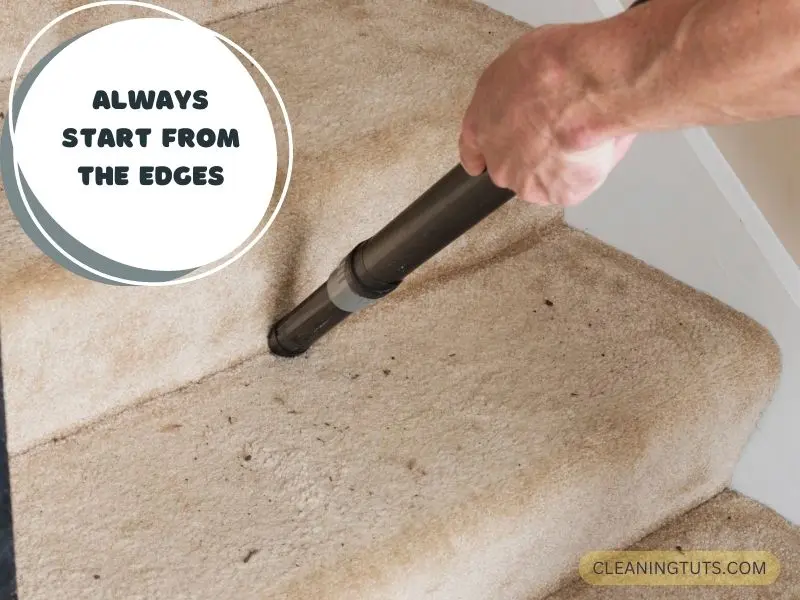 You'll need the crevice tool for this step. Starting from the edge gives a better strategy to work with. Each tread must be cleaned, along the edges of course. And you don't want to miss the corners during the vacuuming also.
Vacuuming might make debris knock-free as you keep working. And starting from the edges will make sure those free dirt gets sucked up while moving ahead.
Focusing on Treads Next
After you are done with edges, work on treads next. This is the area of stairs where you stand. One of the best hacks for vacuuming stairs treads is using a mini motorized brush.
You can also go with any brush attachment. These tools would allow better contact with the tread. And you will have better chances of not missing a single particle here. Also, make sure not to lug the whole vacuum with you up the stairs.
Also, you should be vacuuming from the top of the stairs. This will bring any missed dirt down to the floor, instead of pushing it upwards if you had chosen to start from the bottom.
Having the residues on the floor will make it easier to get them through vacuuming.
You Also Need to Get the Risers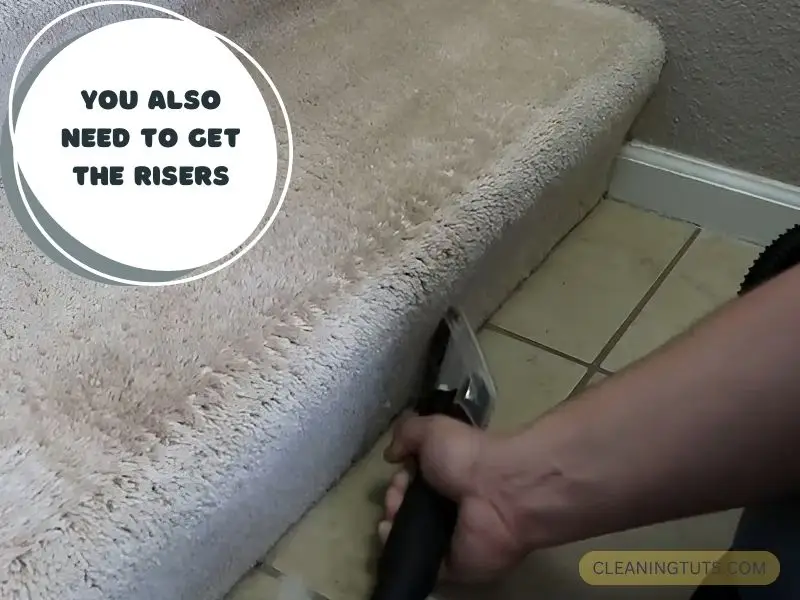 The parts that stay right between each tread, are called risers. And often this is the most difficult part to vacuum when cleaning stairs.
You can use a brush attachment here as well. It should make the risers cleaning easier. Twisting the tool and keeping your arm position right are the two keys to having maximum effective results here.
The best way to deal would be alternating between risers and treads. So that you can keep working down the whole staircase gradually.
See Also: How to Remove Hair Out from Vacuum
Tips on How to Vacuum Carpeted Stairs Effectively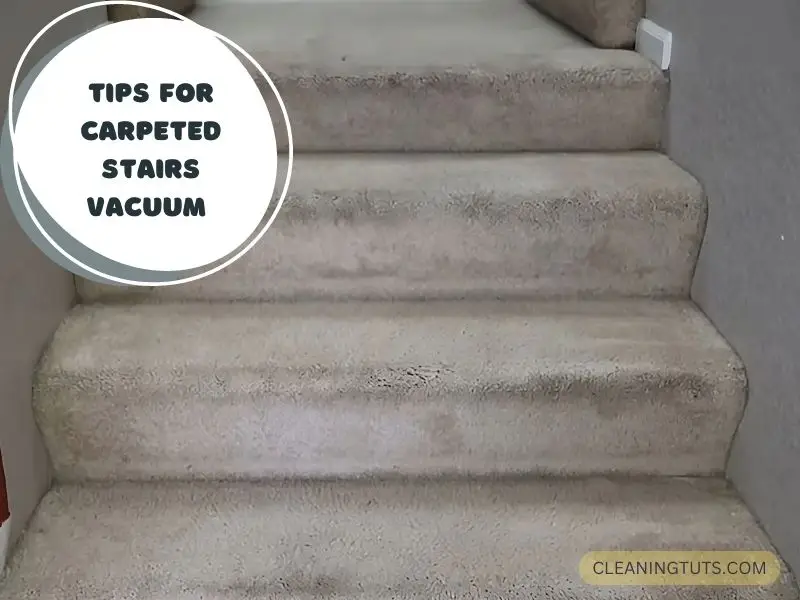 You need to follow quite the same process that we discussed till now. However, try to also pay attention to these tips for an effective result:
Use a lightweight vacuum. The cordless vacuum for stairs works great here. You'll be able to move the vacuum cleaner without much effort and there will be less chance of tripping over the carpet and facing a serious injury.
With carpeted stairs, you should vacuum at least once every day. Especially if the carpet is a costly one.
Vacuuming carpeted stairs alone might not be a great idea, have someone to help you.
Use a handheld brush to go through the entire stairs at least once before vacuuming. So that any stuck grime or dust can become loose enough for the vacuum to easily suck it.
Having both arms to work with would be helpful in terms of handling stairs with carpet. We suggest the detachable vacuum cleaner that allows one to mount it on the back or shoulder.
Frequently Asked Question
How often should you vacuum your stairs?
You should vacuum your stairs almost every day. If that's not possible for you, then go for alternative days. But stairs are usually high traffic areas so, there must be dirt and grime accumulating all the time.
So, keeping it for later would only make you go through so much pain when you clean it. Also, try vacuuming each step 2 to 3 times.
What attachment should I use to vacuum stairs?
If you can own only one, then the crevice tool should be it. It's a long attachment that comes with a thin end. Also, the brush attachment will be necessary.
Are stick vacuums good for stairs?
Yes! These will help you by not having to bend while vacuuming the stairs. As the tallness of a stick vacuum is enough to easily go through areas with you standing in a comfortable position.
Do any robot vacuums clean stairs?
Most robot vacuums are not appropriate to use for stair cleaning. However, some robot vacuum models use compact stair climbing mechanisms.
Wrapping Up
And that was pretty much all about how to vacuum stairs to get a good cleaning each time.
One thing we don't want to skip mentioning is that the vacuum cleaner you own would play a huge role in giving that perfect cleaning of your stairs.
And so, make sure you pay extra attention to the fact that you're going to use a vacuum cleaner for tricky areas like stairs and then make a purchase (if not already).
Also, in case of having a carpet on top of stairs, you want to invest in a good handheld vacuum for carpeted stairs with features such as a shoulder mounting option, lightweight for easy maneuvering, and of course, includes all the necessary attachments like a long-reaching stick.