Advantages and Disadvantages of Wet and Dry Vacuum Cleaner
From dealing with wet spills and heavy-duty cleaning jobs to easily picking up any dry dust, a wet and dry vacuum cleaner can give you the feel of both worlds quite efficiently. 
However, that feeling you get is a mixture of good and bad. So, you are going to enjoy both the advantages and disadvantages of wet and dry vacuum cleaners. 
Yes, there are a few drawbacks to this amazing unit that you as a consumer should be aware of. I'll be going there in-depth today. But a quick spoiler or answer (whatever you want to call it).
Is it worth getting a wet/dry vacuum cleaner despite the advantages and disadvantages that we'll discuss later?
Absolutely! Wet/dry vacuum cleaner is worth it for a range of cleaning situations that involves both dry and wet mess. It comes with electrocution protection and good insulation to support safety. Just like any other electrical appliance, it comes with some cons. But those are not invalidating enough to disregard the great application a wet and dry vacuum cleaner can bring to a space.
On that note, let's move ahead to find out those drawbacks and benefits so that you can judge yourself.
Advantages of Wet and Dry Vacuum Cleaners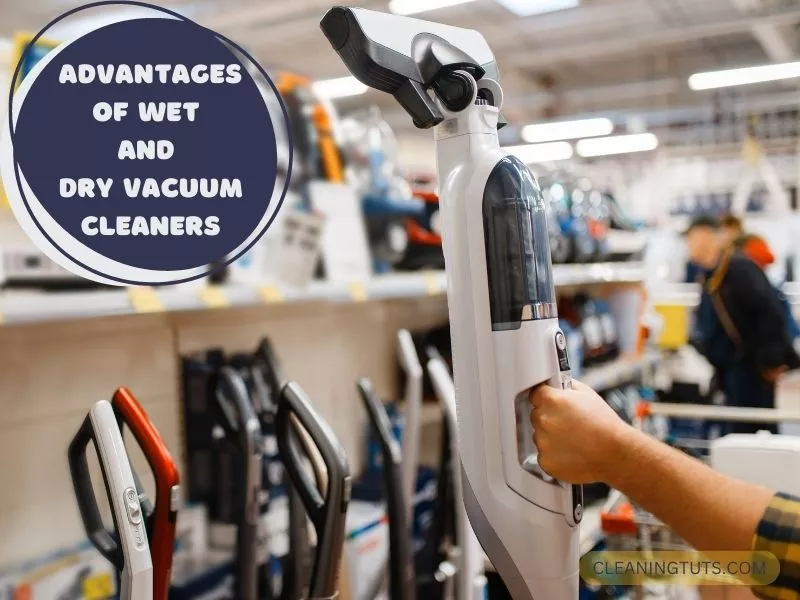 Now, what is the advantage of a wet and dry vacuum cleaner that makes it a foolproof choice?
The biggest advantage of wet and dry vacuum cleaner is the fact that it is extremely time-saving and at the same time pretty versatile. There's no need for separately vacuuming and then mopping the same section of the floor. You can use the different settings of the unit for both applications.
Other Benefits Include
Easy cleaning of wet spills and damp patches without any fear of harming internal parts as the unit comes well insulated.
There are separate mechanisms for collecting dry and wet mess keeping things convenient at their best.
Most wet and dry vacuum cleaners come with solid suction abilities. This is due to the powerful motor that is used for its making.
Compared to regular and shop vacuums, the price point of a wet and dry vacuum cleaner is practically more cost-effective.
Wet and dry vacuum cleaners can effectively handle pet sheds, water puddles, and stubborn and sticky messes all at once.
A wet and dry vacuum can clean mattresses but there's one more thing it can do which is sort of weird. It can work as a pump for blowing up mattresses and pool toys. The engine can pressurize the hose and reverse the airflow. It is not powerful enough to inflate tires though but can help with minor ones.
Disadvantages of Wet and Dry Vacuum Cleaners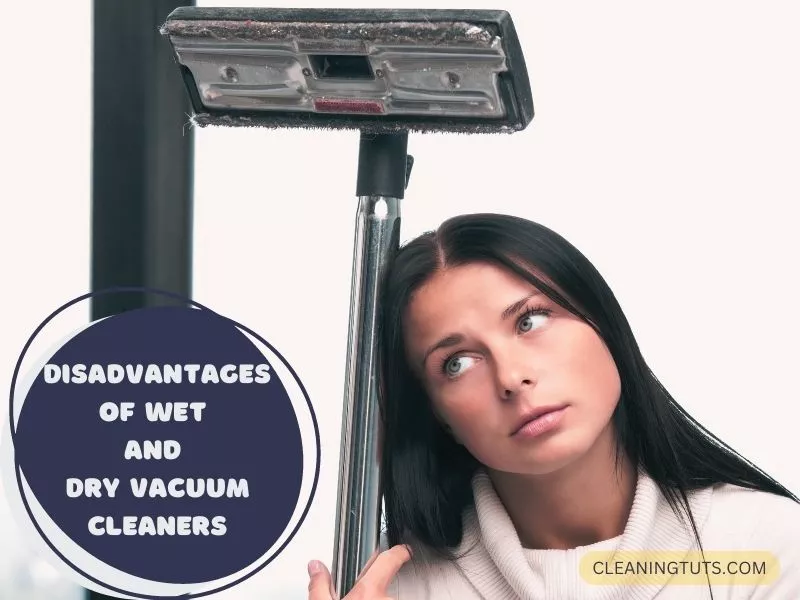 There are also some negative sides to wet and dry cleaners. The most critical one is its weight. Usually, wet and dry cleaners are quite hefty. And so, for everyday usage, it may seem a little unappropriated.
However, the weight of any appliance is a pretty subjective matter. Some people may have no issue handling a heavier unit. But this can be quite difficult for those who live in a multiple-story house.
Having to carry the unit down or up the stairs might be daunting for a few folks. So, whether or not heftiness is a poor characteristic, will come down to the individual.
Another thing about a wet and dry vacuum cleaner is the fact that it can easily get smelly. This is quite obvious. As the unit needs to handle both dry and wet messes. And this includes everything from dog pee to other stinky liquids. Over time, suctioning such foul substances can make the unit a little weird smelling.
Through regular maintenance, this problem can be sidestepped. The manual will have a detailed description of how to clean the unit to prevent such smells from accumulating. Also, a disinfection attachment helps with such situations.
Wrapping Up
And there you have the advantages and disadvantages of wet and dry vacuum cleaner to decide whether you can use one or not.
However, if the entire discussion was still not enough, I think you can refer to some factors for evaluating the final decision.
You should get a wet and dry vacuum cleaner if:
If you can relate to most of these, then investing in a wet and dry vacuum cleaner sounds like the right thing. In a typical sense, anyone who has a large area to clean with thick upholstery and carpet should get one of these.