Dyson Cordless Vacuum Not Holding Charge –How to Fix It?
Sometimes you have to consider a Dyson battery replacement and it becomes unavoidable. Especially if you discover your Dyson cordless vacuum not holding charge. Often it is due to an old battery.
But there can be more reasons as well. There's no doubt that Dyson provides some of the best vacuum models. However, with consistent use, damages and wearing out are common.
And so, you will face problems after a certain while of usage.
Your cordless Dyson not holding its charge often means a damaged battery. But it can also happen from faulty cable, battery casing damage, or power outlet not working. So, you have to find out the exact problem first to fix it.
Let us help you with that!
Usually, It's the Battery Behind the Dyson Cordless Vacuum Not Holding the Charge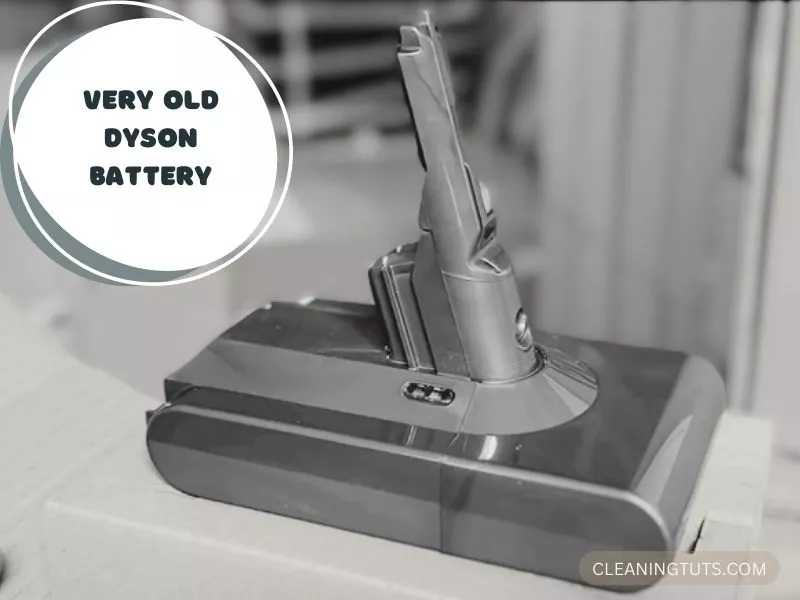 So basically, it could be two things happening with your battery:
It is too old and almost worn out
It has been damaged due to internal problems
Starting with the old battery, this is quite normal to happen actually. If you find out that your battery is dying too fast, this can also be the case.
Dyson batteries dying so fast often happened from the depletion that takes place over time of using the vacuum. In most cases, the Dyson vacuum shuts off after a few minutes, which strongly indicates that the battery is worn out. 
How long does this battery last typically? Well, that can vary. However, it's expected to take over 15 years if you know how to use the Dyson vacuum cleaner with proper maintenance. 
And keep in mind, with every year passing, the battery will lose its ability to hold a charge to some extent. 
Now before you assume the battery is dead old, you might want to know about Dyson battery reset and try it. Resetting is a common troubleshooting practice you should try whenever the vacuum fails to run.
This is How to Reset the Dyson Battery
Once you have tried resetting and failed to recover the situation, it's quite obvious you will need a Dyson cordless vacuum battery replacement.
The Battery Is Damaged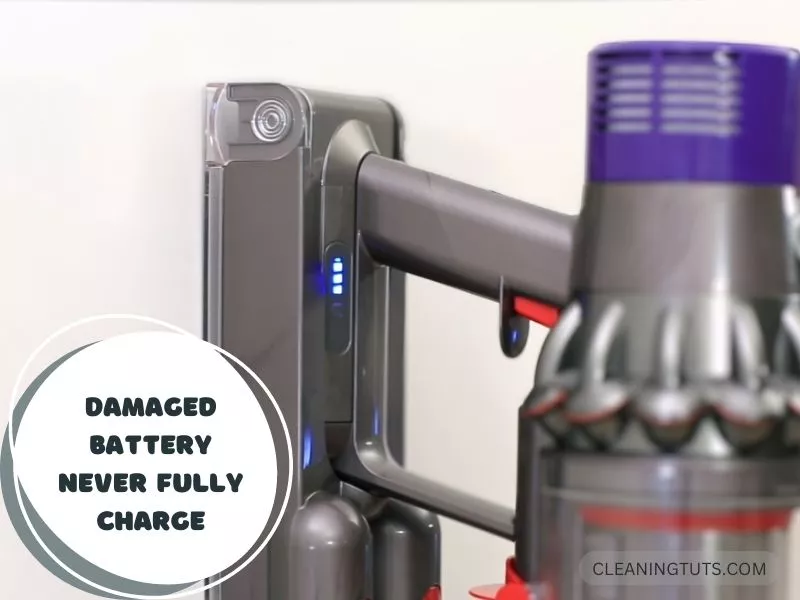 It's not always an old battery responsible for Dyson not staying charged. This can also happen to a new battery. 
And there are plenty of usage mistakes that can cause permanent damage to even new batteries obliging you to get a replacement. Now how can you confirm your new battery also needs a replacement?
Your Dyson battery needs replacing if you can notice visible damage signs on its body or close to it. If the battery experienced falling on the ground multiple times before giving up, then it's clear that it's permanently damaged. Also, if an internal part of the battery is damaged, the impact can lead to the battery as well.
No matter what you do, a damaged Dyson vacuum battery cannot be repaired. And you must replace it.
During the replacement, make sure you dispose of the old battery in a  responsible way paying attention to environmental and overall safety.
A Damaged Cable Can Also Be the Reason for Vacuum Charging Problem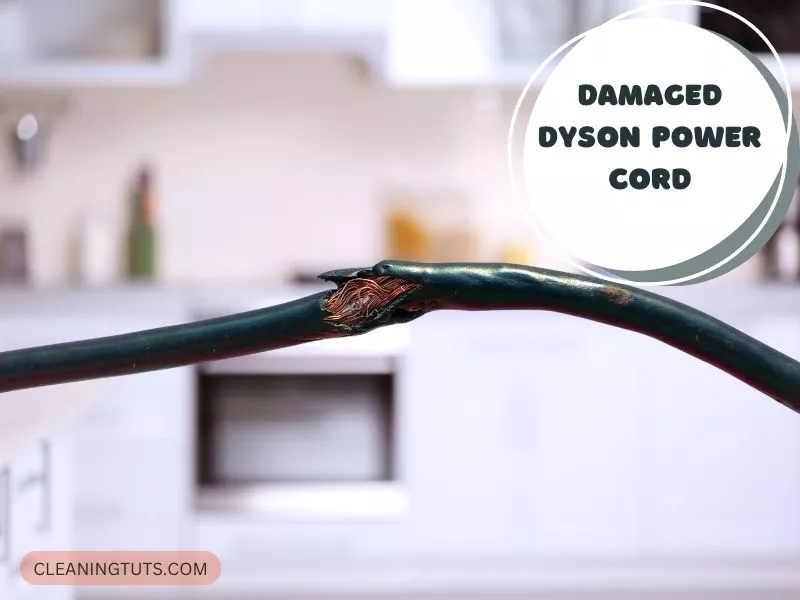 Now if it is not some Dyson battery problems then the next most possible suspect would be the cable.
It could get damaged and cause the charger to not work properly. Sometimes the whole situation leads to intermittent power issues.
So, give the cable a close look. You want to find wear and tear signs. There can be exposure of wire as well causing issues. 
A simple bend of the cable can also be responsible. As soon as you realize there's a problem with the cable make sure to not use it. And get a replacement as soon as possible.
The Vacuum Might Just Need to Wake Up
A quite common fault that can happen with the Dyson vacuum is that it shows depleted battery signs even with full charging. And it can easily confuse the owners of the vacuum cleaner needing a battery replacement. 
However, it just needs to wake up. This is a reset process. You can go ahead and try the previous reset technique I talked about. There's another way of waking up the battery. That is what I'll include in this section.
To Wake Up the Battery:
Blocked Filter Can Also Be the Cause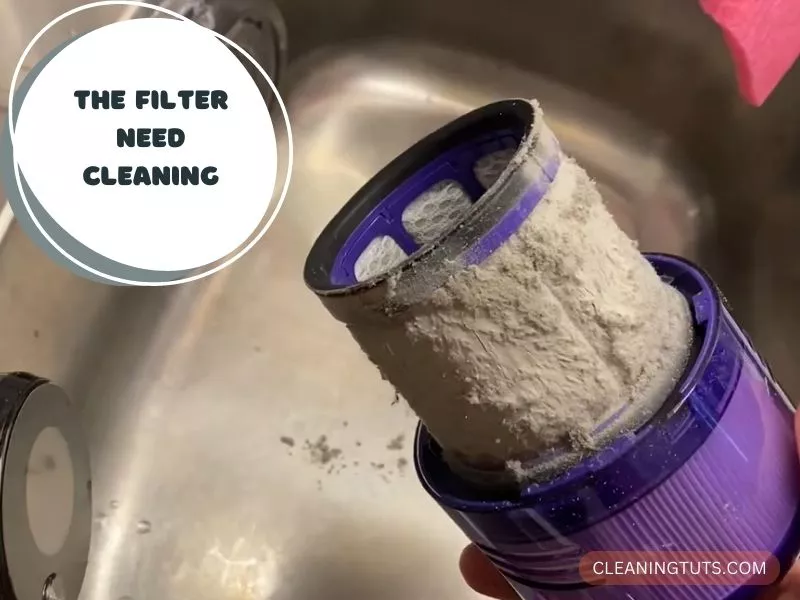 Blockages in the filter can make the appliance vulnerable to running, applying too much pressure on the power components. To run the unit, there will be a need for more power. And this can negatively impact the battery. 
Leading it to lose its ability to hold a charge as normal. And that is why you should always clean the filter and make sure there's no restriction in airflow in your vacuum.
You can simply wash the filter with cold water. Don't try hot water or detergent, however. And then for the foam element, you can squeeze it with cold water. Also, before putting back the filter, you want to make sure it is completely dry.
Not Working Power Outlet Gravely Affects the Battery Life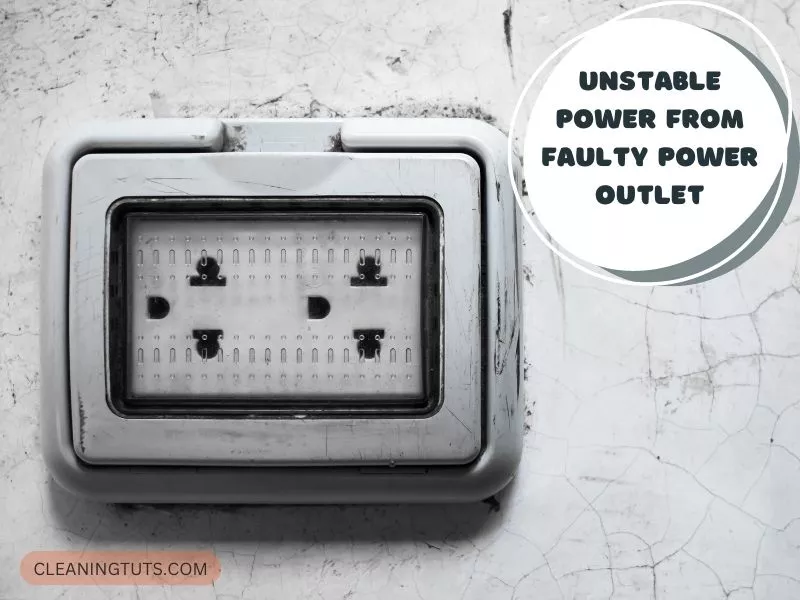 And it can also be the reason for the battery losing the ability to hold a charge. So, before you blame it on the appliance, make sure the outlet you were using is not faulty.
There's a good chance the power outlet is seeming to work fine but causing damage to the battery life.
And to check that you can try another high-power consumption appliance into the unit. If the power outlet does not work, then it needs fixing, and you must contact an electrician.
Also, try to turn off the switch of the power outlet and run the appliance. 
If it does not run, then the outlet is fine. However, if the appliance is running despite the power outlet switch being off, there's a serious issue with the outlet and it needs immediate attention.
Wrapping Up
And now you know what to do once you discover your Dyson cordless vacuum not holding charge. These solutions are most likely to work.
However, if there's more than just your battery or power components that are damaged, things could be a little tricky to sort out on your own. In those cases, you should consider seeking professional help.
And at all times, you must check the manual to make sure you are trying fixes that don't have any step invalidating the warranty or anything that the manufacturer warned you to not do.
On that note, I'll leave for today! See You Soon Again.