Help! My Dyson Not Charging Flashing Blue Light (Fixed)
Vacuum cleaners are great home appliances. But despite that, facing problems with the machine is kind of obvious after a certain period of using it. 
And that is why you must not avoid problems that seem minimal at first because those take a bad turn quickly. Now today, I am here to discuss a specific but common problem with Dyson vacuum cleaners.
And it's when one discovers that their Dyson not charging flashing blue light despite that. Why is the blue light flashing on my Dyson, that's where we must start!
Usually, blue light flashing on a Dyson means that there is no power in the battery and it needs charging. However, in some cases, the blue light blinking may mean something different and especially when it is not charging.
Let's talk more in-depth about it…
Possible Reasons for Dyson Not Charging and Flashing Blue Light
So, till now what we have come to terms is that Dyson flashing blue light when charging is not a problem. However, if there's the Dyson blue light when charging fails, then it becomes a concern to sort. 
This can happen from many faults residing inside the vacuum cleaner. But let's cover the most common ones, which are:
Also, keep in mind that sometimes this happens due to not emptying the dust container. Make sure that is not the case.
Your Dyson May Need a Battery Replacement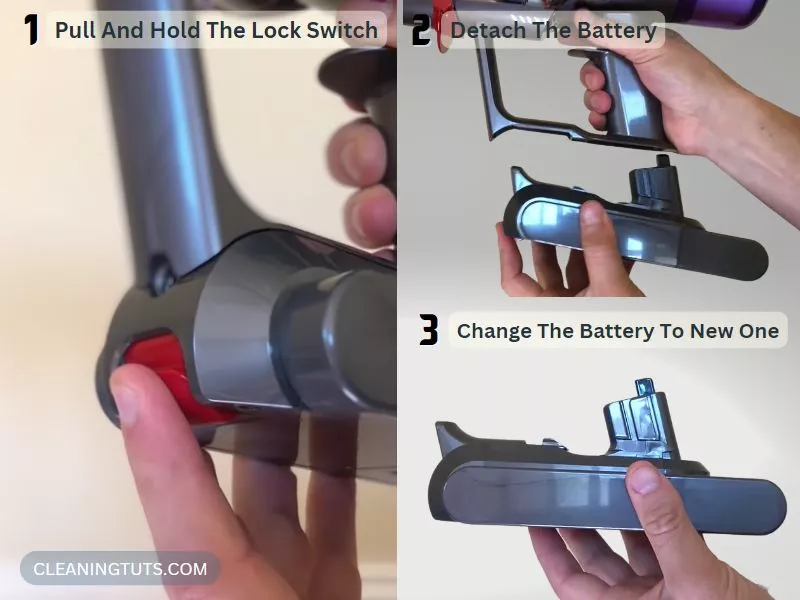 The first place to suspect is the battery. With constant usage, the battery typically lasts for 3 years. Some new models are way better at this, with 15 years of lasting ability as well.
However, degrading the unit can cause poor run time and no charging problems. A red light flashing on the Dyson is one confirmed sign of a damaged battery.
If you are facing this problem with a newly bought unit, then don't delay taking it back to the retailer or contact Dyson. Sometimes the product happens to sit for too long in the stockroom causing a dead battery.
This can also take place if you rarely use the Dyson vacuum. Yes! Not just constant usage but also too less usage can degrade the battery and eventually get it dead.
Once you confirm that the battery needs replacement, contact Dyson for directly purchasing a separate battery for it. And this replacement will also help you to revive the old performance to a satisfying extent.
The replacement process is also not that complicated. You can easily find the instructions inside the manual provided with the Dyson model.
Most models will have their batteries located on the handle area. Some models also have removable battery packs (the ones before V10). For these models, you need to simply slide it out and check for damages. For other models, you can access it by using a screwdriver and taking out the outer layer first.
Another solid sign of a damaged battery is noticing cracks on the casing. This often means permanent damage to the battery and the need for quick replacement.
Blocked Airway Makes Dyson Not Charge Properly
Power loss may seem a problem that is related to just the components involved with power. However, keep in mind a unit works with each part functioning the right way.
And that's where you should also consider checking for airways to make sure those are not blocked.
The blocks can appear in a wand, dust canister, and hose. These blockages will make the cleaner lose power.
Obstacles can be a regular household thing. Even a sock sucked inside the airway and lodged up there can cause airway blockage leading to complete power loss.
Not cleaning the filter can also make the airway blocked. If you put aside this chore for a prolonged period, there's a good chance that the vacuum will shut down completely. 
Filthy filters can bring permanent damage quite quickly simply due to the neglecting behavior of the user. So be aware of that. Make sure you check thoroughly through each inch. And confirm that all blockages are dislodged.
Damaged Charging Cord Could Be the Culprit Too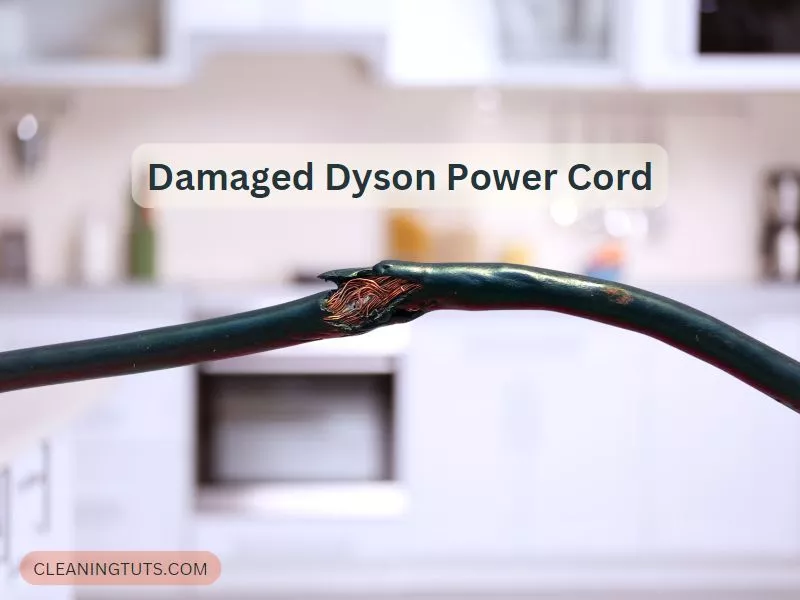 If you discover your Dyson flashing blue light repeatedly, checking damages on the charging cord is also crucial.
Over time electrical cords can get damaged and unusable. And not to mention the frequent running over as well as trampling events these cords have to face. 
Some also have the habit of pulling the cords too hard. And if you have a pet at home, nibbling would also be happening a lot.
Thankfully with a damaged cord, you don't have to worry about the whole unit falling apart. It's just the cord that needs replacement. 
But you should not delay changing the cords right after finding out the damages on it. Even if the cord is working fine but seems to be pretty damaged, then using it can be a threat to the entire unit.
Make Sure There's No Blown Fuse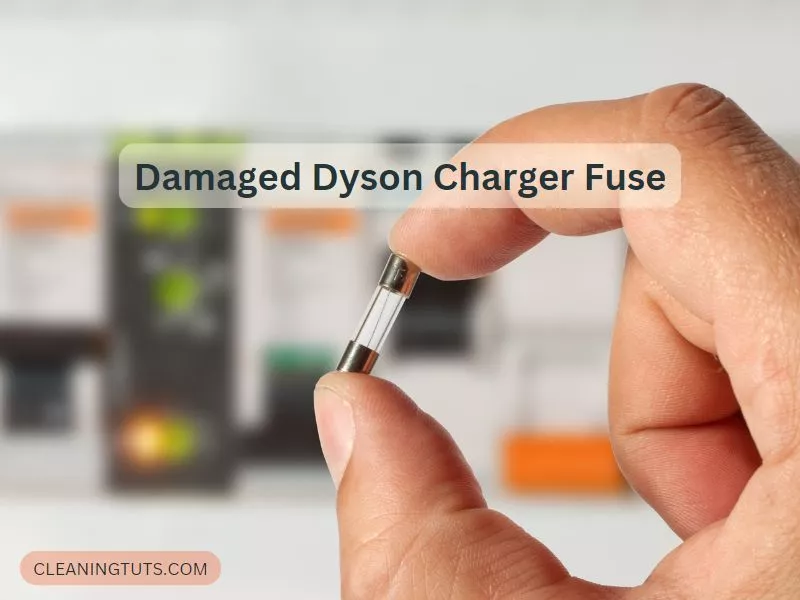 Excessive current passing is often the case with many household appliances. And it can also be with your Dyson vacuum cleaner. 
And when such a thing happens, the fuse of the charger can get blown. Making the charger not work properly. So, you should also check the fuse parts. And it is located in the plug inside a tiny panel. 
Get a flathead screwdriver. Use it to access the old fuse by popping it out. Observe it and if there's a problem you have to replace it. 
Make sure you note down the amp rating that is available on the body of the old fuse. And follow that specification to buy a new one. Using the correct level of power is essential.
Consider Charging Station Mounting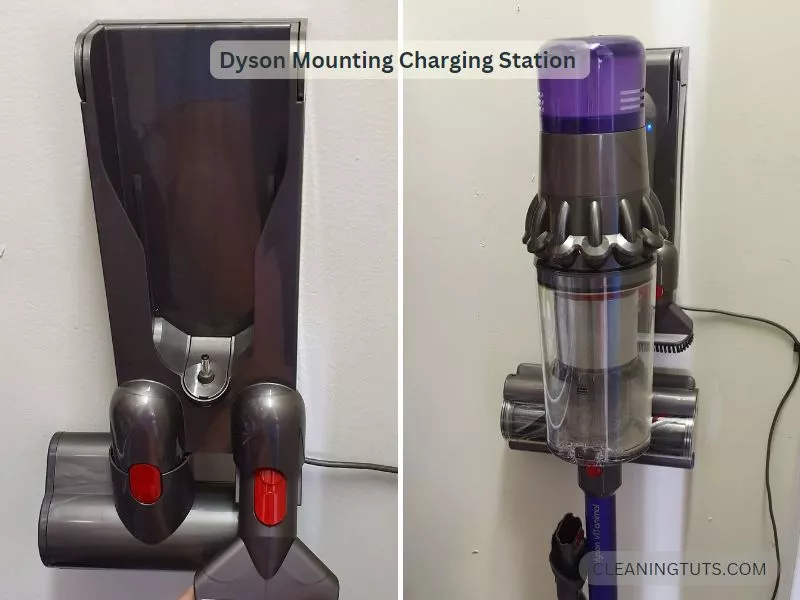 There are quite a few models of Dyson vacuum that come with a wall-mounted charging station style. And if this is the case you should consider mounting it. 
This is because there's a good chance the vacuum's docking station cable is unable to reach the machine.
In worse situations, overstretching can also take place. And if that happens the vacuum will fail to charge. So, you should try mounting the charging station.
Wrapping Up
And that were all the possible reasons for a Dyson not charging a flashing blue light with the idea of solving it. 
Hopefully, you will be able to get a solution. However, if there's a critical issue that needs expert checking, it's best to contact the customer service of Dyson. 
You may also try reaching out to a local expert. But make sure that won't be a problem with the warranty covering the vacuum cleaner.
See You Soon on Another Topic!