Can I Use a Shop Vac for Water Cleanup? – Yes, You Can!
You can use a shop vac for water. These vacs are designed to handle wet messes and moisture on surfaces like carpets. To remove dirty water effectively, use the carpet vac extractor attachment tool.
Shop vacuums are versatile tools designed for cleaning tasks. They also hold the potential to address water-related challenges as well.
From tackling wet carpets and cleaning up wet messes to extracting moisture and dirty water, shop vacs offer a practical solution.
Let's explain how you can use a shop vac for water, what safety factors you should consider, and if there are any drawbacks.
How to Use a Shop Vac for Water?
Using a shop vac for water requires some simple steps. You can do it by following these simple and easy steps –
Remove the Bag and Filter from the Vacuum
If the model of your shop vac comes with a bag, you need to remove it first. Otherwise, the filter and bag will soak in water and will be harmed. To remove the bag and filter from the vacuum, follow these steps:
Ensure the vacuum is unplugged for safety.
Open the vacuum's lid or access panel to reach the bag and filter compartment.
Carefully remove the bag by unhooking it from its holder or sliding it out.
If applicable, detach or unlock the filter from its housing.
Shake off excess debris from the bag and filter it into a trash bin.
Replace with new bags or clean the filter according to the vacuum's instructions.
Close the lid or access panel securely before using the vacuum.
Install the Correct Attachment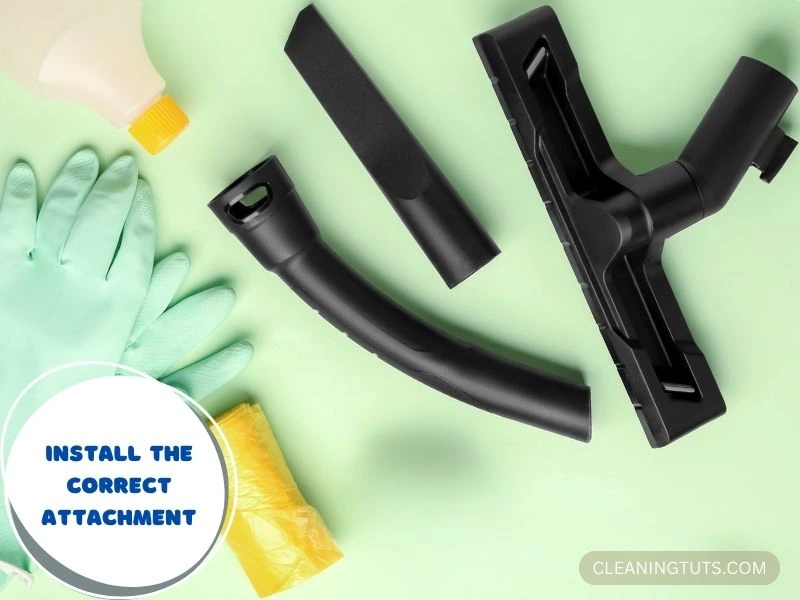 Selecting the right attachment for your shop vac is crucial for effective water removal. You have two options that are more convenient than others. Here is what you have to do.
Wide, T-shaped attachment: Ideal for flat floors, this attachment excels at extracting water from various surfaces. Some versions include rubber squeegees for enhanced performance.
Crevice tool: Perfect for vehicle floors, tight spots, and recessed areas where the standard attachment doesn't fit. Consider a handheld wet vac for specialized scenarios.
Allow the Shop Vac to Do Most of the Work
Remember to let the shop vac handle the bulk of the work. Instead of rapidly moving the attachment back and forth, keep the nozzle stationary until it suctions up most of the water in the area.
This prevents the spreading of puddles. Similarly, for carpets and tight spaces, use a similar approach on a smaller scale.
Work methodically in small sections, allowing the vacuum a few seconds in each spot before transitioning to the next area.
Empty the Canister
Maintaining efficient water removal requires periodically emptying the shop vac's canister. The vacuum contains a safety mechanism that halts suction when water levels become hazardous. To proceed, follow these steps –
Take the canister outdoors for safety.
Remove the motor assembly and assess the water-filled canister.
Clear out any large debris or items from the canister.
Locate a safe drainage area, like a street drain.
Remove the cap at the canister's base to initiate draining.
After emptying, secure the cap and resume water extraction.
Clean the Shop Vac When You're Done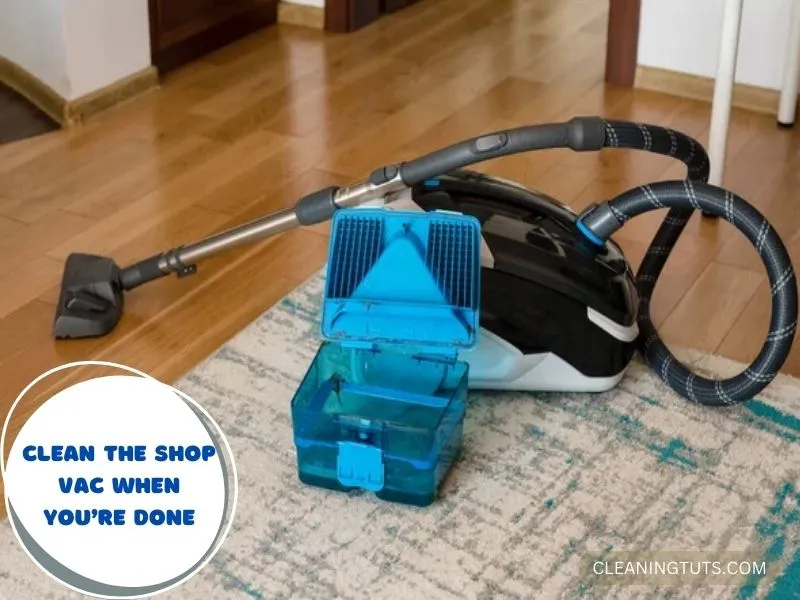 Properly cleaning the shop vac after use is crucial to prevent mold and mildew growth. Here's how you should do it:
Detach the hose and rinse it with a garden hose. Use the garden hose to clear dirt and grime from the hose itself.
Clean the canister's interior and vacuum assembly using an all-purpose cleaner. An effective option is available on Amazon.
Give everything a final rinse to remove cleaning solution residues.
Turn the canister upside down to ensure thorough drying.
Factors to Consider When Using a Shop Vac for Water
Here are some important factors to consider when using a shop vac for water cleanup.
| | |
| --- | --- |
| Electrical Safety | Use the shop vac with a grounded GFCI outlet and a suitable three-prong extension cord matching the vacuum's amperage rating. |
| Water Quantity | Estimate the volume of water you need to remove to ensure efficient use of the shop vac. |
| GFCI Outlet | Plug the vacuum into a GFCI outlet to enhance safety in wet environments. |
| Canister and Accessories | After use, clean and disinfect the canister and all attachments to prevent mold and bacteria growth |
Frequently Asked Questions
Can I leave the regular filters in when vacuuming water?
Yes, it's important to remove regular dry-use filters like paper bags and paper filters before vacuuming water. Water can cause these filters to become waterlogged and hinder proper airflow, potentially affecting the vacuum's performance.
Can I use a shop vac for flooded areas or large water spills?
Shop vacs can effectively handle smaller water spills. However, for flooded areas or significant water spills, it's advisable to consider professional assistance or lift carpets to prevent potential mold growth and ensure thorough water removal.
Can I use a vacuum cleaner to suck water out of something?
Using a regular vacuum cleaner to suck water is not recommended. Most vacuum cleaners are designed for dry use only and can be damaged by water. For water removal, it's better to use a wet-dry vacuum or a shop vac specifically designed for wet tasks.
Final Lines
A shop vac can indeed be utilized for water-related tasks, effectively removing moisture, wet messes, and water from various surfaces. Select the right attachments, ensure proper water levels, and follow safety measures.
You will harness the potential of a shop vac to manage water-related challenges efficiently.