Can You Vacuum Artificial Grass? | Alternative Cleaning Tips
When many of you see the shiny artificial turf, you always mix it up with the natural grass for its appearance, don't you?
The benefit of having these in your home, garden, or anywhere else is that they require very little maintenance. You can also save water by having them around.
Though it doesn't require mowing or strimming to look immaculate, some basic maintenance is still necessary to sustain the vibrant green color.
And now a question may arise in your mind – can you vacuum artificial grass to clean them? Let's unravel this question. 
Can I Vacuum to Clean Fake Grass?
Yes, you can. But, when you walk through the artificial turf in your indoor garden, you can feel a soft, bouncy, cushiony feel similar to natural grass. And this effect comes from the infill. So, you have to be cautious when vacuuming grass.
However, now you are wondering whether we should use a vacuum or not. Infills are a separate veil of product that places under the surface. They sit between the blades of fake turf to keep it springy and upright.
So, when you hoover extensively, the turf vacuum will suck up the infills, and your bouncy lawn will be ended in a sagging blunt appearance.
And then the loosened turf would require repair. Therefore, we recommend you not use an artificial turf vacuum cleaner if the synthetic lawn has infills.
Again, the idea of vacuuming lawns could damage the grass fibers. The powerful conventional hoover can bald your new lawn. Moreover, its frequent usages are prone to damage in the long run.
When Can a Vacuum be Used on Artificial Grass?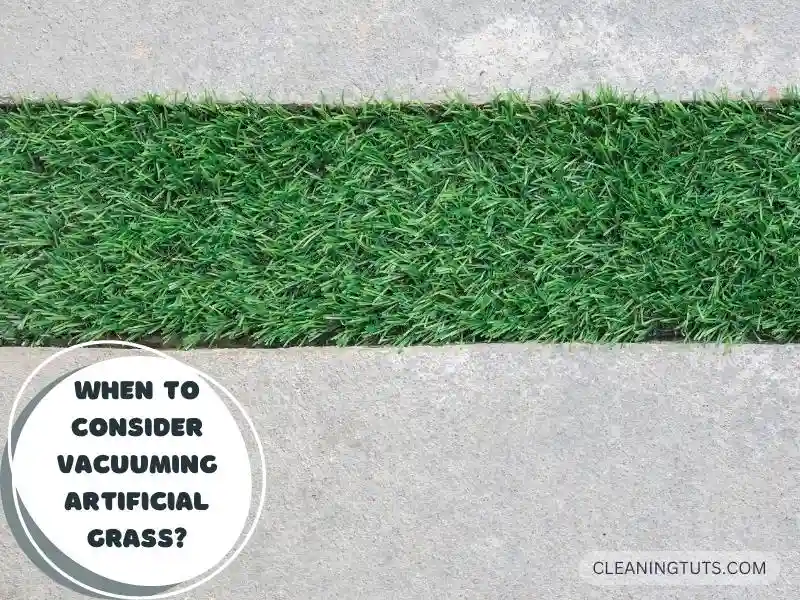 The infills keep the grass standing up straight and prevent it from staying flat when trodden on. Since these are usually sand or rubber-like material, they can be sucked up along the debris.
So, when we guarantee not having any infills in the grass, we can use a vacuum. But we will recommend it for a shorter period. Hence, you should be mindful of all the situations to keep the nice look of your turf.
Again, a point to be noted is that the debris can also be the enemy of your vacuum. When there is dirt like twigs, it will be trapped in the filters; and you can no longer be able to use the vacuum.
Yet, the lawn can contain moisture, and a regular household "dry" vacuum will not be adequate to take care of the cleaning. Check out our points before choosing an artificial grass vacuum.
Alternatives to Vacuuming Artificial Grass
If you want to keep your lawn in pristine condition, you just need to clean it regularly. So, unlike vacuum, raking or sweeping are far less likely to cause potential damage.
Remove Large Pieces of Debris Daily:
We all stare at the mesmerizing scene of the fallout of litter from trees. But when there are big leaves on your artificial lawn, you need to remove them.
Otherwise, they will damage the mesh fabric of the turf. You can use lawn blowers to remove them. 
Lawn Rakes: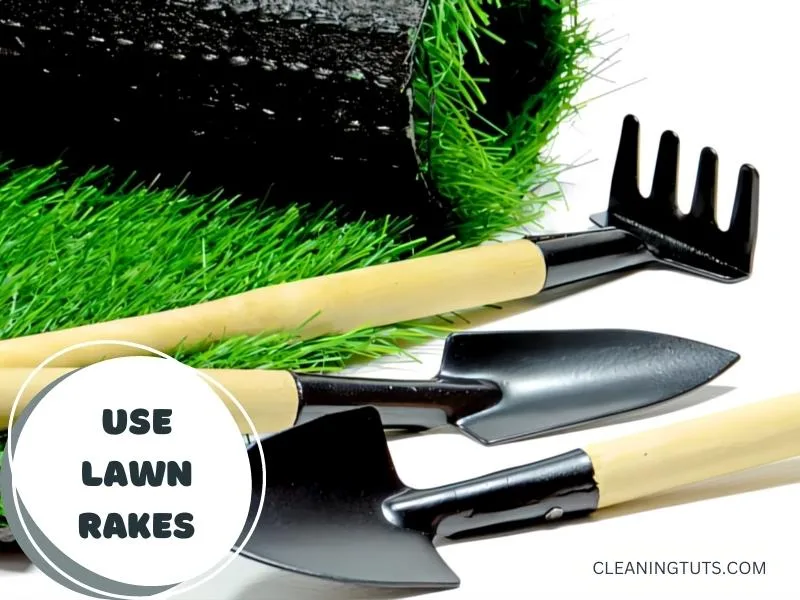 An ideal tool for large lawns is lawn rakes with baggers that attach to riding lawnmowers. The rake's soft brushes will fluff the blades and clean the debris settled deeper into the turf.
And the stiff-tined hand rake permits air to permeate, and keeps the grass odor-free and straight even if in the high traffic areas. 
Lawn Brushes and Brooms: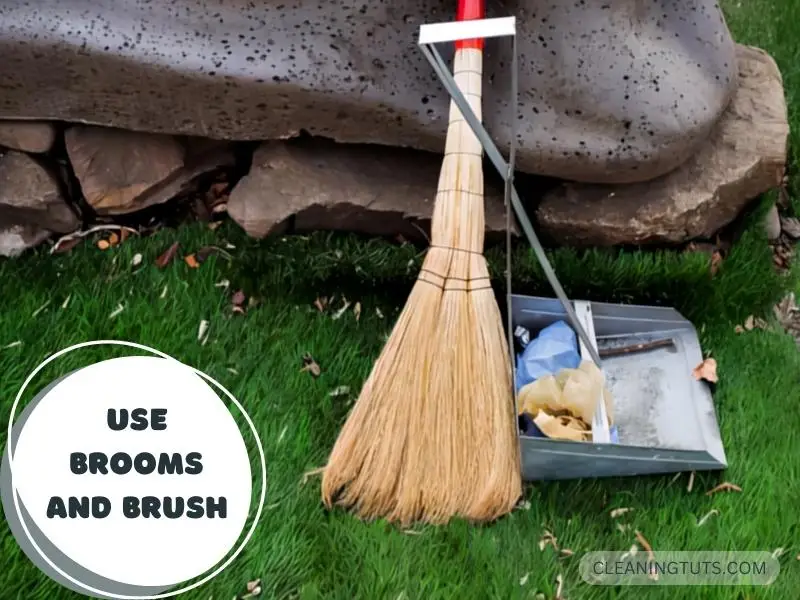 Brushes with bristles at least 5 inches long and made of synthetic material like nylon and plastic with dustpan are also great choices. Do long forward strokes to loosen any surface dirt and debris. The long-handled brush will suffice for larger areas. 
If You Have Pets:
When your lovely dog does his business on your artificial grass, your best way of cleaning the mess is by hand or scooper and putting them into a baggie. You don't need to be worried about the urine as the lawn is made of porous material.
And the urine will drain away to the ground. Then, you can hose the grass to get rid of the unwanted smell. Moreover, you can use warm water and detergent to remove the dirt residues and sustain the lawn's fresh look as the first day it was installed. 
Rinse Regularly:
I will suggest you rinse your lawn with a hose once a week. It will eliminate all pet residue, feces, and unpleasant scents. 
Some Tips on How to Clean Artificial Grass
When you want to redistribute the infills after using a vacuum, you can use a bagless vacuum cleaner and separate the infill from the debris through a sifter. And then you have to look for the areas that need to have the infill replenished. This is actually heaps of tasks!

Check the vacuum suction force before the cleaning, whether it is appropriate for your lawn or not.

When the artificial grass is outdoors, you should apply a moss control product once or twice a year. 

You can buy an artificial turf cleaning machine with two-in-one features like a combined leaf blower and turf vac.
What Is the best vacuum cleaner for artificial grass?
Simply, if you ask can you vacuum artificial grass, we will tell you no. Since your typical home vacuum cleaner comes with a tremendous suction force, it is more likely to ruin the turf.
Yet, there is a special vacuum cleaner for cleaning artificial lawns for yours. These vacuum cleaners come with some unique features. These are as follows:
Make sure that you buy a vacuum cleaner that can easily remove debris as well as unnecessary water from your lawn. For this purpose, a wet & dry vacuum is perfect. It can easily eradicate heavy-duty debris.

You must be careful to buy a vacuum with a low suction force. Otherwise, it will devastate your lawn. It is better to buy one with adjustable suction power.

You can buy a secondhand one that can tolerate debris. It is most likely to get damaged easily, and you might not even get a warranty while buying a new one.
Otherwise, the Stanley Shop Vac SL18115 wet and dry vacuum cleaner can be your choice out there in the market. It has a large load-bearing capacity of 18litres without a bag and 14liters with one.
And it also comes with incredible adjustable suction power. It can easily clean out both wet and dry dirt present in your eye-catching lawn.
Frequently Asked Questions
How do you clean artificial grass?
There is a quick maintenance procedure for cleaning it. First of all, you need to brush out the grass with a broom. Then, you must get rid of all the leaves and remove the weeds. Lastly, you must infill the turf with silica sand. You will have a luscious patch of grass.
Does vinegar harm artificial grass?
Artificial grass is made of plastic undoubtedly. If you use strong acids or base to clean it, it will deteriorate. For this, you can use biodegradable cleaning agents. However, do not use a detergent with strong acid or base to clean it. For this purpose, you can use undiluted vinegar. This will clean out your artificial lawn perfectly.
How long does fake grass last?
Artificial grass will remain absolutely fine for 20 years, depending on how well you are maintaining it. It will not flatten or fade with time, depending on the traffic volume in your area. It stabilizes UV rays from the sun and maintains the color of the grass with time. Season after season, you will be face to face with a picture-perfect lawn.
How do I stop my artificial grass smelling?
To stop your artificial grass from smelling, look for any unwanted source of the smell in it. If you have a pet, look for feces or urine smell around the lawn. Remove it as quickly as possible. You can use a re-odorizer or simply use soap and water on the affected area to remove the smell. You can use vinegar to remove the odor. It works as a disinfectant on the spot and eliminates the odor immediately.
Why is artificial turf bad?
Artificial grass might look beautiful, but it comes with a very dark side. These lawns are made of plastic, which makes it hotter than it should be. This happens because the artificial grass is laid over a concrete or compacted earth. For this reason, it becomes harder as well. Consequently, this could lead to injuries. The harmful side of having a luscious lawns keeps going on and on.
Is there a safe artificial turf?
The artificial turf is made of plastic, which is not only harmful to children but also for animals. So, scientists have come up with a new alternative. Recently, they have introduced synthetic turf. This is made of toxic-free materials friendly for the ecosystem. Moreover, it is more cost-effective than normal grass. It still keeps the fantastic luscious lawn feeling intact for years like the artificial lawn.
Final Words
Can you vacuum artificial grass? We think you have got your answer now. Many of our friends and neighbors have followed the tips for stairs vacuums for artificial grass and got benefited.
So, if you follow the tips we have discussed above, you can lengthen the life expectancy of grass and make your investment worth.
However, if we perform simple tasks to keep our artificial lawn clean, lush, odor-free, the place can be so inviting to hang out with family and friends. You can also take professional help once in a while.