Why Are My Hardwood Floors Suddenly Slippery? – Know the Reasons and Solutions 
Though the hardwood floor can provide decent traction initially, it may lose traction over time. Thus, you must maintain this floor appropriately; otherwise, you may fall and get severe injuries due to the slipperiness.
But why are my hardwood floors suddenly slippery?
Generally, hardwood floors can get slippery suddenly due to natural wear and tear, inappropriate surface finish, or cleaning agents. Also, excessive moisture due to weather conditions, excessive load, and traffic can be responsible for slipperiness.
The article will show you the reasons and countermeasures for this slipperiness. You also learn how to reduce the slipperiness of your floor.
6 Reasons Why Your Hardwood Floors Are Suddenly Slippery
Your hardwood floor surface can get slippery suddenly due to many reasons; here are 6 most common reasons: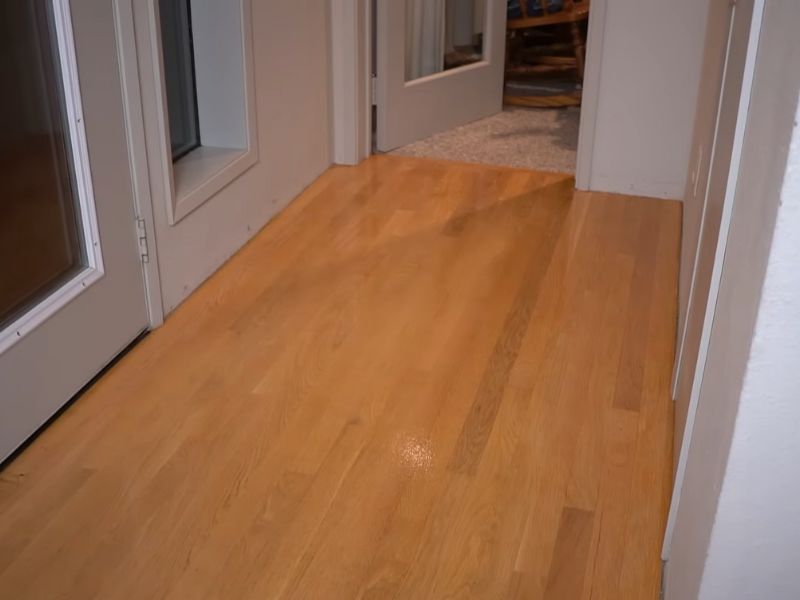 1. Loss of Friction
When your wood flooring loses friction over time, causing the floor to become slippery. Generally, this occurs when you coat the floor with a substance like oil or wax.
Also, the floor surface may wear, tear, or get damaged over time. In this case, the wooden surface will come out. Typically, this uncoated wooden surface can't provide enough traction while walking and poses the risk of slipping.
Countermeasures
Here are several solutions in this regard:
Avoid using any oil or wax-based cleaning agent on your floor.
Choose hardwood cleaners that will clean the surface without leaving any slippery residue.
You can also refinish your floor. But you must remove the old finish by sanding down the floor surface for this. Then, you can apply the new finish, which will enhance the traction of the floor.
2. Wrong Surface Finish
Most people are fond of glossy finishes, but this finish will make the floor smooth and slippery. Also, unevenness in coating application can cause slipperiness.
Besides, you may also cause this slipperiness by polishing the floor excessively.
Corrective Approaches
To correct this wrong finishing issues, follow these:
Consult a professional flooring expert to identify the suitable finish for your floor. Then request the floor with the right finish.
When you don't want to recoat your floor, add texture to the coat using a sanding pad.
You can also improve the floor traction by applying an anti-slip coating over the existing finish.
3. Excessive Moisture and Contaminants on the Floor
Moisture on the floor can act as a lubricant on the floor. Also, the water or liquids on the floor will create a barrier between the footwear and the floor.
This will reduce the traction while walking over the floor, and you may slip.
Also, other contaminants like oil, dust, dirt, and small grains on the floor can reduce the traction between footwear and the floor. Those tiny grains will move under pressure while walking, and you will slip.
Practical Solutions
To solve this issue, you can follow the steps below:
Soak moisture from the floor frequently with absorbent materials like towels or mops. Also, mop the floor area regularly to clean up contaminants.
Maintain moderate indoor humidity level (35%-50%); so that excessive moisture can't accumulate on the floor. If you live in any cold state, you need to use a humidifier to raise the humidity level.
But when you're living in a hotter climate, we recommend using a dehumidifier to remove excess humidity. Even if you live in states of moderate climate, you need to ensure that the humidity level is not fluctuating more than 15%.
You can also use entry mats so dirt, moisture, or contaminants can't enter indoors with footwear.
4. Heavy Traffic and Footwear
The protective coating or finish of the hardwood floor may wear down over time due to continuous heavy foot traffic.
Also, this excessive load or pressure on the floor may bend the surface and will enhance moisture and contaminants accumulations.
Besides, shoes with high heels, smooth soles, or worn-out treads can hardly provide traction on smooth surfaces. This will increase the risk of your slipping.
Preventive Steps
To prevent slipperiness caused by heavy traffic and footwear, follow these steps:
Inspect and repair damaged or worn-out floor areas frequently.
You can use runners or area rugs in high-traffic areas of your house to provide an extra layer of traction.
Use footwear with rubber treads or non-slip soles.
5. Surface Temperature
If the surface temperature of your hardwood floor is colder than the surroundings, water droplets will form on the floor. Also, in winter, ice or frost can form on the surface.
In this case, if the floor temperature rises rapidly, it will melt the ice and cause a slippery surface.
Protective Measures
To deal with this temperature issue here are the ways:
Maintain a consistent indoor temperature of 60-80°F.
Also, regularly monitor the temperature levels and make sure the humidity is between 35-50%.
6. Inappropriate Cleaning Products and Chemicals for Cleaning or Polishing
Some cleaning or polishing products that contain waxes, oils, or silicon-based ingredients will leave behind a residue on the floor surface. Then, when the floor gets wet, the residues will become slippery.
Moreover, if the cleaning product has a high or low pH level, it may damage the floor's finish. As a result, the floor eventually will get slippery.
Safety Interventions
 Choose pH-neutral cleaners to clean your hardwood floor.
Before picking any cleaning agents, check the product labels to ensure whether it is compatible with your floor type or not.
Make Your Hardwood Floors Less Slippery with These Easy Techniques
There are many ways to make your wooden floor less slippery. Follow the ways mentioned below to keep your floors less slippery.
1. Maintain Regular Floor Cleaning Routines
You need to clean your hardwood floor appropriately at least once every week. This is the most straightforward way to keep your floor free of slipperiness.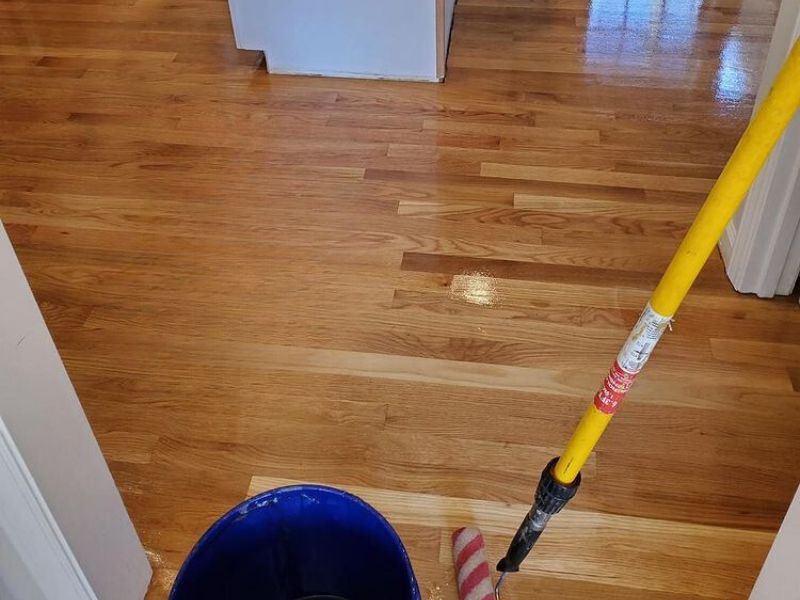 For these:
Step 1: Make a cleaning solution using mild cleaning products with moderate pH and warm water. (Borax, Baking Soda, Bleach, etc. contains pH)
Step 2: Soak the mop inside the solution and wring it to remove excess water.
Step 3: Then wipe the floor with the mop head.
Also, if you spill any water or oil on the floor, clean it immediately to prevent unwanted slipperiness.
2. Place Door Mats to Trap Dirt and Moisture
You can also provide door mats in front and on each side of each door. If you wipe your footwear on that mat before entering indoors, this will limit the moisture and debris from coming in.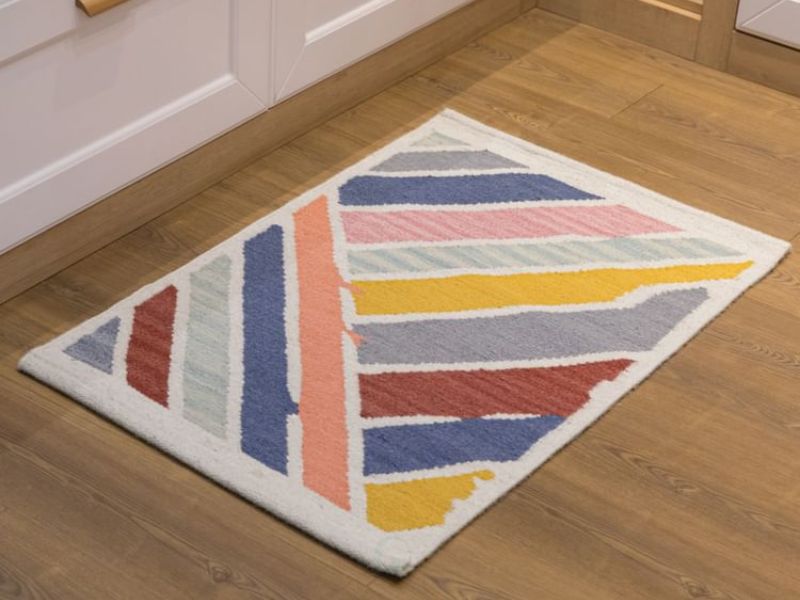 Thus, this will reduce the requirements of how frequently you need to clean the floor.
3. Utilize Area Rugs for Added Traction
Generally, this will be the best method for you if your house's floor experiences a lot of traffic and load. Yet, using area rags without no-slip pads can also be responsible for oily contamination on your floor.
Thus, ensure you secure your area rags in their place by using non-slip pads under them.
4. Eliminate Wax Residue Effectively
Over time, you may notice wax or polish buildup over the floor's finish. This waxy buildup will make the shiny floor dull looking.
In this case, you need to eliminate the waxy residue as it may make your floor surface slippery. To remove this, you will need a floor-stripping solution.
Floor stripping chemicals serve the vital purpose of effectively dissolving the current floor finish, enabling its safe removal without causing any damage to the underlying flooring.
Apply the stripping chemicals using a mop to the floor.
Then, you must wait 3-5 minutes after spraying the solution over the floor. Next, use any scrubber to scrub the area, and lastly, wipe the area properly.
5. Consider Purchasing an Anti-Slip Treatment
This type of treatment will be best for you if you have any furry pets in your house. The anti-slip coating will provide an excellent grip to your pet so that they won't slip frequently.
Also, this coating will give your floor a shiny appearance while maintaining proper traction.
You can find spray bottles of anti-slip coating to apply on your floor. After you spray it from the bottle, the foam inside it will dry and give a textured finish.
We recommend coating the floor twice with this coating agent. Firstly, apply a layer on your floor. Then, after 10 hours, apply another anti-slip coating layer over it.
6. Explore Non-Skid Paint Options
You can explore this option if you habitually walk barefoot in your house. In general, you may find urethane and epoxy non-skid paint of different colors in the market.
Choose one according to your preferences and apply it by following these steps:
Step 1: Dilute the 1 ounce of non-skid paint solution within 20-22 ounces of water.
Step 2: Soak a mop in the solution and wipe the floor.
Step 3: Then let the floor dry.
7. Install Adhesive 'Peel and Stick' Anti-Slip Tiles
The idea of installing peel-and-stick type anti-slip tiles is best for high-moisture areas like the kitchen or bathroom. It's not only easy to apply but also to remove.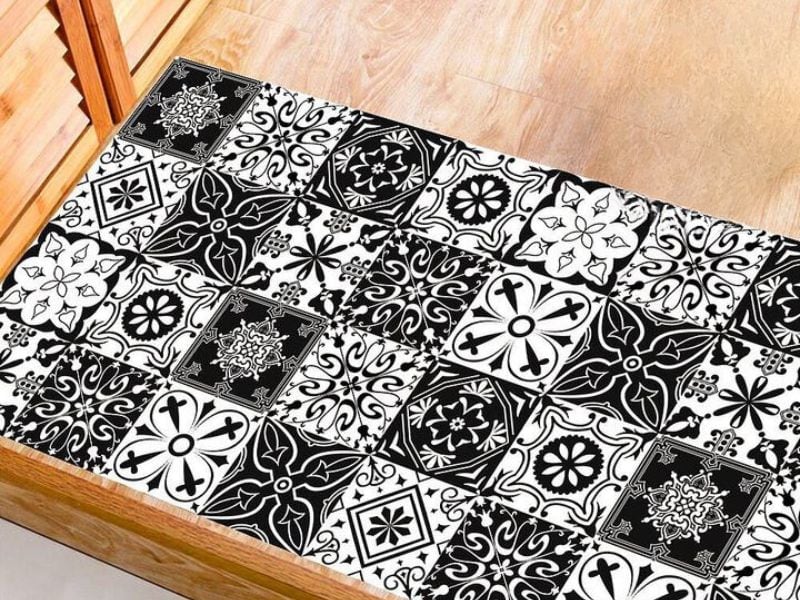 For this, you must remove the backing paper from the tiles and place them on the floor. After covering the floor with these tiles, you must give them time to cure.
8. Opt for Sanding and Refinishing to Enhance the Grip
You need to follow this method if no other options work for you. Here are the basic steps for the sanding and refinishing:
Step 1: You must remove all the furniture and close all the doors and vents before starting the process.
Step 2: Use grit sandpaper on the floor evenly to remove the finishes.
Step 3:  Clean the floor surface to remove dust and debris.
Step 4: Now, choose an appropriate finish for your floor, such as oil or water-based polyurethane, shellac, etc. Then, apply it to your hardwood floor.
Step 5: Let the finish cure or dry by providing appropriate time and ventilation.
Frequently Asked Questions
In this FAQs section, we will answer a few questions about the slipperiness of the hardwood floor.
Does Vinegar Make Floors Less Slippery?
Vinegar will make your floor less slippery if there is any residual wax. Yet, for regular cleaning, if you use vinegar, it will break down your floor's finish. Thus, over time, it will become more slippery and lose shine.
Will All Types of Hardwood Floors Be Equally Slippery?
No, various types of this floor can have varying degrees of slipperiness. In this case, factors like wood type, finish type, and level of maintenance will play a role in the slipperiness of the floor.
When to Seek Professional Advice for Hardwood Floor Slipperiness?
If the slipperiness problem of your floor persists, you must seek help from professionals to detect the underlying causes. Also, if your floor needs sanding and refinishing, you better consult a professional, as expertise is mandatory.
Conclusion
The hardwood floor becomes vulnerable to dust, humidity, temperature, tear, and wear. That's why you need to clean your floor often to remove dust.
If you have read this article, you already have answers to your query about why my hardwood floors are suddenly slippery?
Thanks for reading.