Can You Use Dish Soap to Mop the Floor?
When you run out of your floor cleaner, the dish soap lying on the corner of your kitchen seems like a good alternative. However, dish soaps are for washing your pots and pans, not the floor.
If you're wondering whether can you use dish soap to mop the floor, here's your answer.
Yes, you can use dish soap to mop almost all types of floors including ceramic tiles, porcelain, linoleum, vinyl, and marble. Dish soap has surfactants that react with the solid dirt and debris and breaks them apart.
As you'll need a lot of water to rinse off dish soap from the floor, it's better not to use it on wooden and plastic laminated floors susceptible to moisture damage.
Let's dive in and find out the pros and cons of using dish soap to mop your floor.
The Correct Method of Mopping the Floor Using Dish Soap
You can get a perfectly clean and unharmed floor by mopping it with dish soap only if you follow the right method. Otherwise, there will be streaks, stains, and other unpleasant siting.
So, here's a detailed step-by-step guide for you to correctly mop your floor with dish soap:
First things first, you need to gather all the necessary items beforehand to finish the mopping conveniently. You must choose the right products and materials as per your requirements.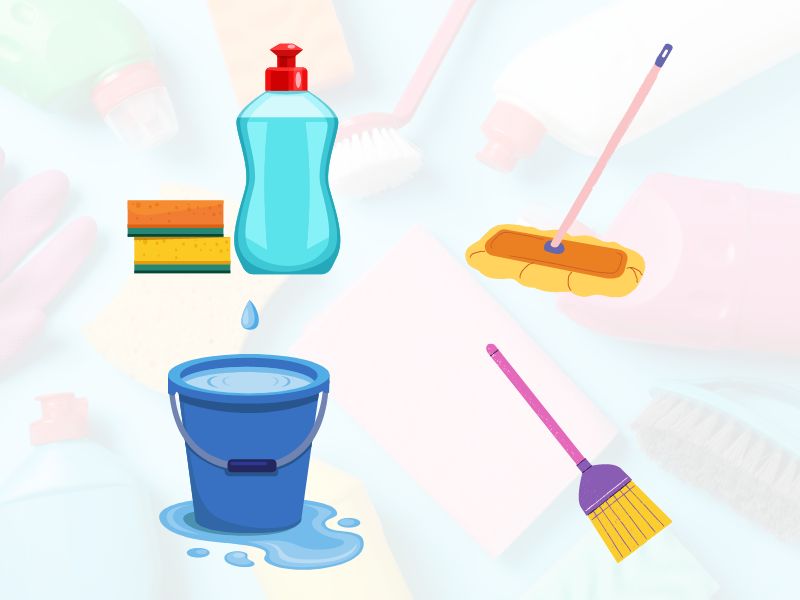 If you choose the wrong dish soap, it might leave a permanent stain on your floor.
Similarly, mopping with the wrong type of mop will make your job way more difficult. So, take a look at the required materials first –

Dish Soap
Choose a mild dish soap or dishwashing liquid suitable for your floor. The dishwasher must be free from harmful chemicals such as bleach, phosphates, triclosan, etc.

Mop
You might have different types of mops at home. Pick the one that you find most convenient and easy to use. Regular strong mops will work fine, but you can also use a sponge or flat mops.

A Broom or Vacuum Cleaner
Any of these materials will be helpful in removing unwanted hair and dirt from your floor.

Bucket and Warm Water
Use them to prepare the dishwasher solution and dip the mop.
While mopping, you don't want pet hair and dust to stick to your mop strings, right?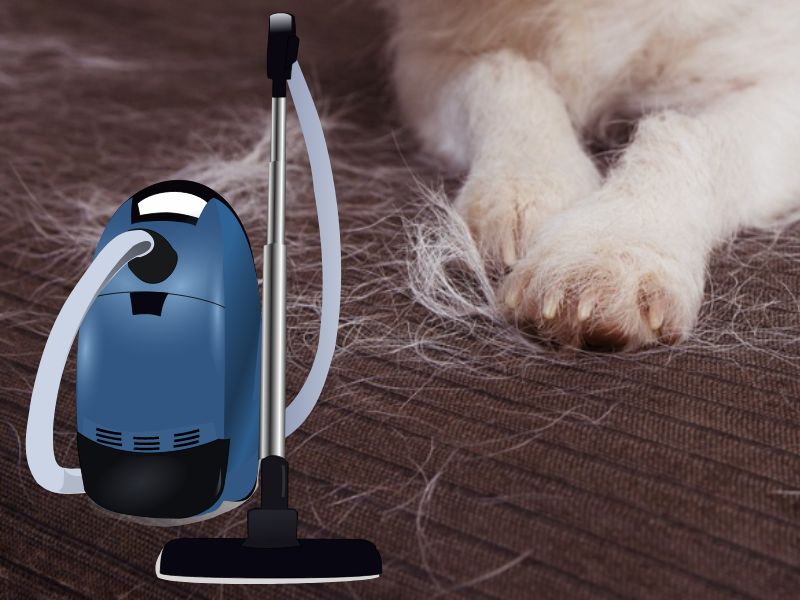 Therefore, you have to sweep or vacuum the floor to remove any loose hair, dirt, dust, or debris. Also, your furniture can come your way as you mop.
So, clear the floor of any such obstructions. Keep them aside for a while as you mop.
Now it's time to prepare the cleaning solution. For this, add 2 to 5 drops of liquid dish soap to a bucket of warm water.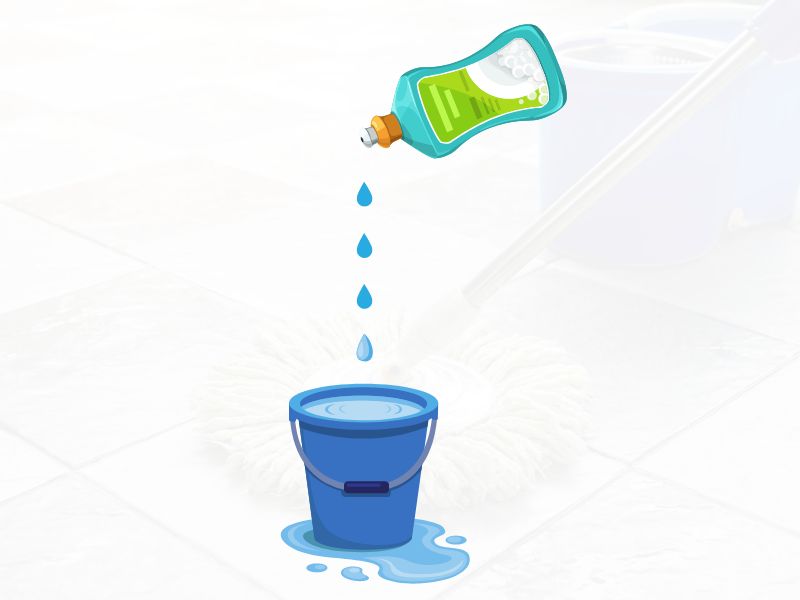 The correct ratio of soap to water is essential to avoid leaving a soapy residue on the floor. As a general rule, you can use a maximum of half a cup of dish soap for every gallon (3.8L) of water.
Instead of using hot water, prepare the solution with warm water. It helps dissolve the soap more effectively and prevents damage to certain types of flooring.
Once the cleaner is ready, you can wet the mop in the soapy solution and wring out excess water. Make sure you make the mop damp as excess water can damage the floor.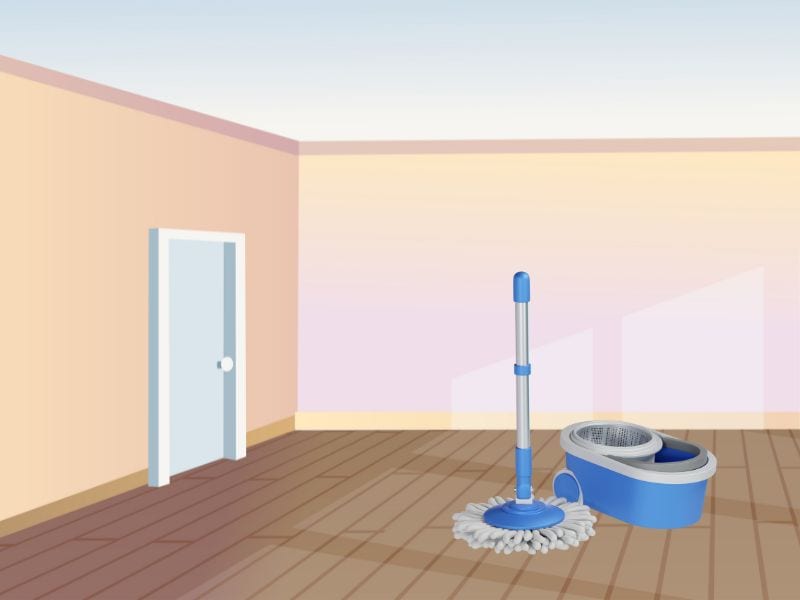 Start mopping from the farthest point of the room and work towards the door. Move the mop in a figure-eight motion, applying even pressure throughout.
This way, the leading edge will move forward and you won't have to mop several times to pick up large debris.
Once you've finished mopping the floor, you must rinse the floor with clean water to remove any soap residue. For this, dip your mop in clean water and wring out the excess water. Repeat the process multiple times until all the soap residue is removed.
To prevent slip-and-fall accidents, drying the floor properly is a must. Use a clean, dry cloth or towel to effectively dry the floor. Or you can leave the floor to air dry for about 30 minutes to one hour.
Tips and Precautions to Safely Mop Floor with Dish Soap
As dish soap isn't a product produced to be used on floors, you must follow some tips and safety measures. To make the mopping process easier and more effective, consider the following:
Pros and Cons of Mopping Floor with Dishwashing Soap
If you've decided to mop your floor with a dishwasher, we must warn you as it has both advantages and disadvantages. While dish soap is an effective cleaner and widely available, it can make your floor slippery.
Let's take a look at the pros and cons of dish soap before using it.
Pros
Cons
Dish Wash Vs Regular Floor Cleaners: Which One Is More Effective?
When you've both a floor cleaner and dish soap in hand, you might wonder which one to use for better results. Let's compare the properties of dish soap with other cleaning products specifically designed for mopping floors.
| Properties and Features   | Dish Soap | Other Floor Cleaning Products   |
| --- | --- | --- |
| Cleaning Power | Moderate | Strong |
| Residue | Potential residue buildup if not rinsed thoroughly | Minimizes residue buildup |
| Floor Compatibility | It may not be suitable for all floor types; it can potentially cause damage or discoloration | Formulated for various floor types, ensuring safety and effectiveness |
| Convenience | Highly convenient for regular cleaning, readily available | Require separate purchase and storage of specific floor cleaning products |
| Cost | More cost-effective in general | More expensive than dish soap |
Other Household Cleaning Uses of Dish Soap and Interesting Uses
As dish soap is a versatile and effective cleaning product, people use it for various household cleaning tasks beyond washing dishes. Here are some interesting and practical uses for dish soap –
Get Rid of Grease
Dish soap's degreasing properties make it effective for cleaning greasy surfaces. You can use it to remove dirt and stains from stovetops, range hoods, and kitchen counters. It cuts through grease and helps remove stubborn stains.
Removing Stain from Clothing
Thanks to its advanced cleaning properties, you can use dish soap to remove stains from clothing.
Apply a small amount of dish soap directly to stains on clothing, let it sit for a few minutes, and then wash as usual. It will help you remove food stains before laundering.
Cleaning Makeup Brushes
Another interesting use of dish soap is to clean makeup brushes. Mix a few drops of dish soap with warm water and use it to clean your makeup brushes.
Rinse them thoroughly and let them air dry. The dish soap helps remove makeup residue, oil, and bacteria from the brushes.
Insect Repellent
Did you know you could make DIY insect repellent from your dish soap?
To create a non-toxic insect repellent, mix a few drops of dish soap with water in a spray bottle. Use this solution to spray around windows, doors, and other areas where insects enter your home.
The mixture will repel pests like ants, flies, and mosquitoes.
Frequently Asked Questions
What is the best dish soap for mopping floors?
Any mild dish soap or dishwashing liquid is good for mopping floors. If you're looking for the best-branded dish soaps, DAWN Ultra Platinum Dishwashing Liquid, Palmolive Antibacterial Liquid Dish Soap, and Seventh Generation Free and Clear Liquid Dish Soap are some great options.
Why is my floor soapy after mopping?
Using too much detergent or not properly diluting it can leave a soapy residue on the floor. Besides, if you don't rinse the mop thoroughly or use a clean water source for rinsing, the floor will become slippery and sticky.
What can I use if I have no floor cleaner?
If you don't have a specific floor cleaner on hand, dish soap can be a good alternative. You can also make a vinegar solution by mixing equal parts of water and white vinegar in a bucket. Or make a cleaning paste by adding baking soda with a small amount of water and using it to clean the floor.
Final Words
So, can you use dish soap to mop the floor? Yes, as long as you follow the correct method and use the right materials.
When cleaning hardwood floors, be cautious about excessive moisture as it can cause damage. Follow our above-mentioned tips and the dish soap will do its magic.