Can You Use Pine Sol on Vinyl Flooring – Can They Coexist?
Now that you've spent a fortune on those expensive vinyl floors, you better know how to maintain them. While vinyl flooring is typically more resistant to damage and stains, it can lose sparkle if you use the wrong cleaning liquid.
So, can you use pine sol on vinyl flooring? Yes, you sure can.
Vinyl floors have a PVC or polymer-type core that makes them non-porous in nature. Using pine sol for cleaning such floors is a great idea as its cleaning agents are biodegradable, leaving a nice scent of pine oil.
So, you don't have to worry about them soaking up moisture like laminate does. Let me elaborate.
Pine-Sol and Its Effects on Vinyl Flooring
As far as chemical formula is concerned, Pine-Sol is very effective on any dirt, grease, or grime due to its composition. It's made with Propyl Heptyl Ethers and Alcohol Ethoxylate, which act as reactants to your greasy floors.
Moreover, it has glycolic acid, which helps reduce the risks of diseases and bacterial growth anywhere on the floors.
These work like a charm on vinyl material to make it safe for kids and pets while removing all the soap scum and minute residues from everyday messes.
To explain further just how effective pine sol is on vinyl layouts, you need to consider three factors- safety, residue, and potential damages over long-term use. And that's what I'll discuss next.
Is It Safe to Use Pine Sol on Vinyl Flooring?
Safety is the first concern you'd have when using any cleaning material. And thankfully, pine sol is very safe to use on vinyl floors. It won't cause any sick pets or harm to the baby's skin.
This cleaning liquid isn't made with any abrasive substance. So, contrary to bleach, it's safer to handle and store. You can even use it on kitchen floors, shower tiles, and PVC liners.
While it's safe to use in areas where your kids and house pets play, store the product away from their reach. It may not be abrasive, but it's still not something to ingest.
Does Pine Sol Leave a Residue on Vinyl Flooring?
Next is the question of leaving residue- does it leave any traces of its use on those expensive planks? The answer here isn't so black and white, but it depends on your actions.
Any cleaning agent has surfactants, and so does Pine Sol. So, if you don't rinse it off properly after use, there will be residual build-up over time. This doesn't mean you can't use them- it simply means the proper procedures must be followed to the "T."
If you use less amount of cleaner, it can cause this problem. The best thing to do is to dilute the liquid and use a damp cloth afterward to wipe away the damp vinyl planks.
Make sure to rinse using clean water again, preventing any water spots or residual stickiness.
Can Pine-Sol Damage Vinyl Flooring?
Typically Pine Sol is very safe to use on vinyl material since it doesn't cause any corrosion. On its own, it cannot damage your home's shiny floors. And since it's free from detergents in the formula, rest assured that no harm will be done.
But you should be cautious not to use too much liquid as it can make the floors sticky and lose their luster. When you use too high of a Pine Sol concentration to clean, it wipes away both dirt and color from the floors simultaneously.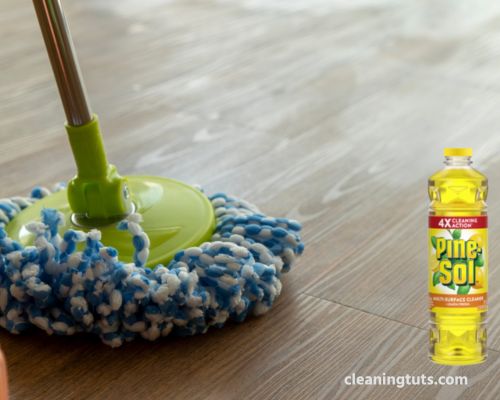 This is not desired if you just had new types of vinyl installed. The ideal pine sol-to-water ratio is ¼ of the cleaning agent mixed per gallon of water.
And the company recommends this diluted mixture, and you can switch it up according to how much area you'll be cleaning up.
Remember not to use any abrasive tools with this liquid, as it will leave scratches on vinyl surfaces. This includes wool of steel, hard-bristled brushes, or scratching equipment.
How to Clean Vinyl Floors With Pine-Sol?
Cleaning floors using this liquid is quite straightforward and simple. Here are my step-by-step instructions on how to get it done easily without leaving any mark.
Gather the Supplies
First, you need to gather the supplies you need for the chore. This would include a bucket or a spray bottle, the Pine Sol cleaner, water, a mop or wipe cloth, and a dry towel.
The water is meant to dilute the cleaning liquid, and rinsing such separate buckets would help make things a lot easier.
Buckle Up in Protection Gear
Now it's time to get into your cleaning gear; yes, this is a highly recommended step. Don't just start cleaning in your loungewear- it will ruin your clothes and skin.
For cleaning with Pine-Sol, you need to wear safety gear like long-sleeved overalls and some hand gloves.
If you're planning to use the liquid alongside other cleaners meant specifically for vinyl floors, add a respiratory mask to the outfit. It's going to help prevent choking hazards and any inflammations.
This isn't to say pine sol itself is hazardous, but rather it can react with other chemicals and emit harmful gas. Opening a few windows can solve the case as well.
Sweep and Vacuum the Floor
The number one mistake people make when cleaning liquids on vinyl surfaces is not vacuuming beforehand. To get all the dirt out of your floor surface and crevices, it's important to dust and sweeps first.
Dusting the floor helps clear out layers of debris that may have collected on the vinyl throughout the day. And when you vacuum, any sort of minute particle and the trace of messes get taken care of.
So, it reduces the chance of stickiness and improves the shine of your floor when using Pine Sol later on.
Prepare Pine Sol Mixture
Once you've vacuumed everything, it's time to prepare the cleansing mixture in a bucket. The best way to do this is by checking the instructions on the container or manufacturer's note.
Usually, they have all the recommended ratios you'll need on the container label.
The basic rule of thumb is to add ¼ cup of the Pine Sol liquid to each gallon of water. Of course, you can increase or decrease this amount based on how much deep cleaning is to be done.
Mop Away!
And now it's time to mop away at those vinyl planks using a wet cloth or mop. You'll pay more attention to the stained spots and areas that are visibly dirtier. Make sure to cover the entire floor with the liquid using the mop.
Remember that steel brushes and scratching tools are not the solutions to stubborn grease build-up. You'll have to increase the liquid concentration for those parts but avoid any sort of abrasive tools. Otherwise, your floor will get ruined.
Rinse and Repeat
Some people consider this an optional step, but I'd highly recommend this as part of any cleaning routine.
If you don't rinse the area with clean water, it may get sticky or attract more grease later due to the chemical traces left on the floor. Besides, it helps remove the possibility of residue.
But of course, be mindful of how much water you use since it can cause water spots if not dried out.
Let It Dry
Coming to the last step, take your time with the floor to air dry. Go ahead and use a towel or dry mop to wipe it down. This ensures your floors retain their shine and color for longer and prevents moisture absorption.
How Often Should I Use Pine Sol on Vinyl Flooring?
Usually, you just need to use Pine Sol once or twice every week to make sure your floors stay clean. This frequency of usage can increase or decrease depending on the foot traffic at home and where the types of vinyl are installed.
For instance, kitchen areas tend to get messy quite often and may require you to clean three times a week. In everyday spillage, the trick is to clean it up with the liquid as soon as possible.
I've found that Pine Sol is very effective in removing any stains, no matter how stubborn, if you clean them up quickly.
For dirt embedded into the cracks of vinyl flooring, you'll need to deep clean every few months. I prefer deep cleaning with pine sol once monthly to prevent any grime from building up.
Frequently Asked Questions
Is Pine-Sol safe for luxury vinyl flooring?
Yes, it's definitely safe for your high-end vinyl surfaces. These liquids are designed to deal with vinyl flooring stains and dirt.
Can Pine-Sol be used on vinyl tile flooring?
Since Pine Sol is a commercial-grade cleaning liquid formulated for high-grade floor surfaces, you can use it on vinyl flooring with no worries. Even professional cleaning service providers lean toward Pine Sol to get that spotless finish.
What not to do when cleaning vinyl flooring with pine-sol?
There are mainly two things you must avoid when cleaning with this liquid. First, remember to dilute it or use too high of a concentration to clean vinyl flooring. It could ruin the texture and color of the material. Secondly, avoid using hard bristled tools alongside such a potent cleaner as it can damage the surface for good.
Alternatives to pine-sol for cleaning vinyl flooring?
If you're wondering what you can use as alternatives to Pine Sol for those vinyl floors in your living space, consider using vinegar solution or mild dish soap. Warm water alongside baking soda paste can also be effective, depending on the type of stain you want to remove.
Conclusion
By now, you should be confident to answer the question- "Can you use pine sol on vinyl flooring?" with a big "Yes!".
Because let's face it, having the right cleaning gear and tools can make a world of difference in your everyday life. Forget about sore hands and knees trying to scrub off grease from the floors; Pine Sol is what you need to solve your problems.