Can You Use Fabuloso on Laminate Floors?What You Need to Know
Being a jack of all trades, the multi-purpose cleaner Fabuloso has been a staple in many homes for years. It's the number one go-to cleaner for many different types of surfaces.
But can you use Fabuloso on laminate floors? Allow me to help you find out.
Since laminate is a synthetic material, floors made of this are affordable and easy to maintain. But they're also sensitive to chemicals and strong detergents. So, Fabuloso is the best option to clean them due to its neutral pH value and water-based formula that's ammonia free.
However, there are a few things you'll need to know when using this on laminate materials. And that's what I've discussed right here.
Let's dive deeper, shall we?
Understanding Laminate Flooring With Benefits
In this day and age, when vinyl and wood floors seem to be getting hyped, why would you choose laminate in the first place? Well, I've found them to have many benefits compared to other materials.
Here are a few of them –
Affordable Price: These won't cost you a fortune, and it's easy to install the entire house flooring on a budget.
Longevity: Laminate lasts a long while, and it's built to stand the test of time. Even with more foot traffic, the flooring will not fade or get scratched.
Ease of Installation: As someone who's into DIY projects, I love the idea of being able to install my own kitchen floors. With the click-and-lock mechanism available with laminate floors, you don't even need glue or nails to install them.
Aesthetics: Despite being cheaper, laminate can have an elegant and sleek look easily. There are many different designs and styles to choose from, which makes them very aesthetically pleasing.
Hypoallergenic: Do you have any respiratory issues or allergies? If so, laminate is the best material to go with your home since it doesn't rot over time or get moldy. It doesn't trap any dust or dander, making laminate flooring hypoallergenic.
Low Maintenance: As much as I adore hardwood, it takes work to maintain. Compared to that, all it takes to maintain laminate floors are regular mopping and sweeping. No need to go the extra mile with refinishing and sealing it up.
Once you realize just how versatile and cost-effective laminate really is, it's a no-brainer to install them on your home's floors.
Fabuloso and Its Effects on Laminate Flooring
Fabuloso cleans dirt and grimes off laminate like nobody's business. It's great for maintaining a good bright look on your floors thanks to its milder formula. However, remember to always do it with the mixture.
Fabuloso is a general-purpose cleaning liquid that is designed for more than laminates. So, using it without following the container label instructions can lead to issues like discoloration or stains.
The two questions many ask in this case are whether it can lead to damages and how to avoid that from happening. So, I've boiled down the answers –
Can Fabuloso Damage Laminate Flooring?
The chemical content of Fabuloso includes citric acid, colorants, Sodium Laureth Sulfate and C9-11, Pareth-8, etc.
While these react with oils and dirt to clean up the surface, they can also lead to certain damages if used in high concentrations or repeatedly in the same area.
If you end up using less of this water-based cleaning agent, the laminate can swell or get warped. There's also the possibility of water spots under the top laminate cover.
And if you use any tools like scouring pads or steel wool, it can lead to further damage. Another issue that can occur when using the product is residual build-up.
This can happen if you don't rinse off the cleaner properly after applying it on the surfaces. Moreover, the damage can occur in the form of scratches due to harshly scrubbing the surface when cleaning it with Fabuloso.
It's not a good idea to get on all fours scrubbing away with a brush when the laminate material is involved. Doing so will damage the look as well as the durability of the flooring.
Finally, I want to warn you never to keep the liquid on the floor stagnant for too long. It's ideal for applying the liquid to specific areas as you go along cleaning them instead of drenching the floors with it beforehand.
This prevents any possible damage.
How to Use Fabuloso Safely on Laminate Flooring?
Despite the concerns for damage, there are ways you can safely use Fabuloso on your laminate floors. What precautions do you need to do this? Remember to first ventilate the area before setting out on the cleaning task.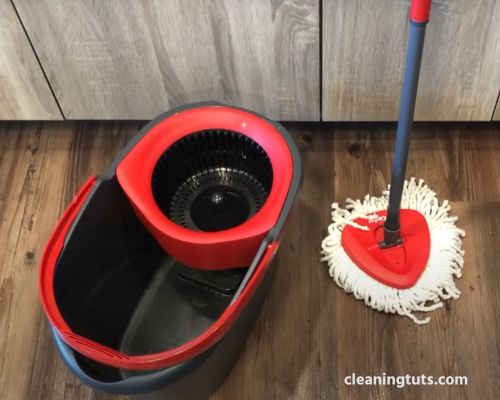 By opening the windows and ensuring there's good airflow, you not only help keep chemical scents and gases out of the space but also prevent the floors from staying wet too long.
Wearing gloves and a face mask can also help a lot. Although this cleaner is well known to be eco-friendly and suitable for allergic users, it's better to stay safe and avoid direct contact with your skin. This also includes the eyes.
Makes sure not to use excessive water in the dilution and during rinsing. Again, during the dilution process, try to follow the manufacturer's notes on how much to mix.
The general amount is to add around ¼ cup of Fabuloso liquid to a gallon of clean water.
How to Clean Laminate Floors Using Fabuloso?
A non-negotiable step before any cleaning session is to sweep and vacuum the room in which you want to apply the Fabuloso cleaning liquid. Vacuuming removes allergens and dust that can react badly with the chemicals.
Step two is to prepare the dilution in a bucket according to the manual instructions. Usually, the containers have a standard set for how much cleaner should be used per gallon of water.
Next, you'll use a mop to dip into that dilution and wipe over the floor. Since you're not getting the laminate wet directly by pouring the mixture, there's nothing to worry about.
In the case of those stubborn grease marks, I like to use some rubbing alcohol beside the cleaning mixture. But be careful to immediately wipe it out with a cloth and not use it too much.
Alternatives to Fabuloso for Laminate Flooring
Suppose you're all set to start a spring cleaning of your house or preparing to host guests over, but the Fabuloso container has run out. What to do in this situation?
Well, thankfully, there are a few alternatives you can consider.
Vinegar Solution
Now, there are two ways to make this type of vinegar solution. The first is by mixing vinegar with water into a basic spray bottle.
This is usually enough to clean up floors since vinegar is a mild acid with properties of cleaning agents. It also preserves the finishing on laminate surfaces.
The other method is by adding essential oils into the mix. You can add 1 cup of water with a cup of white vinegar and a few drops of any essential oil you like.
I highly recommend trying lavender and lemon oil as they have a nice aroma and also clean the space well. Spraying this and wiping it with a cloth can be an alternative to Fabuloso.
Isopropyl Alcohol Solution
Although I've warned about alcohol before, you can try this hack if you have no other option. By adding some isopropyl alcohol with water, you can remove stickiness and also disinfect any surface easily.
Dish Soap Solution
Mild dish soap is great for cleaning in general. You can mix a few drops of laminate with some water and clean it up using a mop. This should be used with a soft microfiber cloth and not a hard or rough mop or brush.
Warm Water and Microfiber
If all else fails or if you're too scared to try them out, sticking to good old warm water can also work.
In some cases, just mopping up the floor with a high-quality microfiber towel using warm water is enough to give that polished and clean look. But remember to dry the floor promptly so moisture doesn't warp the planks.
Other Cleaning Solutions for Laminate Flooring
For those looking to try something new and different, there are also other cleaning solutions for laminate floors. Only a few stores at local places can always have Fabuloso in stock, so you can definitely try out one of these.
There's the Pledge Gentle Wood Floor Cleaner, Method Squirt, the one from Armstrong, and the laminate floor cleaner from the company Black Diamond Stoneworks.
These are all renowned brands with good quality liquids. And a bonus is that they're usually commercially formulated to be suitable for real wood surfaces as well.
My personal favorite alternative is to use Armstrong cleaners since those are ready-to-use formulas. This means you don't have to go through all the hassle of diluting and mixing the agent with water.
And I'm all for one less step to take when it comes to cleaning up. In the case of the Black Diamond cleaner, it works really well as a Fabuloso alternative due to its water-based formula and very similar.
The biodegradable quality means it's safe to use in the home with pets too. So, this is a fantastic option for laminate flooring.
And if you're looking for something that strictly caters to air quality standards, the Bona Stone cleaner meant for both tiles and laminate floorings is amazing.
Not only is this Greengaurd Gold certified, but it's got a pH-neutral formula that does not leave streaks or residue.
Here Are a Few Tips for Maintaining Laminate Flooring
For every type of material used for flooring, there's a certain type of maintenance practice. The same goes for laminate floors. Here are a few pointers and tips on making them last longer and look as shiny as the first day.
Sweep Regularly: You'll need to keep away dust and debris from building up by sweeping the floors regularly.
Clean Spills Immediately: Tackle any spillage quickly before it gets absorbed into the crevices.
Avoid Abrasives: Don't use tools that rub against the surface harshly.
Microfibers Are Your Bestie: Any microfiber mop and towel will wipe and clean the laminate without scratching it.
Groom Pets: For pet owners, trim the nails of your beloved animals so they don't cause any scratching of the top layer.
Use Rugs: The best way to prevent the laminate from losing its shine is to use some rugs strategically. Place one in the hallway, in front of doors, and in kitchens where foot traffic is higher and things usually get messy.
Use Proper Cleaners: Avoid harsh chemical cleaners that can damage the component of the flooring.
Is It Safe to Use Fabuloso on Laminate Flooring?
Using Fabuloso on laminate flooring is safe and effective. It can be used to simplify warehouse floor cleaning while keeping it smelling fresh. However, it is important to dilute the solution before applying it to the floors to avoid any damage.
Frequently Asked Questions
Is Fabuloso safe for all types of laminate flooring?
Yes, using Fabuloso on different types of laminate flooring surfaces is safe. Whether you have a traditional laminate or an EIR laminate surface, Fabuloso can be used on them.
The most commonly used laminate nowadays in homes is the glossy type. These have a reflective surface that gives a smooth, glossy finish. As a result, your room looks more spacious and brighter.
It's safe to use cleaning agents like Fabuloso on them since it's not harsh like bleach and not at all abrasive. And as long as you're mixing it with water, no form of discoloration will occur either.
Can I Dilute Fabuloso to Make It Safe for Use on Laminate Flooring?
In fact, it's highly encouraged and recommended by experts to dilute most cleaning agents before using them. Fabuloso is a chemical cleansing product that is also eco-friendly due to its mild formula. But it's still strong enough to wipe off layers on surfaces like laminates and tiles if you don't use it in the correct proportions.
This means it's best to dilute and use it with water. The basic ratio is to use a quarter of the liquid for every gallon of water in the bucket. So, if you've got 5 gallons of water to clean with, you'll need 1 and a quarter of Fabuloso.
Will Fabuloso leave a residue on laminate flooring?
As long as you rinse the floor properly, it won't leave any residue. This is true for using any sort of cleaning agent on laminate floors.
Conclusion
So, if the question is, "Can you use Fabuloso on laminate floors?" you can definitely answer positively. This product is great for all sorts of surfaces, and laminate is just one of them.
If you're concerned about cleaning up laminate since it's a compressed synthetic material, forget about those worries right now. With the tips I've mentioned, cleaning those rooms will be a piece of cake!