How to Clean Warehouse Floor? – Explanation and Tips
Warehouses get a bad reputation for being these dark and dusty places with piles of cardboard and debris collecting cobwebs. But you know how to clean warehouse floor and tidy up the space.
In that case, it can easily be as presentable as any other office or home area. And that's where this article can help you.
A dirty warehouse comes with a myriad of health risks and inefficiency. You can't work productively when everything in your store is a mess. Dirty floors can lead to respiratory issues, slips, falls, and accidents during product movement.
The amount of debris that collects on warehouse floors can easily spread bacterial infections and viruses (remember COVID-19, anyone?). So, it's better to stay safe and sanitary than to get calls from employees on sick leave.
Everything you'll need to clean up that warehouse, from prevention to the solution, is mentioned right here. Let's get into it.
Why Is It Essential to Clean Warehouse Floors?
Now, it's a fair question to ask if it's worth going through so much hassle to clean warehouse floors. This may be daunting, but it's a lot more important than you'd think. Allow me to elaborate on some points.
Ensuring Safety
Before any other discussion, I'd like to point out that the clean floors of a warehouse make working there safer. People won't trip and fall over debris, nor will they inhale dust or particles triggering allergies.
Increasing Productivity
When it's all said and done, cleaning up the warehouse will mean tidying up and organizing it in the process. And a clean, organized space means higher productivity.
Nobody will be worrying about not finding boxes or files through the clutter. Scientists have proven that people's brains work better in a less chaotic environment. Being able to tell where things are, helps boost operation speeds.
Aesthetics and Credibility
When it comes to leaving an impression, you only get one chance. So, imagine your customers looking at your dirty warehouse flooring or a high-esteemed business partner finding out. Clearly, it won't be a good look to have.
Having clean warehouse floors is aesthetically very pleasing and increases the company's overall image. It reflects that you're at the top of your game and have credibility. And that makes it easier to gain trust in any competitive industry.
Complying to Regulations
Many states may have certain regulations regarding the environment where different consumer goods are stored. And violating those may incur fees and even lawsuits.
Keeping a sanitary space for storing everything from documents to products meant for clients is paramount to running your work smoothly.
What Equipment Is Needed for Cleaning a Large Warehouse Floor?
Knowing what you're getting yourself into is important before starting the cleanup process. You should check out the area, how big it is, and the best way to go about the cleaning spree.
After all, you can't mop away everything at once, and different types of dirt and debris require special attention. The standard warehouse sizes range between 10,000 and 50,000 square feet.
This is already way bigger than a typical room in a house. But large warehouses have a floor area of more than 50,000 square feet. This is a challenge to clean.
Luckily, you have certain tools to help you make it easier. You can either hire a cleaning company or get some employees involved in the process.
Plus, you can use a walking scrubber, large air or wet vacuum, electric mop buckets, and cleaning detergents. But compared to all of these, I recommend using a ride-on scrubber because it covers much more area than a walking one.
List of Required Tools for Cleaning
The easiest way is to use the right equipment to get an effective outcome and get everything done in time. What are those? Well, here are some of my favorites –
Microfiber Mop
This is a super affordable tool anyone can invest in. A microfiber mop will help you wipe down the surfaces, clean up any spots and spillage and keep the floor dry.
It's simple and traditional but ever so handy.
Vacuums (Wet & Dry)
But what about those crevices and corners that can't be reached with a mop? That's a job for vacuum cleaners.
You can use a wet or dry vacuum to easily remove layers of thick dust and allergens. These can be used to collect debris and particles spilled at corners and built-up cobwebs in no time.
Walking Scrubber/ Ride-on-Scrubber
Depending on the size of your warehouse, you can either go for a scrubber designed to be ridden or walk behind.
Walk-behind floor scrubbers typically have a narrower cleaning path compared to ride-on scrubbers, ranging from 20 inches to 30 inches.
Pressure Wash
This is yet another convenient way of cleaning up any large area.
Using a pressure washer, also known as a power washer, you can spray water over the floor at high pressure to remove all the debris and mildew.
The process is simple and quick but very effective.
How to Clean Warehouse Floor?
Cleaning the warehouse floors is ideal when there's nothing too busy going on or during a holiday. You can either get employees to do it or hire cleaning professionals.
But make sure they're consistent and that daily messes and spills are taken care of asap. Now, here are a few simple steps on how you can clean your warehouse floor.
Vacuum and Collect Trash
The first step is to collect all the trash and debris that can't be sucked in by the vacuum by manual labor. This can be toiling and take quite some time, depending on the area, but there's a hack to prevent this in the first place.
And that is to put cleaning bins and trash cans at every turn and corner of the warehouse. This will prompt the employees to refrain from littering and doing their part in the process.
Next, you need to vacuum the area properly, ensuring all the dust particles that have built up and the dirt residue get sucked up. This prevents a muddy situation when using a liquid cleanser and mop.
Mopping and Drying
The next step is to get a high-quality cleaning liquid that can take care of stubborn grime and grease properly. This is an investment rather than a liability because it will make your work much easier.
Have plenty of mops and towel rags ready to use for the chore. Microfiber mops and cloths are the best for this as they can clean much better with one swipe.
And once you're done with the mopping, allow the floor to dry for some time. If you keep it dry, the step afterward will become easier. So, open a few fans and start up the air conditioning to get the floor ventilated and dried.
Apply Sealant
The final step in this cleaning process is applying a sealant or wax layer on the floor to ensure it doesn't fade or damage over time.
This is very important as most warehouses have concrete floors, and forklift vehicles are often used inside them. That makes the floors subject to a lot of wear, just like roads.
Once it's dried, apply the type of sealant that suits the floor material best. It can be epoxy, concrete, or something else. What matters is that it's of high quality and applied correctly.
Applying a sealant can increase the longevity of your floors. It can also make cleanups easier. And, of course, daily sanitation with alcohol cleansers is needed to be used too.
Warehouse Floor Cleaning Tips
When it comes to tips for cleaning floors, you need to remember some key points –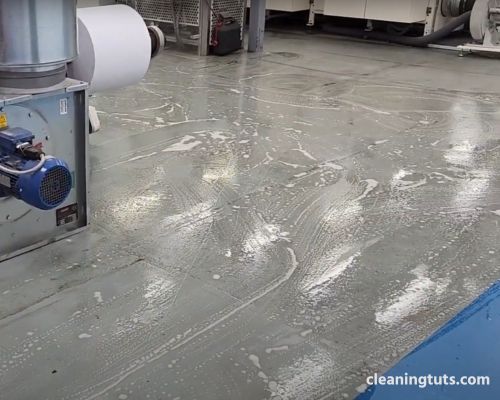 Timing
The best time to clean your warehouse floor is when there's minimal foot traffic there, and the office operations are scheduled to be relaxed. Then, you can go ahead and start the cleanup.
Engage Cleaning Daily
Try to engage your cleaners to get the job done early in the day before operations begin or do it after the end of every shift.
Even if it's not the entire warehouse, certain areas need constant upkeep due to more business being done in that part and more foot traffic.
Don't Let Spills Turn into Stains
You need to remember that spillages and accidents will be frequent occurrences, even for small businesses. But it's best to clean up immediately rather than keep it there to have residues on the floor or even stain it.
How Often Should a Warehouse Floor Be Cleaned and Maintained?
As for the frequency of cleaning, I'd suggest doing it every day during the wet and snowy seasons and every alternate day during the hot and dry summers.
It's paramount that mud and snow from the outside aren't built up over time in areas where you store goods. If your company is based on oil or fluids, this is even more crucial to the organization.
You can't risk accidents or contamination, right? And besides your daily cleanups, schedule a proper deep cleaning session at intervals.
The frequency of deep cleaning can vary depending on factors such as the type of flooring material, the level of foot traffic, and the type of operations conducted in the warehouse.
You can do it weekly, monthly, or even quarterly, depending on specific circumstances.
Conclusion
When consulting how to clean warehouse floor, you can refer to this article and take some tips anytime. From the type of tools you need to how you can do it, I've listed everything after much research.
And even if you forget a few steps, you can always have a clean floor with regular upkeep and habits.
From using gloves and PPE when cleaning to putting bins and sanitary sprays at every desk inside, you can get one step closer to a clean and safe warehouse environment.