How to Clean Pebble Shower Floor? – Explanation and Details
Pebble showers can give your home a spa-like aesthetic that looks great and feels nice to use. However, it can get tricky to keep the floors clean. You can't use any cleaning agent to get those irregularly shaped grout pebbles shining. Wondering how to clean pebble shower floors?
When it comes to pebble showers, dirt and soapy grime aren't the only enemies you have. Many harsh chemicals in regular cleaners can cause those pebbles to lose their natural look and color. It can even contaminate your shower, making it unsafe for use.
So, in this article, I've boiled down everything I've learned about cleaning pebble showers so that you can save some time and effort.
Let's dive into it, shall we?
Cleaning Preparation
A shower pebble floor can add a stylish and natural element to your bathroom. Still, it requires proper cleaning and maintenance to keep it looking its best.
Regular cleaning is necessary to prevent soap scum, mold, and mildew buildup on the pebble surface.
When it comes to cleaning preparation, you must first ensure the bathroom is well-ventilated and has proper air circulation. This will prevent any bad smells from getting stagnant inside.
Next, you'll need a few tools. This includes white vinegar, a spray bottle, a microfiber mop, a scrubbing brush with tough bristles, and a good-quality sponge.
Some warm water will be a great asset in this chore as it helps remove dirt from crevices easily.
As for the method of your choice, you can either use a steam cleaning method or a DIY technique. Using stone cleaners helps a lot when the pebbles are too slimy.
The preparation also involves removing debris like hair, nails, or mold that may have grown in the corners of your shower. Plus, the hair can clog the drain making it harder to wash down clean water when you rinse afterward.
So, it's best to take care of it beforehand.
Again, make sure to use a cleaner appropriate for pebble floors. You need to check the manufacturer's notes and manuals for using any cleaning machine or detergent.
Now, to discuss further, I need to point out all the options you have for cleaning these types of floors –
Option #1: Steam Cleaning Techniques
The first way you can clean up is by using a handheld steam cleaner to hit the pebbles with a medium setting. I don't recommend using it at high power because the excessive heat can cause the surface of the pebbles to get damaged.
Keep the cleaner a few inches away from the floor and press start. The steam will allow the dirt to get off the uneven surfaces like magic.
You need to mop and use water to wash everything afterward. It's a good idea to use sponges to absorb the moisture as well. This will give you a dry and clean shower for use.
Option #2: DIY Cleaner
If you don't have a steam cleaner on hand, there's always a DIY option you can try. All you need is to mix a tablespoon of white vinegar and around 16-18 tablespoons of water. Shake the mixture in a spray bottle thoroughly to mix everything up.
Then you can apply this to the dirty areas of the floor for 10 minutes and scrub it off. You can use a mop and sponge to wipe off the grime and dirty water and follow it by rinsing the floor with warm, clean water.
Option #3: Stone Cleaner Technique
One of the best ways to clean pebble showers is by using stone cleaners. These are designed to clean stones and thus have formulas for different types of stones.
You need to apply this to the stones and leave it for around two or three minutes. Then scrubbing needs to be done, and you'll get good results.
But the trick here is to rinse the floor and wipe it with a mop three or four times to make sure none of the stone cleaning agents remains. If it does, it can irritate your skin later.
Option #4: Using Mild Detergent
Suppose you don't have any other tools in your cabinet or tool kit. Then using dishwashing soap or detergent is just fine.
You can mix a cup of mild detergent with two cups of warm water. This will be the cleaning agent that you'll spray on any area you want to scrub clean.
How to Clean Pebble Shower Floor?
Now that you're all set to clean, here are two main categories- DIY and non-DIY methods you can go for. This is based on the type of mess you're dealing with and how tough the stains really are.
DIY Methods
Before you go out and grab some brand new cleanin supplies, check out some of the DIY options you can try. These are affordable and easy to apply compared to other cleaning methods. And you don't have to spend a penny since you most likely have everything on hand already.
Method #1 Bleaching
The most popular method of cleaning bathrooms is to use bleach. This is highly effective in removing molding from any type of flooring, including stone surfaces.
First, mix up some bleach and warm water in a container. It can be a spray bottle or another type of container.
Apply that to the pebble surface and use a bristle brush to clean up. This will clean and disinfect your shower from any potential virus or bacteria that may cause you harm.
Method #2 Toothbrush
As uncanny as it sounds, toothbrushes are very effective for cleaning pebble showers.
Using this with a grout cleaner, you can scrub off any stubborn mold or grime that has accumulated in the crevices over time.
Since toothbrushes are small and comparatively easier to handle, you can even clean the nitty-gritty spots that are hard to reach.
Method #3 Baking Soda Paste
Everyone knows that baking soda is a natural cleaner that can be used to clean many things. Yes, you can do it on shower pebble floors too!
To create a baking soda paste, mix a cup with enough water to form a thick paste. Then go ahead and apply it onto the pebble surface.
Using a soft brush or a nylon scrubber, gently rub the pebbles in a circular motion.
Let the paste sit for 10-15 minutes, then rinse thoroughly with clean water. This will clean up all the grime in no time.
Method #4 Vinegar Solution
Vinegar is yet another natural and effective cleaner that can remove soapy scum and kill molding and mildew.
To clean a shower pebble floor using this method, you will need to mix equal parts of white vinegar and water in a spray bottle.
Then spray the solution onto the pebble floor and allow it to sit for 10-15 minutes.
Using a scrubber to scrub the pebbles properly while the solution is still there will help clean them easier and faster.
Rinse it with warm water to remove all the loose dirt and debris and reveal floors as good as new.
Non-DIY Methods
Suppose you're dealing with moths worth of grime and soap scum that jsut can't be cleaned with home remedies. Then these non-DIY methods will be just the solution.
Method #5 Commercial Grout Cleaner
You can find various commercial tile and grout cleaners in the market. Those are specifically formulated to clean shower pebble floors.
Typically, you'll need to apply the cleaner onto the pebble surface and let it sit for a few minutes before using a soft or nylon scrub brush to scrub the floor.
Rinse thoroughly with water to remove the cleaner and dirt for instant results.
Tips for Maintaining a Pebble Shower Floor
Among the few tips I can offer you on pebble shower maintenance, you'll need to always remember this- never use a cleanser that's not pH neutral. The potential of a highly basic mixture or some acid damaging your shower is quite high.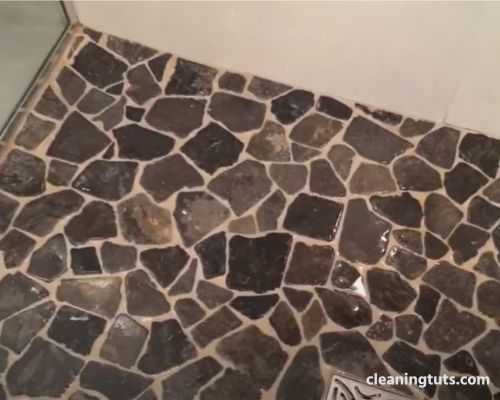 So be careful when using any product. Prevention is better than cure in cleanliness. Consider using some shower rugs and mats to protect the pebbles from getting too dirty.
Make sure to inspect the surface often for cracks and damages. And consider hiring a professional to perform periodic maintenance on your pebble shower floor, such as resealing the grout lines or polishing the pebbles.
A professional can help restore these types of showers like no amateur can.
Can I Use a Pressure Washer or Steam Cleaner to Clean My Pebble Shower Floor?
Yes, you can use a steam cleaner to get those pebbles cleaned. You have to be careful about, however, is to avoid overusing the heat or getting the machine way too close to the floor.
Floor pebbles may get too hot and become loose or even crack when excessive heat is applied. This can lead to several challenges and problems like more debris getting stuck in the cracks and water not frying up properly in the crevices.
It's safe and recommended to keep the steam cleaning machine away front the floor by several inches. The great thing about using this machine is that it works like a soapy cleaning liquid without actual soap usage.
Certain soaps can cause the pebbles to get corroded or discolored due to chemical reactions.
How Can I Prevent Mold and Mildew from Growing on My Pebble Shower Floor?
Preventing mold and mildew growth on your pebble shower floor requires regular cleaning and maintenance. You can do this by following these tips –
Keeping Things Dry
After each use, dry the pebble shower floor as much as possible. Use a squeegee or a towel to remove excess water and moisture from the surface. This helps to prevent mold and mildew from taking hold on the damp surface.
Regular Cleaning Sessions
It's best not to let grime and soap scum build up over time because that will take more effort to clean later. So, just clean your shower floor regularly using a mold-inhibiting cleanser to remove dirt and other organic materials.
Grout Sealing
Regularly inspect and seal the grout lines with a quality grout sealer to prevent moisture from penetrating and promoting mold growth.
Since pebble showers have grout lines between them, it's important to keep them sealed to prevent any pebbles from getting loose and messing up the entire look.
Ventilation
Keep things inside the bathroom ventilated. Mold grows in humid conditions, so remember to turn on the exhaust fans and open the window to help air flow after you're done with each shower.
Frequently Asked Questions
Do pebble shower floors require regular sealing?
It really depends on the type of pebbles you have installed in the shower. Sealing pebble shower floors can help protect them from water penetration, staining, mold, and mildew buildup. Some pebbles are naturally more resistant to water damage and staining. Again, other pebbles may be more porous and require sealing to maintain their appearance and longevity.
Conclusion
Many homes nowadays opt for pebble showers since they look fantastic and are easier to maintain. And by now, you'd agree with me on this.
Knowing how to clean pebble shower floors properly and having the right tools, you can easily keep your shower looking fresh, like the day you first installed it.
There are more than one or two methods to get the job done- you have plenty of options and hacks to choose from. Be it an expensive cleaner from the store or your homemade DIY, all will be effective in shining up your showers.