The Dawn Dish Soap Debate: Can You Use Dawn Dish Soap on Hardwood Floors?
There's hardly any home that doesn't have a stack or container of dish soap, but it's typically used for cleaning dishes. Can you use Dawn dish soap on hardwood floors? If you're wondering this and looking for answers, you're in the right place.
Dawn dish soap is a mild detergent safe enough for various surfaces, including hardwood. But you have to use it carefully in certain concentrations following some guidelines. It's a fantastic product to dissolve grease and clean up tiles which makes it a good cleaner for hardwood crevices.
An example of how great the Dawn dish soap is can be found in its widespread popularity. It's the fan-favorite product to use on kitchen tiles and counters.
Its versatility means it can clear up any kind of a mess, be it grime or grease. From cleaning glass bowls to floors, this is one cleaning agent you'd better not sleep on.
So, let's discuss how to use it effectively.
Can You Use Dawn Dish Soap on Hardwood Floors? 
Many people think dish soap isn't good enough for wooden flooring to be cleaned. But let me tell you- that's a big myth. When you're using a good quality product like the Dawn dish soap, it's got much more potential to give you shiny results than regular soap or cleaning liquids.
But if you're still on the fence about trying this hack out, let me point out a few of the pros and cons first. You can make up your mind afterwards.
Pros and Cons of Using Dawn Dish Soap on Hardwood
When choosing any kind of cleaning agent, you need to weigh its pros and cons. This is especially true when using a DIY method like cleaning floors with dish soap.
I've done some legwork and boiled down all the advantages and disadvantages of using this product on your hardwood surfaces.
Here are the pros –
Affordability
This is an affordable product that retails at a lower price than any other cleaning liquid. In fact, it's got great market value since you can get a lot of products at a lesser cost.
Stain and Grease Removal
Dawn dish soap is formulated to be effective at removing grease and stains, and it can easily clean certain stains or spills on hardwood floors.
Versatility and Ease
This is a versatile product, which means you're not just going to use it once or for one thing. You can use it for various cleaning activities, and that's a great bargain.
Gentle Formula and Effective
Despite its powerful cleaning capabilities, Dawn Dish Soap is gentle on the hands. Since it contains emollients, it helps to keep your skin moisturized.
So, the chances of dryness or irritation to your hands when cleaning is reduced, even with frequent use.
Eco-Friendly
Having a biodegradable formula that breaks down quickly, this is a product worth getting. It can reduce the impact on the environment.
And thanks to the recyclable packaging, this is definitely a more eco-friendly option than other dish soaps on the market.
Pet-Friendly Formula
If you've got pets, this is a good product to use on floors, as it's been proven to be animal friendly.
Dawn has been used by wildlife rescue organizations to clean oil-soaked birds and animals, making it a trusted option for environmental cleanup efforts.
As for the cons, these include the following-
Risk of Residue
Since this product is meant for cleaning dishes, it can leave a soapy residue if not rinsed properly. Dish cleaning soaps are typically more basic and leave a sticky residue which may build up over time and make the floor lose its shine.
These types of soaps contain surfactants that can react with minerals in hard water, such as calcium and magnesium, to form soap scum.
Soap scum is a white or grayish film that can be left behind on dishes if they are not rinsed thoroughly. And the same applies to your floors.
Potential of Damage
There's a potential to damage hardwood color and finishing if you use too much of the product alongside abrasive tools.
You shouldn't use tough metal tools or brushes with rough bristles when using Dawn dish soap. This can lead to scratches, chipping or streaks on the flooring.
Using this type of alkaline dish soap on wood floors can disrupt the pH balance of the wood. This can potentially cause it to become dull, discolored, or damaged over time. So, paying attention to concentration levels of the product is very important.
How to Clean Hardwood Floors With Dawn?
Now that I've discussed how this product can either shine or damage your hardwood planks, let's talk about how you can use it. There's a manual system and an automatic option for you to choose a form.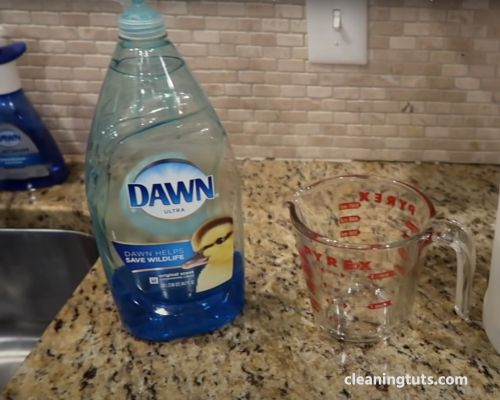 Manual Option With Instructions
Too much soap or water can damage the finish or cause streaks on your home's floors. So, when doing this manually, you need to gauge a ratio. Using just a few drops in a gallon of water is best.
I recommend using 5 drops per gallon. But you can increase or decrease this based on your room's size and water used. The mixture needs to be more watery than soapy because more soap will potentially leave residue on the hardwood.
Dip a soft, lint-free cloth or mop into the soapy water solution, then wring it out thoroughly so that it is damp, not soaking wet. Then go ahead and wipe the hardwood floors using a damp cloth or mop.
You need to work in small sections at a time. Avoid leaving standing water on the floor for longer periods. You shouldn't allow the soapy water to pool or seep into the floor seams, as it can cause damage.
So, while you rinse, also make an effort to open windows and have airflow to help dry the floor. Drying the floor is important as molding can happen from the wood staying wet for longer periods. And nobody wants that, do they?
Automatic Option with Instructions
If you're one of the fancy folks who have a hardwood floor cleaning machine, then you can use it with the dish soap mixture technically to get good outcomes.
Since these machines have a water tank that allows automatic cleaning, the process is much less tedious and faster than manual labor.
Add the diluted Dawn Dish Soap mixture into the tank and follow the user manual as usual.
Machines of this type typically have a mop attached to the bottom, and they can work perfectly well with even the mildest cleaning agents. Since the attached mops are abrasive, you can rest assured the floor will be safe.
However, keep in mind that it's ideal to use a cleaning liquid that's formulated for hardwood when using the automatic method. You may get a clean floor with dish soap, but it won't be as shiny as when you use an expensive cleaner.
Using dish soap with the machine will give you a big advantage, and that is saving time. I've found it very convenient when I'm in a hurry and need to get the room polished soon.
Hosting surprise guests? No problem!
What to Avoid
You can easily get the best results with the right tools and products, but what do you need to know? Here's a list of just that –
Too Much Water
Excessive water on wood is your number one enemy. Use only a little water when cleaning these floors because moisture can seep into the material and wear off the finishing or even damage the planks from the inside.
Abrasive and Wrong Tools
Always avoid harsh brushes or tools with tough bristles. They can scratch and corrode the upper layer of hardwood.
Stagnant Water for Too Long
Be careful not to leave water stagnant on the floor for too long. Sponges can help avoid this mistake.
Excessive Heat
Avoid using hot water, steam cleaners, or excessive heat on hardwood floors, as it can damage the wood or finish. Always use lukewarm or room-temperature water when cleaning these types of floors.
Harsh Chemicals
Using harsh or abrasive chemicals, such as ammonia, vinegar & bleach (in excessive amounts), or acidic cleaners, can damage hardwood flooring. These can strip away the finish, dull the wood, or cause discoloration.
Alternatives of Dawn for Hardwood Floors
If you don't have any Dawn Dish Soap on hand, you can opt for an alternative with almost the same effectiveness or even more. You can consider the following options.
Hardwood Floor Cleaners
These are designed to clean and protect hardwood floors, so they're an ideal alternative. The advantages of using this include increasing shine and restoring the wood's natural luster.
They are available in various formulations for different types of wood and finishes. And you'll find them easy to use.
However, hardwood floor cleaning agents are usually more expensive compared to other alternatives and may contain synthetic chemicals.
DIY Wood Floor Cleaners
Several DIY wood floor cleaner recipes are available online that use natural ingredients such as olive oil, lemon juice, or essential oils. This can be a cost-effective and eco-friendly way to clean your floors and make them smell good.
But this system needs to be better for removing stubborn stains. Again, essential oils can trigger allergic reactions or migraines if you're not used to a particular scent.
White Vinegar and Water Solution
A mixture of white vinegar and water can be a way to get things done too. This is also an option that's safe for pets and children.
The advantages of using a white vinegar and water solution include its natural and non-toxic properties, affordability, and availability. But due to the strong scent of vinegar, many don't like to use it in living spaces.
There's also the issue of heavily soiled surfaces needing to be easier to clean using it.
Conclusion
No matter how much dirt your hardwood floors might have accumulated over the years, there's a way out. And when all else fails, even the simplest of solutions can make it work.
In this article, I've talked you through all the ways you can utilize the product to get clean flooring. Depending on which room you'll be cleaning and what tools you have, you can pick any method you like.
So, take into account what a bit of Dawn soap can really do. And if anyone asks you- "can you use Dawn Dish Soap on hardwood floors?" you can answer with a resounding "yes."