Guide to Use Eureka Vacuum Overheat Reset Function!
Overheating Eureka vacuum may sound frustrating but thanks to the thermostat it usually can't do any huge damage to the appliance. But why does my Eureka vacuum overheat, can't get this question out of your mind?
Well, the motor being overheated and deteriorated is not something that happens with just Eureka.
Things are the same with just any vacuum cleaner. And this happens due to the overtime usage pressure on the unit. As well as a few other reasons.
Most of the time a Eureka vacuum overheats due to a blocked hose, full dust cap, and even a clogged filter.
Anyways, one thing you should be aware of for such a situation is using the Eureka vacuum overheat reset function. Something I'll be talking about in this guide.
Understanding and Using the Eureka Vacuum Overheat Reset Function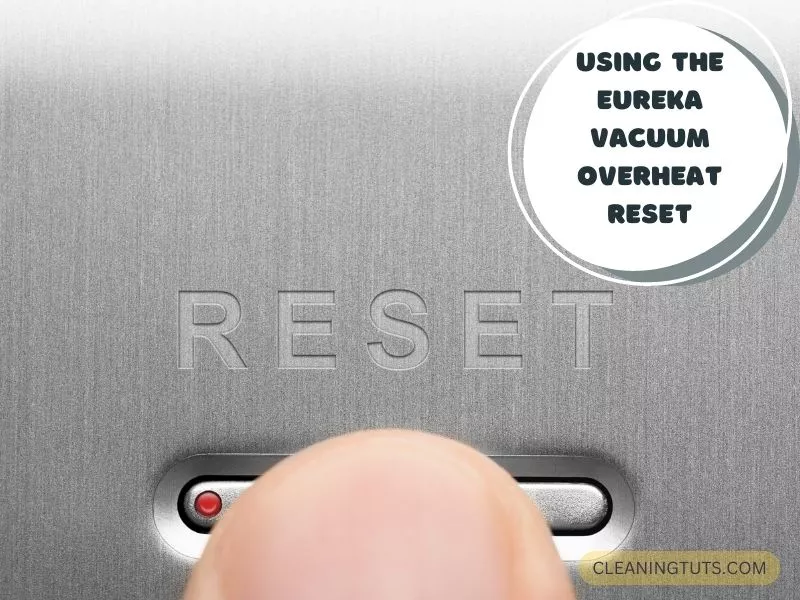 There is no specific Eureka vacuum reset button to use for the overheating issue. And I will go there in depth just a little later.
Let me first talk about this whole overheating situation and how to reset it, comes next in case you cannot find a connection.
There is a thermal cutoff that works with a vacuum. And its main job is sensing any sort of overheating. As soon as there's a chance of the motor starting to overheat, it gets activated. And then you will fail to start the vacuum motor.
Now your vacuum motor may also fail to start due to these reasons:
Not plugged in the power cord of the vacuum cleaner.
Issues with the circuit breaker or fuse box.
And if these are not the reasons, it is most probably the thermostat that has detected overheating.
Now how do you recover the machine? You try resetting it and this is exactly how you can do that:
If the Eureka vacuum cleaner does not operate, then a severe problem with the motor could be the case. You should not delay contacting the Eureka service center for assistance.
Also, you want to keep in mind that not every Eureka vacuum cleaner has a thermal reset option. If your model does use a thermal cutoff, you will find the information inside the manual. 
You can also specifically search by the model number using the internet. Or simply contact the manufacturer with a particular model to get direct assistance.
To Fix an Overheating Eureka Vacuum without Reset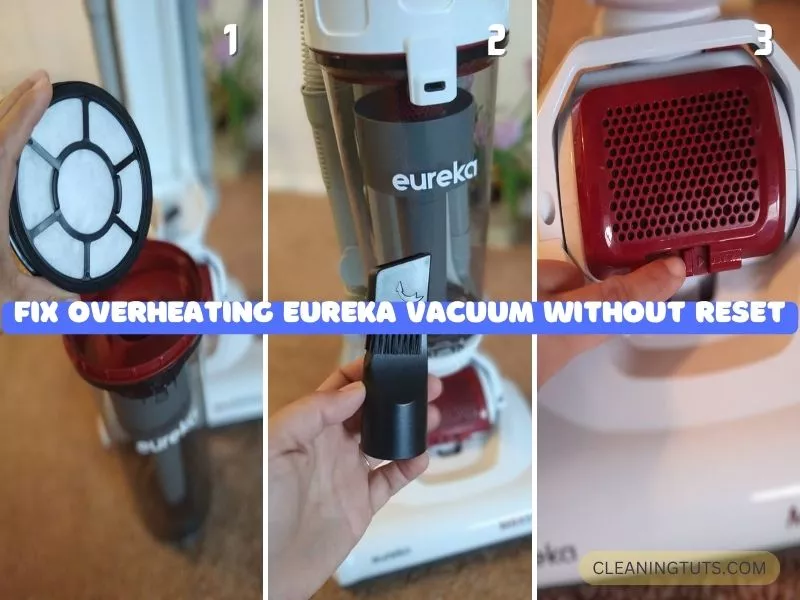 Out of nowhere, the eureka vacuum keeps shutting off or it does not turn on at all and the reset was not able to fix the problem. Now what?
This could also be the case. Even if the problem arises from overheating, there's a good chance it is not just the only issue that needs fixing. And in such cases, you need to do more fixing than just a reset.
This is how you can troubleshoot an overheating Eureka vacuum without just the reset:
The 1st suspect I want you to check is the canister. Often the canister being full makes it unable of picking up more dirt. 
And when that happens, the motor starts getting hot. And it would shut down after overheating. Always practice emptying the canister as soon as you sense it's 3/4th full. To make sure there's no breakdown of particles inside, you also need regular cleaning regimes.
After the canister, you want to go further and try finding out the damages in parts. Go over the belts, it should not be cracked let alone broken. 
You also want to note down all the components that are almost worn out. Timely belt replacement and changing vital vacuum parts are the key to making sure motor overuse and overheating never take place.
Next, you need to check the connections and openings. Lodged debris could be causing problems. Often the eureka vacuum not spinning means there's trouble with connections. 
And trapped dirt can cause the hose or other parts to limit the flow of air leading to overheating. You need to clear the attachments and hose. Make sure no hair or dirt or blockage is in the path of airflow.
And finally, observe the filter. Dirt and dust building up on the filter can lead to clogs and shutdown. 
You need to replace the air filter religiously. The owner's manual will have the recommended ideal interval of air filter replacement.
Frequently Asked Questions
Can a Eureka vacuum overheat and stop working permanently?
Yes, the Eureka vacuum can overheat and stop working completely if you don't take the necessary actions after the first time there was a problem. Overheating-related permanent damage happens from less attention to maintenance and proper usage carefulness.
What happens if your Eureka vacuum overheats?
Most of the time when the Eureka vacuum overheats it shuts down. This is why when someone discovers a eureka vacuum not turning on, they doubt a motor overheating is responsible. 
At some point, there may also be a weird odor, which may be a signal of a burning motor. This could get serious quickly unless you act for the required repair or replacement.
Why does my Eureka vacuum smell like it's burning?
Eureka vacuum can smell like burning if there's a blockage in the suction nozzle or hose. This can lead to overheating and with passing time can soon develop a burnt smell.
How long does it take to cool an overheating Eureka Vacuum?
At least 30 minutes will be necessary to cool an overheating Eureka vacuum.
Wrapping Up
And just like that, you have a broad idea now of the Eureka vacuum overheat reset function, its mechanism, and usability as well as the other factors that could lead to overheating leading to shut down of the appliance. 
Hopefully, you won't have trouble with the vacuum cleaner anymore. And once you get the problem fixed, make sure to follow the advice I mentioned on maintaining the vacuum for overheating prevention as much as you can. 
Keep in mind your maintenance quality is going to define how long and how well the Eureka vacuum cleaner will be able to function at your home.