How to Clean French Oak Floors – Get'em Sparkling
French Oak floors are popular among homeowners because they are not only beautiful but a durable option. But their maintenance can get a little difficult if you don't know what to do.
You can't just use any cleaning products or techniques when it comes to this kind of floor as they might get damaged. Here, you will learn how to clean French Oak floors safely and effectively.
There are two techniques that can be used –
You just have to simply use warm water and vinegar and take a damp cloth or mop to clean the floors. Since vinegar is a natural disinfectant, you'll be able to remove dirt easily and no residues will get imprinted.
Next, you can use a microfiber mop that is able to capture dirt and dust without leaving scratches on the floor. But you should know that you should steer clear of abrasive brushes and cleaning pads because they damage the wood.
In order for you to maintain your French Oak floors, you would need to put in effort and be a little cautious. If the right methods and products are used then you will be able to keep the floor looking brand new for years to come.
How to Clean French Oak Floors?
To get the process started, you need to clear up the room by removing the furniture in it. If you pick the vinegar and warm water technique, pick up white vinegar and mix it with water.
Use a mop or cloth to dunk it in the solution you just prepared and start cleaning the floor section by section. Dry the floor with a dry cloth to avoid any accidents.
The above is the summary of the whole cleaning French Oak process, now let's dive into the details.
The Preparation and the Supplies
You can't just use anything to clean your French Oak floors. There is a level of preparation that you have to make before starting with the process.
Not only that, using the right kind of products is absolutely essential, or else you might end up damaging the floors irreversibly. Here are the details:
The Preparation
The Supply
Cleaning French Oak Floors: Step-by-Step Guide
Now that we are done with picking out the right techniques and products, it is time to make the floors look glossy clean. Here are the further steps that you need to follow by heart.
After you're done clearing the room and dusting it, in a bucket mix one-part white vinegar with three parts of water. Make sure that the water is warm, otherwise the solution won't work.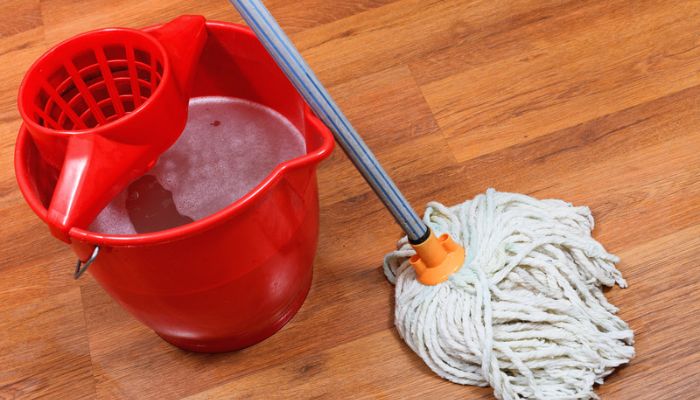 Take a mop or a soft cloth and dip it into the bucket containing the solution that you have just prepared. Here's a smart thing that you can do, make small sections of the floor and start cleaning it.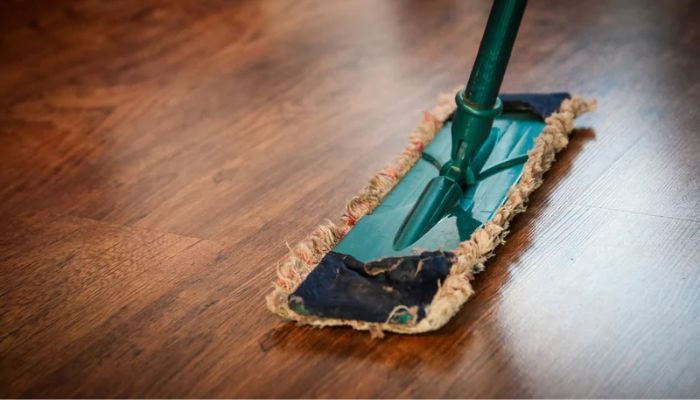 Begin from one end of the room and slowly work your way to the other end of the room. Keep one thing in mind, wring all the excess water from the mop or the cloth or the water may damage the wood.
Once you are done with each section, dry it immediately using a dry mop or a cloth. If you do this, water will not penetrate into the wood and damage it.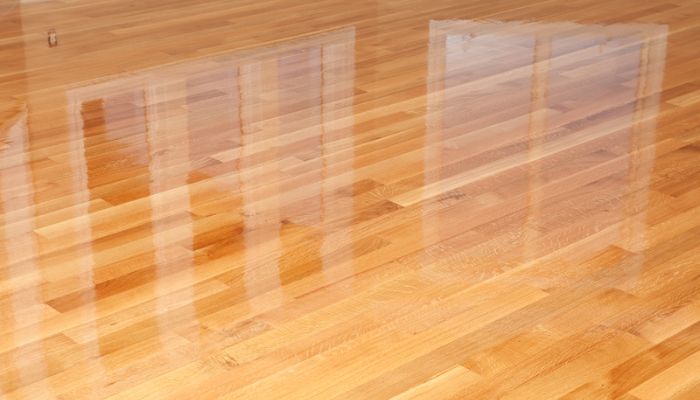 Besides, this is an efficient and safe way to do your procedure, as water on the floor may cause a lot of accidents.
Now to give a shiny and glossy finish to your floor, introduce a buffer into the scene. Buff the floors properly to make it seem like you have them done professionally.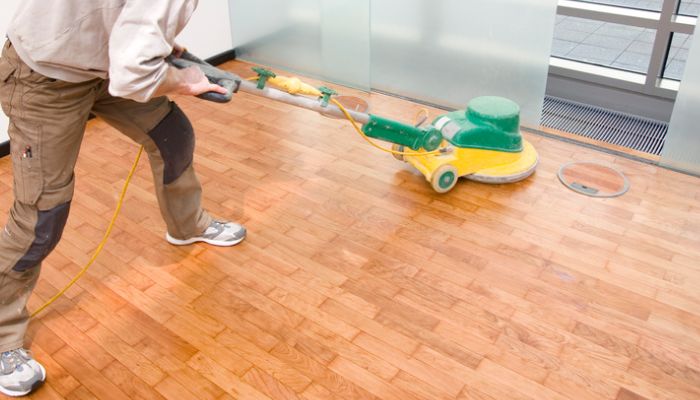 Once you are done with all of the procedures and the floors are super dry, move all the furniture and objects back into the room. You can follow the same exact steps when you want to use the commercial floor cleaner method.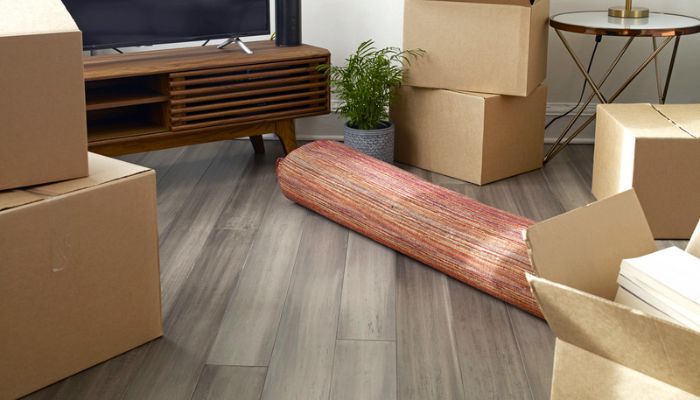 The only difference is that you have to replace the white vinegar and warm water with the market-bought solution.
Tips to Follow for Maintaining Your French Oak Floors
Extend the lifespan of your wooden floors by following these tips –
Clean Regularly
It goes without saying that to ensure that your floor looks spotless and new all the time you have to clean it regularly.
Harsh Chemicals Should be Banned
Stay miles away from harsh chemicals when it comes to your French Oak floors. Ammonia and bleach can completely damage them. If you have to opt for store-bought cleaners, go for the ones that were designed specifically for these floors.
Scratch Protection
Once these floors get scratched up, they will start to appear dull and unclean. To avoid such a thing, use mats and rugs under your furniture. Do not wear shoes such as heels when on the floor.
Humidity Management
The wood used here is very sensitive to humidity and they tend to contract or expand because of any changes in it. You have to use a humidifier or a dehumidifier to maintain a level between 35% and 55%.
Refinish and Restore When Needed
When your French Oak floors start to look a little dull or scratched up, that's when you know it is time to restore it. Sand them so that it returns to their previous glory. The old finish will be gone and will be replaced by a new finish. You can stain it if you want to as well.
Is It Necessary to Wax French Oak Floors?
No, you do not necessarily have to wax your French Oak floors. One thing about them is they are usually topped with a protective coating. Because of this design, they become much more durable and have resistance to wear.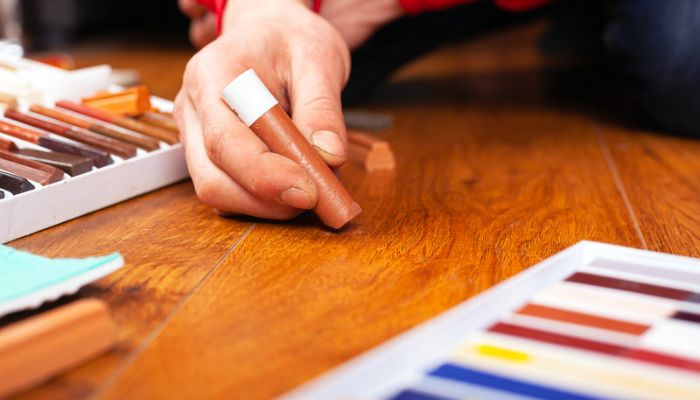 If you wax the floor, you might actually end up damaging this protective coating and that may lead to dirt getting built up. Therefore, it is going to become difficult for you to clean the floors afterward.
Instead of waxing and running the risk of damage, just clean your floors regularly. That should be more than enough to keep the floors looking beautiful for a very long time.
Conclusion
To sum it all up, your gorgeous-looking floor will only look immaculate if you take proper care of it. Just use a mild cleaning solution, keep it away from scratches and manage humidity.
Stay away from harsh chemicals, as we have mentioned previously. You can also refinish them once you start seeing any discoloration to get back to the original beauty.
If you just follow all the simple steps and tips that we have talked about, you will be able to enjoy the durability and natural beauty of your French Oak floors for many more years.