How to Clean Ford ActiveX Seats?
Recently, Ford has been offering the latest models with elegant seatings made of Vinyl, Sensico, Leather, and especially ActiveX. Though ActiveX has become quite a common topic for many car enthusiasts, most of us are unaware of how to clean Ford ActiveX seats.
Well, cleaning ActiveX material isn't a big deal. You can do the job all by yourself by applying homemade detergent and water mix to the material with the help of a piece of cloth or sponge.
It'd take less than a couple of hours to clean all four ActiveX seats of an SUV. And the main fact is, you can do this job all by yourself without any special tools or equipment. So, why waste money going to the car wash for such a simple matter? Let's see how it can be done without any hassle.
What is Ford's ActiveX Seating Material?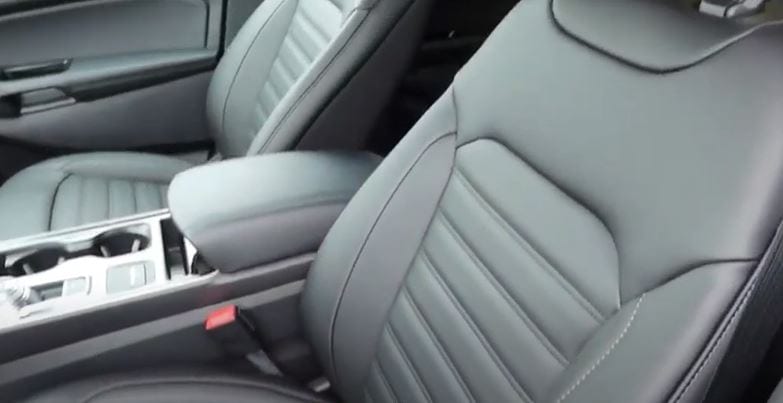 ActiveX material can be assumed as a copycat version of genuine leather. Although no manufacturer uses animal leather to make it, it still provides the optimal comfort and outlook.
ActiveX sheets contain high-end synthetic. An ActiveX seat can last longer than thick leather seats in any condition. The resistance to stain and dirt can keep the seats looking premium for years.
However,  this type of seating doesn't come cheap. High-quality synthetics are pricier than usual resin materials. And the finish of ActiveX is somehow better than leather.
Keeping the price issues aside, ActiveX seems to be a good seating material from various angles. Many have mentioned it is as strong as vinyl. So, having ActiveX seatings in your Ford car is worth the value.
What Can I Use to Clean My Seats?
Seats that contain high-end synthetics like ActiveX doesn't require cleaning too often. As mentioned earlier, Activex layers can prevent attracting dirt and stains. But even so, this stuff does need some maintenance. You should clean your car seat once every two weeks.
You can only use things like soap or detergent, water, cloth, and foam to clean your car's whole interior, including the ActiveX seats. The vehicle interior can become neat and catchy with an hour's effort.
Besides, many users also suggest using a vacuum cleaner when they start cleaning to make things easier. If you have some extra bucks in your pocket, then try to buy a mini vacuum cleaner for car maintenance.
How to Clean Ford ActiveX Seats?
Now, let's talk about the main topic of our discussion, the best method to clean Ford ActiveX seats.
Cleaning the interior of Any Ford SUVs or other models is pretty simple; Make the interior empty and then start cleaning with soapy water. Though there are some mandatory steps needed to be followed for the optimal result, it isn't any nuclear science that would go over your head.
Here's the step-by-step guide for cleaning your car's seats. You can also follow the same method to make the whole car interior look new.
Take Out Everything Inside Your Car
First of all, you need to take out everything inside your like showpiece, car freshener, documents, charger, etc. While cleaning the seats, soapy water can split anywhere.
Use a Vacuum Cleaner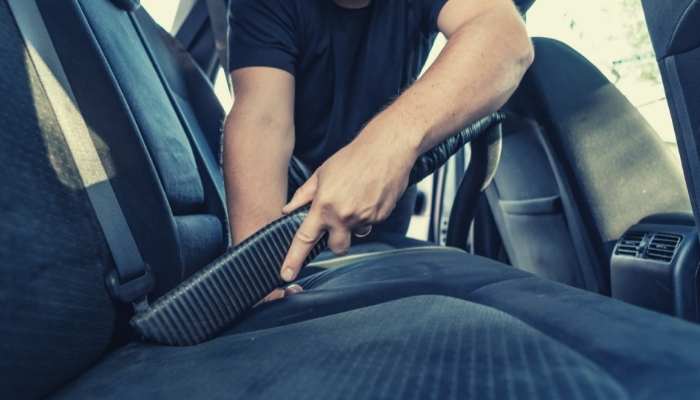 Now, take a small size vacuum cleaner. Use it to bring out the layers of debris and dust over the seat.
Simply just put the nozzle over a seat and move it around until the loose wastes have been sucked inside the cleaner. Make sure you're pushing the nozzle harder over the surfaces for proper suction. And don't try to overdo vacuuming because overpowered vacuuming can tear off the ActiveX layer.
Make a Mixture of Water and Soap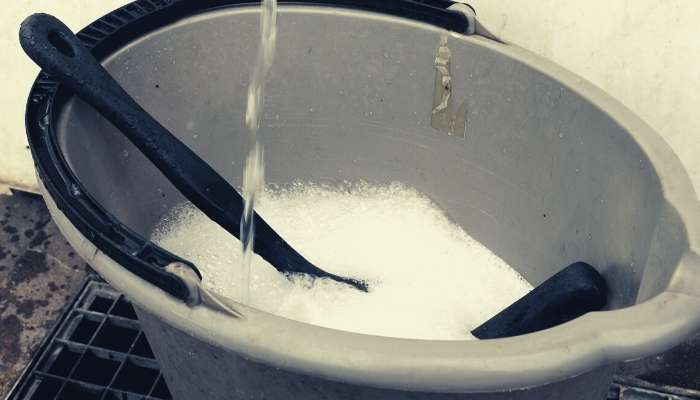 After vacuuming, there should be only stubborn stains and a few amounts of dirt remaining. So, you've to use soap or detergent in this step.
Our recommendation would be washing machine detergents that have zero toxins and a "skin tolerable" Base amount.
Take a bucket filled with 5 L of water. Add 5 or 6 spoons of regular detergent with the water and mix properly. If you see a bit of foamy texture on top, then you can assume the soapy water is ready to use.
Rub the Seats with a Soft Sponge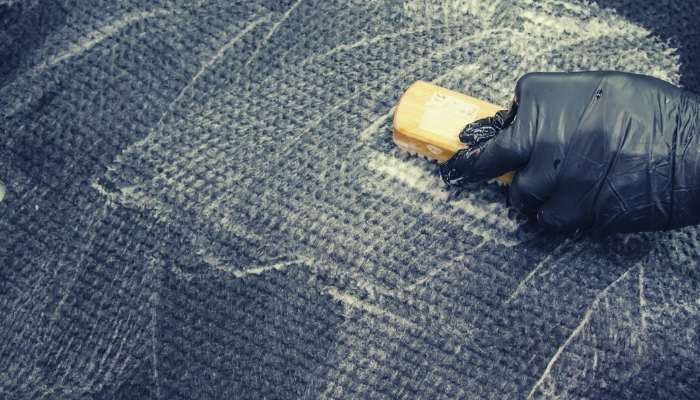 To use the soapy water on the seats,  take a soft sponge that can't leave marks or scratches on synthetics. Dip that sponge into the mixture and then use it to rub the seats gently. Even if the stains are pretty hard, never rub the seats roughly. It could damage the softness.
You can repeat the rubbing 2 or 3 times. But each time, dip the sponge properly inside the mixture.
Rinse the Whole Area with Water Only
After using the soap mixture, give yourself a break of 10 minutes. Then, wet the sponge with normal water and rinse the seats to remove the detergent water.
Wipe the Surfaces with a Microfiber Towel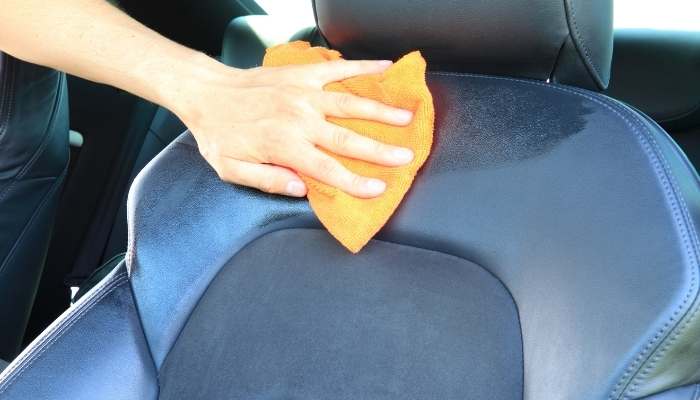 Your job is almost done. It's time to wipe the areas you've cleaned with a dry towel. In this case, microfiber towels are the perfect ones. They're soft and gentle towards sensitive materials.
Use a fiber towel to clean up the remaining water over the seats. You might have to rub a seat with a cloth or towel a few times when there's too much water.
Let the Seats Dry for a While
After everything's finished, leave your car with doors and windows open in your backyard for at least half an hour. By then, your car interior should be dry and ready for the upcoming drive.
How Do You Get Stains Out of Ford Seats?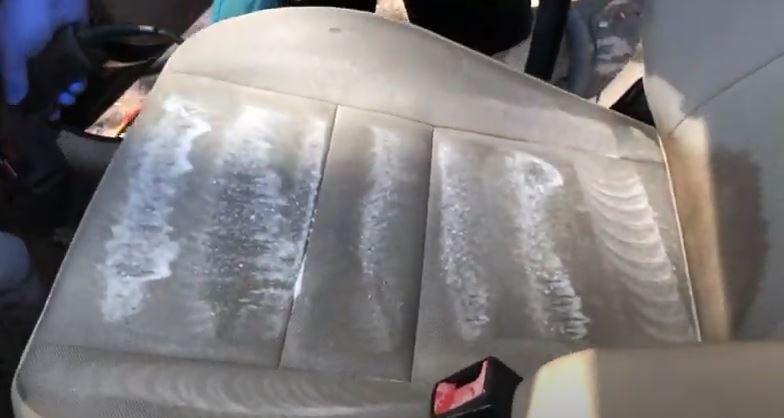 Sometimes, stubborn stains don't go away so easily. You've to think of some alternative solutions, especially to get rid of unwanted stains from your car seats.
Many might suggest buying a stain removing solvent from the market. But in most cases, cheap solvents can damage the color and softness of resin or synthetic. So, what should you use to fight against nasty stains?
The best thing to use in removing stains for good is edible vinegar. Vinegar is often used in removing spots from clothes. But recently, many DIYers have found it to be effective in cleaning vehicle interiors too.
To get stains out of Ford seats using vinegar, you need to follow these steps:
Remove Essential Stuff and Vacuum Like the Previous Method
At the very beginning, remove all the important stuff you have inside the car. Then, use a vacuum cleaner to remove debris from the seats.
Make a Balanced Vinegar Mixture
Mix the edible vinegar with clean water. The ratio of water and vinegar in the mix needs to be 1:1.
Use the Vinegar Water on the Seats
When the mixture is ready, use it with a towel or sponge to rub the seats and other parts of the interior.
Leave the Seats to Dry
Use another dry towel and soak the moisture. Don't leave any corner wet; it can ruin the seat condition.
And then, let the seats dry for a while.
How Do I Care for My Ford Leather Seats?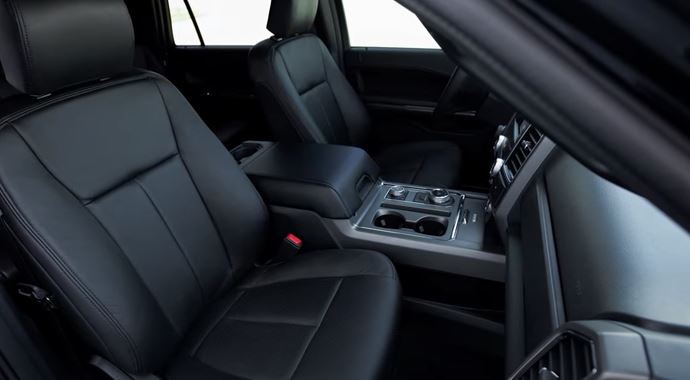 Leather seats are very expensive. You need to take extra care of leather car interiors to make them last longer. The following tips might come in handy to take care of Ford leather seats:
Don't use Bleach or Ammonia. These things can change the color or even make holes in the seats.
To clean leather seats, you've to purchase leather cleaning solvents from nearby stores. Or else, you can make a homemade solvent using 15% dishwashing liquid and 85% water.
Let the car cool down whenever the inside becomes extremely hot.
Never keep any sharp objects on your leather seats.
Ford ActiveX Seats VS Leather Seats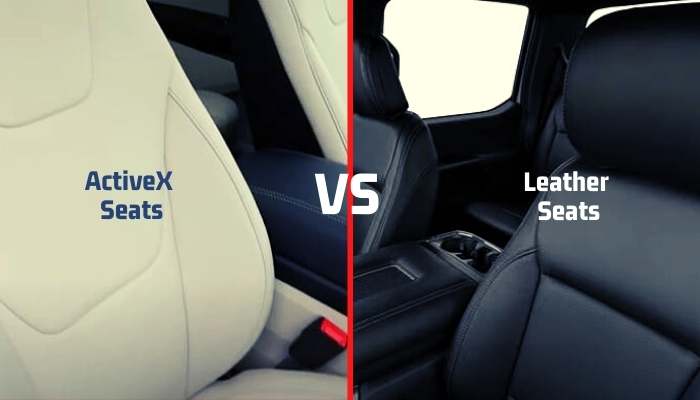 We've already told you ActiveX seats are recent additions to the new Ford models that might look like other leather car seats, but in reality, they aren't. Before concluding our today's discussion, we've thought of why not discuss the difference between these two materials?
| | | |
| --- | --- | --- |
| Factors | ActiveX |  Leather |
| Core Material | Synthetic or Polymer | Animal Skins |
| Color | Ebony, Black, etc. | Most types of colors available |
| Price | Pricey, but comparatively affordable | Priciest option |
| Availability | Not available in every region | Available |
| Durability | Durable and sustainable quality | Less durable |
| Overall Score | 8.5/10 | 8/10 |
Conclusion
Cleaning your car seats is as important as doing regular checkups of the engine. Keeping the interior dirty and messy for quite a time makes the seats permanently stained and damaged. And we all know how much it'd cost a person to change the seats of a vehicle.
Even if the material is ActiveX, it requires minimum maintenance every once in a while. So, Be sure to clean your Ford ActiveX seats once every two weeks.