How to Clean K&N Air Filter without Kit?
It's natural for your car's air filter to become dirty after daily use. Every top-of-the-line air filters like K&N need regular maintenance and cleaning to get the most out of it. Cleaning the K&N air filter using proper tools is easy, but times may come when proper tools won't be available. So, how to clean without a tool, you wondering?
Cleaning an air filter without tools is quite easy as there are many tips and tricks to do it. One of the tricks you can use is to rinse your air filter with clean water. After that, let it rest for some time to dry.
Avoiding cleaning the filter from time to time can cause the engine to malfunction. Thus, a clean air filter will save not only your car's life but also yours. If you want to save your car and yourself, then stick to the end.
What Can I Use to Clean a K&N Air Filter?
Cleaning a K&N filter is quite simple. It can be done with a professional cleaner kit but also with tools available at home. Some of the materials widely used for this job is such as:
Toothbrush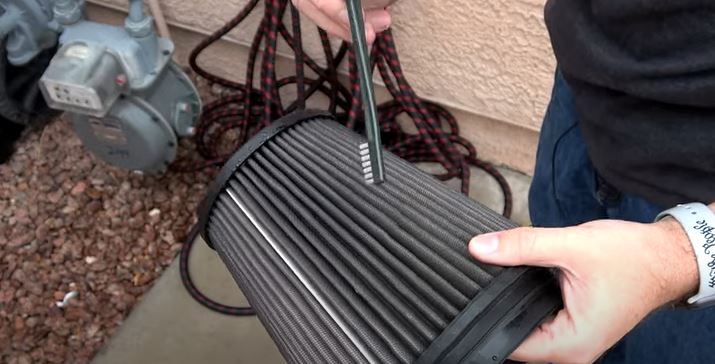 A toothbrush is usually a slim object. It is flexible enough to scrape the dirt off from the small nook and crannies. For scrubbing, always pick a toothbrush with good bristles.
Dishwashing Liquid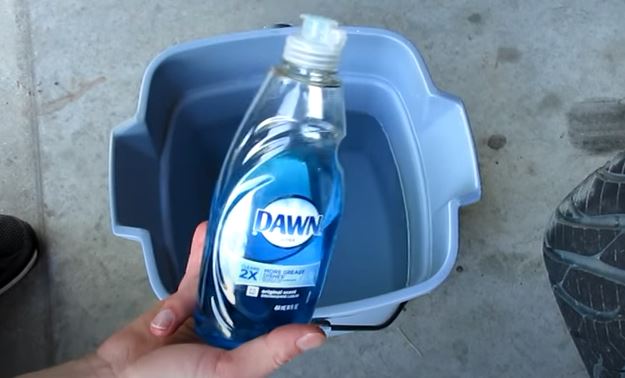 Any dishwashing liquid available at your home can be used to spray on an air filter. All cleaning liquids for dishwashing have strong chemicals which help remove dirt. Spraying the liquid on each of the air filter's surfaces is a cheap yet effective solution.
Clean Water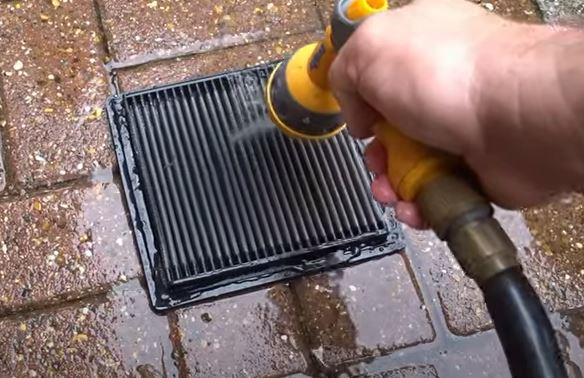 Water is the cheapest material for cleaning an air filter. Just pouring some water into the filter can wash away all the dirt stuck on it.
Can I Clean My K&N Air Filter With Soap and Water?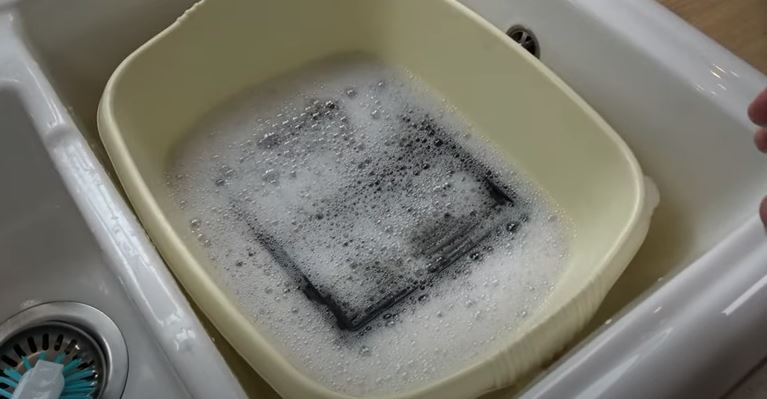 It's possible to clean the K&N air filter with soap and water. This is a budget-friendly way of cleaning. Since both soap and water are often readily available at home.
To apply this method, start with mixing soap and water in a bucket. Doing that will create a solution. Then pour the solution into a spray bottle. After that, spray the solution onto the air filter a couple of times. Soap and water solution has strong enough chemicals to get the dirt off the surfaces.
Now gently rub the air filter with a clean cloth. By wiping with a cloth, you remove the grease clinging to the filter surface. Simply wash it with water and let your air filter rest when that's done. After resting the air filter for a few minutes, it will be dry and shinylike before.
How to Clean K&N Air Filter Without kit?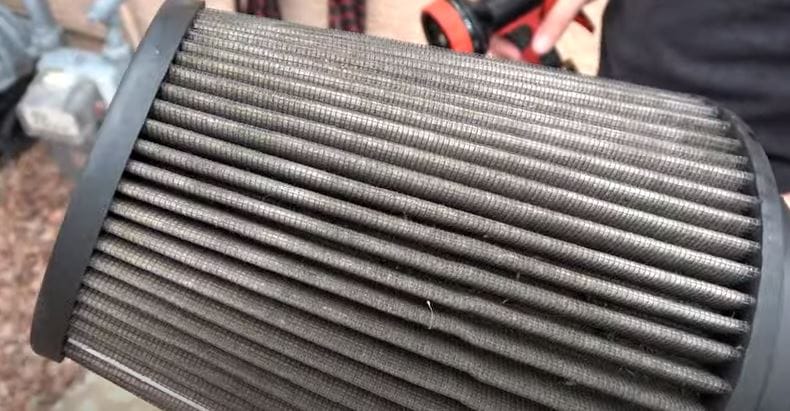 When the air filter is clogged with dirt, the engine doesn't get an appropriate air supply. So, because of that, friction inside the engine increases. Hence, the acceleration and horsepower of your car will gradually decrease over time.
If your car is suffering from a dirty air filter problem, then learn how to clean it by following these easy steps below:
Step 1: Spray Your Preferred Cleaning Liquid onto the Air Filter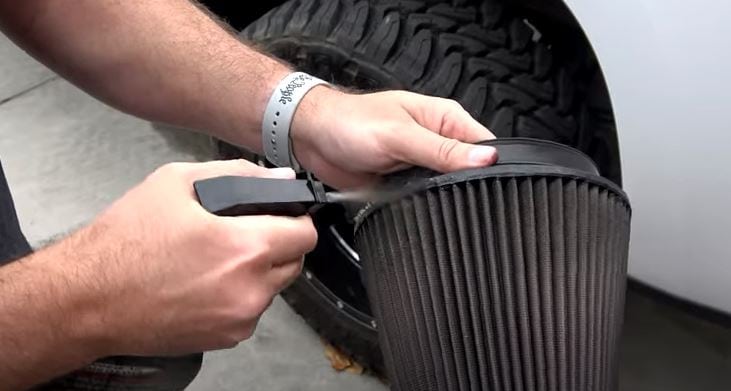 Pick a cleaning liquid depending on the material your air filter is made of, as some cleaning solutions don't react well with aluminum. Now spray the solution on the vents and other surfaces. And let it rest for 10 to 15 minutes.
Step 2: Take a Toothbrush Brush and Scrub All the Surfaces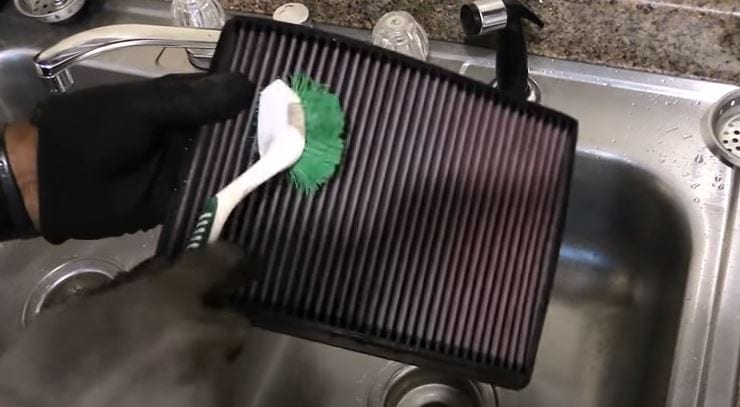 Use an adjustable toothbrush and rub it aggressively on all the exterior and interior surfaces. Due to the shape of the brush, you will be able to clean all the small and tight corners of the filter. Remember to rub all the places at least five times to remove the stubborn stains and grime.
Step 3: Wash the Air Filter Thoroughly with Water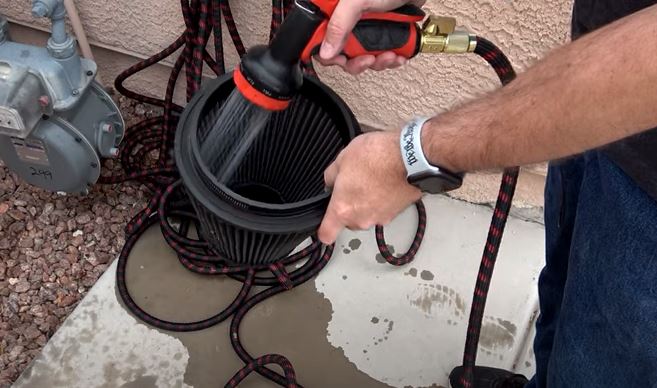 Gently pour water on the air filter and rinse it properly. Rinsing the filter with water will get rid of all the residual solvent stuck on it.
Step 4: Use a Hairdryer to Dry the Air Filter
Apply slightly warm air to the air filter by using your hairdryer. Blowing warm air for a minute or two will speed up the drying process. This method helps the air filter to dry up faster than usual. Once it has dried up, your cleaning is nicely done.
How Do You Clean a K&N Air Filter at Home?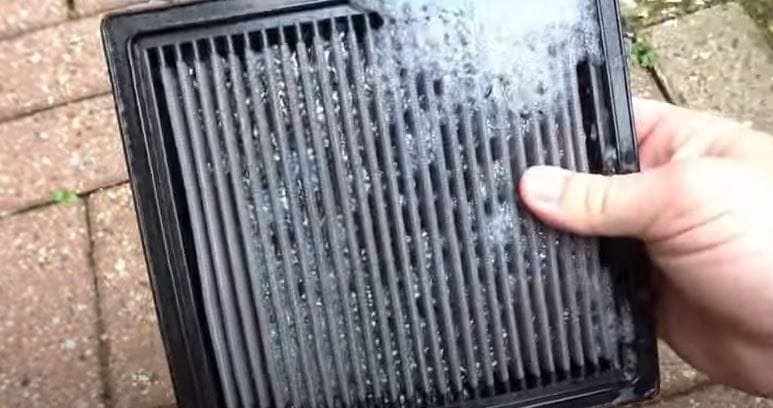 It is a common misconception that you need an expensive professional cleaning kit to clean car parts such as an air filter. But that is not the case.
With basic everyday materials available at home, you can clean just as well as a professional. Cleaning with equipment accessible in your house is very cost-effective.
Learn how to clean an air filter at home like a professional by following the basic instructions below:
Step 1: Spray an All-purpose Cleaner on the Inside and Outside Surfaces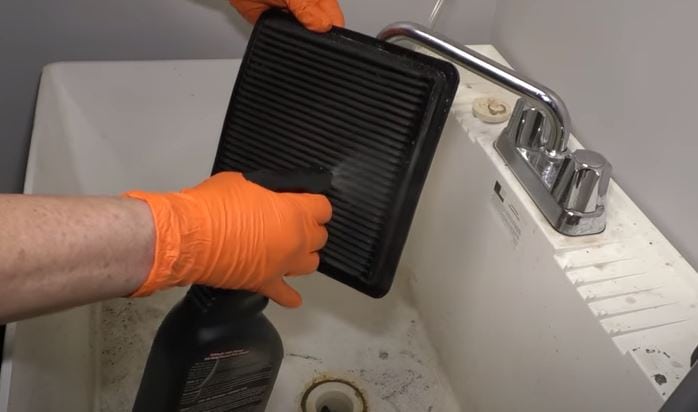 Spray your preferred all-purpose cleaner 2 or 3 times on all the surfaces from top to bottom. Once you are done with spraying, let your air filter rest in a clean space for 4 to 5 minutes.
Step 2: Scrub with a Flexible Screwdriver to Remove All the Dirt Off
A screwdriver is a tool pointy enough to reach all the small nooks and crannies in an air filter. So scrub all the dirty places with it but remember to scrub gently. If you scrub too hard, you can damage the metal.
Step 3: Wash Your Air Filter with Tap Water in a Sink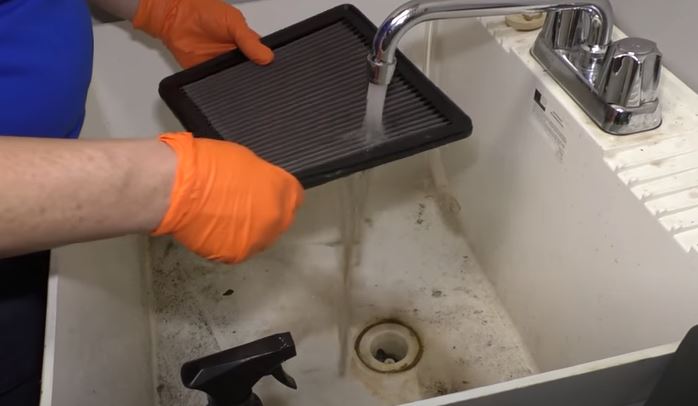 Place your air filter in a sink and turn the tap on so that freshwater flows from it. Let the water flow inside the filter and keep rotating it to rinse it from all angles. Rinse until all the residual solvent is washed off.
Step 4: Place Your Air Filter in an Open Environment to Dry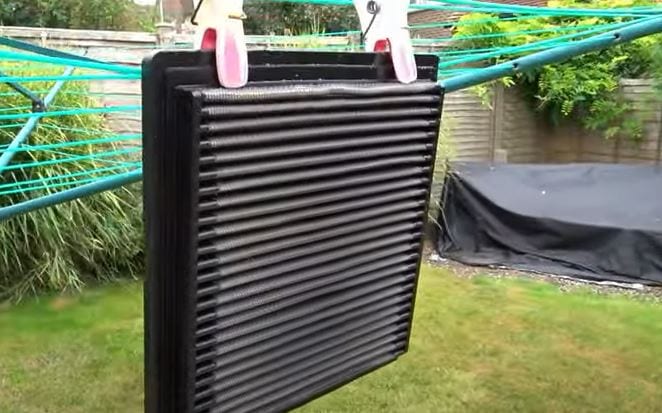 Now it's time to dry the filter up. To do that, place the filter under the sunshine outside your house and wait for at least 30 minutes. After half an hour, your air filter will be dried up naturally. And ready to be attached to your engine once again.
Frequently Asked Questions
How often should you clean K&N air filter?
The K&N air filter should be cleaned every 25,000 miles. If you live in a dusty area, you may need to clean it more frequently. Cleaning the air filter is easy to do and only takes a few minutes.
Can you vacuum An engine air filter?
Some vacuum cleaners have a function that cleans the air filter using the suction of the vacuum cleaner. If your vacuum cleaner does not have this function, you can take the air filter out and wash it with warm water and a mild detergent. Let it dry completely before putting it back in the vacuum cleaner.
What happens when a turbo solenoid fails?
A turbo solenoid is a device that helps regulate the airflow into an engine. When they fail, the engine will not be able to get enough air and will not run properly. While cleaning a boost control solenoid is not difficult, it is important to understand how they work to avoid damaging them.
Conclusion
Along with good air filtration, K&N air filters come with lots of other unique features. It is not highly prone to dirt and does not need to be cleaned regularly. This air filter improves the acceleration and horsepower of your car by five percent.
When you notice that your car's gas mileage is decreasing or if your engine misfires, then it's a sign that your air filter is dirty. Always be aware of these symptoms and clean your filter when the need arises.
However, it is normal to have less time on our hands for cleaning. If that's the case, then go ahead to your local auto repair shop, where your air filter will get professional treatment.